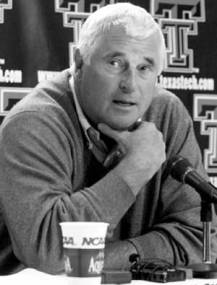 I had planned to handicap the Big Ten race in this space as we approach the halfway point of the conference season, but that changed with the retirement of Bobby Knight last night. Rest assured, I'll have that for you Wednesday.
No matter how you feel about Knight, there's no denying his importance to Indiana's program. His retirement is newsworthy not only to Indiana fans, but to all fans of college basketball. His three national championships and 902 career wins put him right in the middle of the discussion for the greatest coach of all-time.
For all of his greatness on the sidelines, Knight also had more than his fair share of his behavior problems that ultimately led to his demise in Bloomington. He threw a chair onto a court during a game, head butted a player, choked a player and went on countless profanity laced rants. And that's a short list of his rap sheet. He was the definition of a bully and for a long time, there was no one willing to stand up to him.
So that brings us to the most compelling question and a chance for reflection for you, ITH'ers. How will you remember Robert Montgomery Knight? Will you remember the great basketball mind or will you remember the man with a short fuse? What's your favorite Knight moment? Was there a particular Knight moment that made you cringe? Your answers to all of these questions and any additional thoughts in the comments, por favor.
More Knight coverage: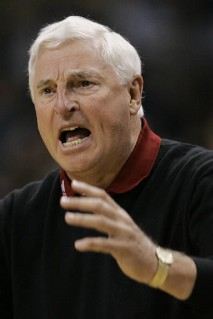 As reported on ESPN, former Indiana coach Bob Knight has resigned from the head coaching position at Texas Tech.
Pat Knight will take over effective immediately.
According to multiple reports, Knight spoke with Texas Tech Athletic Director Gerald Myers on Monday morning to inform him of his decision to step aside.
He also talked to his coaching staff and according to ESPN.com's Andy Katz, Knight said, "I can't do it anymore. After 42 years, I'm tired."
Knight is 902-371 in his career and is the all-time wins leader for NCAA Division I coaches.
He won three national championships and eleven Big Ten titles as the head man in Bloomington.
Texas Tech is currently 12-8 and 3-3 in the Big 12 conference.
Related coverage:

It's that time again … here's another podcast. Not as horrible as the last time, but certainly not without many faults, including but not limited to: mic and volume levels, misspoke words (indicated in the the title there) and I still, you know, say you know a million times. I need a shock each time I say it next time around, maybe that will cure me.
Anyways, on the podcast we talk about Coach Sampson's suspensions and what that means for his general control of this team as well as what A.J. Ratliff will bring to the Hoosiers with his return. (Hint: It's just not his defense.) Also, don't miss our Bob Knight sound bite! Give it a listen if you'd like.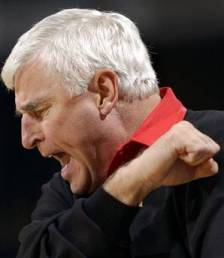 Our old friend, Coach Knight, is in the news again. This time it's not a head butt, throat grab, chair throw or a "What's up, Knight?"
The Dallas Morning News has obtained video (it's a bit low-quality, but does the job) from Lubbock resident James Simpson who recently got into a verbal confrontation with Knight after he asked the coach to leave his property.
This comes just days after the Associated Press reported that Knight shot two people with pellets last month.
Simpson, 51, said he told Lubbock police that he was struck on the neck and back by pellets after yelling at Knight and another man he believed were hunting too close to his house on Oct. 21.
Mary Ann Chumley, a neighbor of Simpson's, told the AP on Tuesday she was struck on the foot by a stray pellet on Oct. 20 in an incident she characterized as an accident. She said Knight apologized for hunting too close to her barn, and she forgave him. Simpson's backyard is about 100 yards from where Chumley was struck the previous day.
Simpson said the man hunting with Knight was Bob "Bubba" Curtis, owner of Bob's Woodworks, Inc. in Lubbock. Simpson said Knight and Curtis had hunted on the property near his house "three or four times" before but never had gotten so close.
Simpson said he yelled at Knight and Curtis three times and told them to stop shooting close to his house. He said after the third time, he screamed at Knight, "How would you like someone to throw a chair at your [expletive]."
Simpson said he then walked away and two shots were fired in the air.
Moral of the story: Never mess with a man armed with a pellet gun.
No Fourth of July celebration would be complete without fireworks, so that's what we're bringing you, straight from our old friend Coach Knight. The following YouTube vid is an ESPN compilation of Knight's top 10 sound bytes. Among our favorites: "the game face" and Bob's explanation of how he'd like to be laid to rest. Enjoy and Happy Fourth of July.