Bob Knight will shoot you with a pellet gun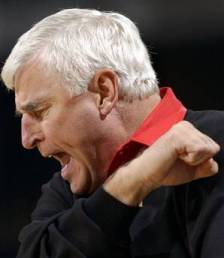 Our old friend, Coach Knight, is in the news again. This time it's not a head butt, throat grab, chair throw or a "What's up, Knight?"
The Dallas Morning News has obtained video (it's a bit low-quality, but does the job) from Lubbock resident James Simpson who recently got into a verbal confrontation with Knight after he asked the coach to leave his property.
This comes just days after the Associated Press reported that Knight shot two people with pellets last month.
Simpson, 51, said he told Lubbock police that he was struck on the neck and back by pellets after yelling at Knight and another man he believed were hunting too close to his house on Oct. 21.
Mary Ann Chumley, a neighbor of Simpson's, told the AP on Tuesday she was struck on the foot by a stray pellet on Oct. 20 in an incident she characterized as an accident. She said Knight apologized for hunting too close to her barn, and she forgave him. Simpson's backyard is about 100 yards from where Chumley was struck the previous day.
Simpson said the man hunting with Knight was Bob "Bubba" Curtis, owner of Bob's Woodworks, Inc. in Lubbock. Simpson said Knight and Curtis had hunted on the property near his house "three or four times" before but never had gotten so close.
Simpson said he yelled at Knight and Curtis three times and told them to stop shooting close to his house. He said after the third time, he screamed at Knight, "How would you like someone to throw a chair at your [expletive]."
Simpson said he then walked away and two shots were fired in the air.
Moral of the story: Never mess with a man armed with a pellet gun.
Filed to: Bobby Knight