Knight resigns from Texas Tech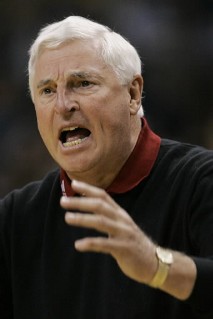 As reported on ESPN, former Indiana coach Bob Knight has resigned from the head coaching position at Texas Tech.
Pat Knight will take over effective immediately.
According to multiple reports, Knight spoke with Texas Tech Athletic Director Gerald Myers on Monday morning to inform him of his decision to step aside.
He also talked to his coaching staff and according to ESPN.com's Andy Katz, Knight said, "I can't do it anymore. After 42 years, I'm tired."
Knight is 902-371 in his career and is the all-time wins leader for NCAA Division I coaches.
He won three national championships and eleven Big Ten titles as the head man in Bloomington.
Texas Tech is currently 12-8 and 3-3 in the Big 12 conference.
Related coverage:
Filed to: Bobby Knight