6-Banner Sunday: Hoosiers in the NBA, July evaluation period and more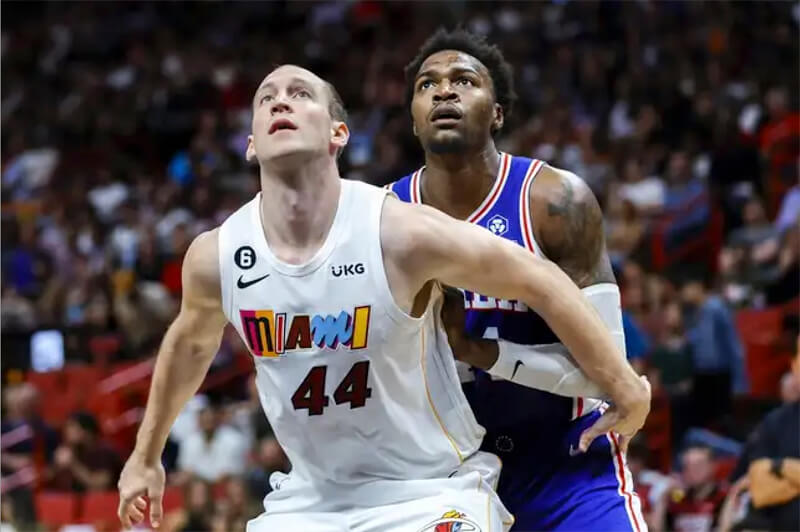 6-Banner Sunday is Inside the Hall's weekly newsletter in partnership with The Assembly Call. Almost 10,000 Indiana fans receive the newsletter each week. In addition to appearing each week on the site, you can also opt to receive 6-Banner Sunday by email. A form to subscribe via email is available at the bottom of this week's 6-Banner Sunday.
Welcome to another edition of 6-Banner Sunday, a joint production between The Assembly Call and Inside the Hall, and presented by our friends at Trueblood Real Estate, where we highlight the five most essential IU basketball stories of the past week, plus take a look at how the other IU sports programs are doing.
While the offseason is still a quiet time for Indiana basketball, former Hoosiers now in the pros continue to provide content. Whether it is free agency or the NBA's Summer League in Las Vegas, plenty of headlines happened here.
The biggest news this week for the current team was on the women's side. Assembly Call was able to confirm with a source that all reserved seating in the first 30 rows of the main level is sold out for 2023-2024.
In other stories, recruiting, Calbert Cheaney's official introduction, and AC Radio will be visited this week. We will as usual conclude with a look at other IU sports led by some updates in the transfer portal for baseball.
• Hoosiers in the NBA update
• Women's basketball sells out reserved seats
• Recruiting updates
• Calbert Cheaney meets with the media
• Assembly Call Radio
• Hoosier Roundup
Banner #1 – Hoosiers in the NBA update
More former IU players of the relatively distant past found new NBA teams to latch onto for 2023-2024 in the last few days. One-time freshman star Eric Gordon moved from the Los Angeles Clippers to the championship-contending Suns after agreeing to a deal in Phoenix. Meanwhile, beloved Hoosier Cody Zeller has managed to keep his career going by signing a contract with the New Orleans Pelicans.
For Indiana players of more recent times, the NBA's Sumer League is underway. While Trayce Jackson-Davis agreed to terms with the Golden State Warriors, he has yet to see time due to a hamstring injury. Jalen Hood-Schifino, on the other hand, has seen minutes in all three contests so far for the Los Angeles Lakers. In his debut, he scored 15 points on Monday and upped it to 20 points on Wednesday. In his most recent action on Friday against Jackson-Davis' Warriors he was held to nine points. Finally, Race Thompson's New York Knicks made their debut on Saturday, but he did not compete or travel to Las Vegas due to an injury.
Inside the Hall has a compilation of when the squads for all IU players in summer ball will take place. ITH also has a rundown of where all former Hoosiers' status in the NBA is currently. Two (Romeo Langford and Noah Vonleh) remain free agents, four have found new homes (Thomas Bryant, Gordon, Victor Oladipo, and Zeller), and one (OG Anunoby) is still in the place he was competing at in 2022-2023 for the moment.
Banner #2 – Women's basketball sells out reserved seats
IU's website posted that all reserved seating for women's basketball this coming year is gone, and there is now a waitlist. Assembly Call confirmed with a source in the athletic department that this is indeed correct and that the first 30 rows on the east and west sides have completely sold-out in-season packages.
It is unclear how many general admission seats have been bought so far in the remaining areas of the arena, which has a total capacity of 17,222. However, the reserved sections alone account for nearly 7,000 people. In 2022-2023, everything was sold as GA, and only about 2,600 bought season tickets despite multiple attendance records being set.
Banner #3 – Recruiting updates
Recruiting news was relatively sparse this week compared with the last few. However, Inside the Hall reported that IU's coaches are hitting the road during three July evaluation periods. These dates include the 6-9, 15-16, and 24-27 of this month.
Banner #4 – Calbert Cheaney meets the media
IU announced back in May that former star Calbert Cheney was leaving the Indiana Pacers and heading an hour down I-69 to serve as part of Mike Woodson's staff. This week, the Hoosiers introduced the Big Ten's all-time leading scorer at a press conference. Cheney will serve as the Director of Player Development and spoke about his return to Bloomington and much more when meeting with the media.
Banner #5 – Assembly Call Radio
Assembly Call was busy this week with three shows. AC Radio had its normal Thursday program and a special episode with Damon Bruce to discuss Jackson-Davis' prospects in the NBA, among other things. Meanwhile, Doing The Work was on-air with guests Amy Metheny and Debra McClurg, who were part of the 1983 Big Ten Championship team.
Banner #6 – Hoosier Roundup
• Baseball has had 11 players enter the transfer portal this offseason. Of those, only three played any role in 2023's success and include starting outfielders Hunter Jessee and Bobby Whalen, as well as middle reliever Craig Yoho. On the positive side, Western Illinois star outfielder Nick Mitchell has transferred in and is considered one of the top available players in the portal. He will be one of at least six new faces on the squad with experience playing Division One college baseball. By next week, the Hoosiers should know who will compete for them in 2024. This is because the MLB Draft is this week, and the transfer portal closes. If no one else leaves via either of these avenues, IU should be the heavy favorite in the conference heading into next spring.
• Volleyball and Softball announced additions and changes to their coaching staff.
• Two of IU's wrestlers earned medals at the Central American and Caribbean Games.
• Track and Field's Camden Marshall will compete at the USATF Outdoor Championships.
• Four women's golfers received WGCA All-American Scholar Team Honors.
Thanks for your continued support for The Assembly Call and Inside the Hall. We'll be back next weekend with a new roundup.
Now go enjoy yourself a 6-banner Sunday.
Aaron (Ari) Shifron
Assembly Call Contributor
Filed to: