How to watch: Former Hoosiers set to tip off in NBA 2K24 Summer League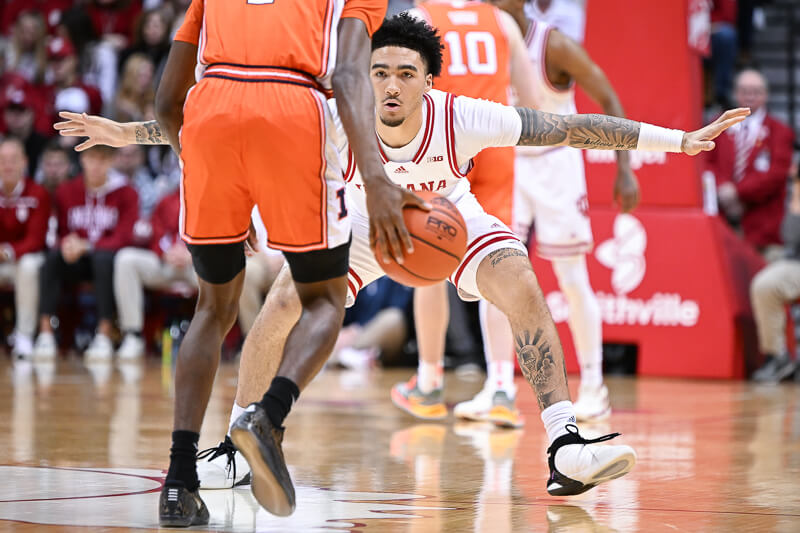 The NBA 2K24 Summer League begins today in Las Vegas.
Three former Hoosiers – Jalen Hood-Schifino, Trayce Jackson-Davis and Race Thompson – are expected to compete.
Here's how to watch the Summer League and everything you need to know:
• How to watch: Games will be broadcast on NBA TV, ESPN, ESPN2 and ESPNU. Games will also be available on the ESPN and NBA Apps.
• Dates and number of games: 76 games in total are scheduled from July 7-14. After four games are completed by each team, the top four will advance to a playoff. The playoff will feature a semifinal game on July 16 and the championship game on July 17. The teams not advancing to the playoff will play a consolation game on either July 15 or 16.
• Venues: Games will be played Cox Pavilion and the Thomas & Mack Center.
• Schedules for participating IU players:
Jalen Hood-Schifino, Los Angeles Lakers
Friday, July 7 vs. Golden State at 11 p.m. ET on ESPN
Sunday, July 9 vs. Charlotte at 4 p.m. ET on ESPN2
Wednesday, July 12 vs. Boston at 10 p.m. ET on ESPN2
Friday, July 14 vs. Memphis at 10:30 p.m. ET on NBA TV
Trayce Jackson-Davis, Golden State Warriors
Friday, July 7 vs. Los Angeles at 11 p.m. ET von ESPN
Sunday, July 9 vs. New Orleans at 10 p.m. ET on ESPN2
Wednesday, July 12 vs. Dallas at 5:30 p.m. ET on NBA TV
Thursday, July 13 vs. Houston at 7 p.m. ET on ESPN
Race Thompson, New York Knicks
Saturday, July 8 vs. Philadelphia at 5 p.m. ET on NBA TV
Sunday, July 9 vs. Brooklyn at 5:30 p.m. ET on NBA TV
Wednesday, July 12 vs. Orlando at 8 p.m. ET on ESPN2
Friday, July 14 vs. Boston at 7 p.m. ET on ESPN2
The NBA announced today the game and broadcast schedules for NBA 2K24 Summer League, set for July 7-17 in Las Vegas. ESPN networks and NBA TV will air all 76 games. Every NBA team will play at least five games.

Schedule: https://t.co/3mPRIrYmDx

More ?? https://t.co/Go2FM6mxfP

— NBA Communications (@NBAPR) June 23, 2023
Filed to: Jalen Hood-Schifino, Race Thompson, Trayce Jackson-Davis