6-Banner Sunday: Jalen Hood-Schifino, Trayce Jackson-Davis take next step in their basketball careers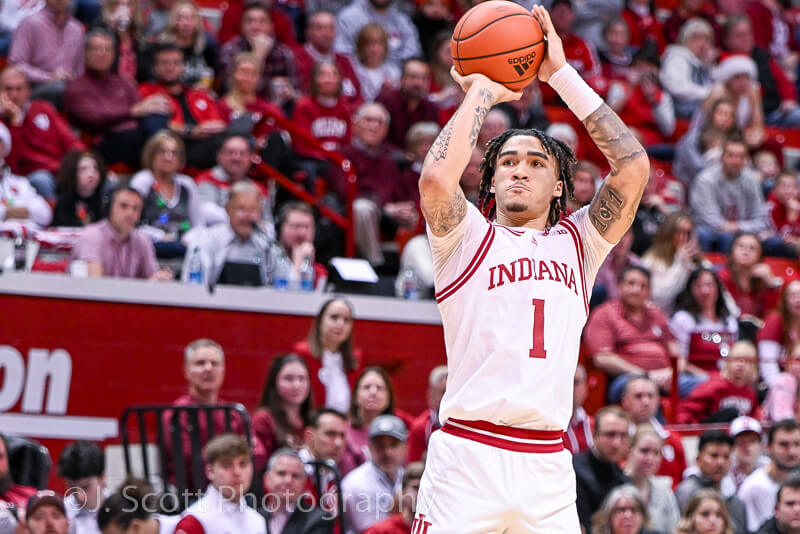 6-Banner Sunday is Inside the Hall's weekly newsletter in partnership with The Assembly Call. Almost 10,000 Indiana fans receive the newsletter each week. In addition to appearing each week on the site, you can also opt to receive 6-Banner Sunday by email. A form to subscribe via email is available at the bottom of this week's 6-Banner Sunday.
Welcome to another edition of 6-Banner Sunday, a joint production between The Assembly Call and Inside the Hall, and presented by our friends at Trueblood Real Estate, where we highlight the five most essential IU basketball stories of the past week, plus take a look at how the other IU sports programs are doing.
While most weeks of the offseason are quiet, this was not one of them. In what has been a rarity since March Madness ended, multiple high-profile stories occurred throughout Hoosier Nation in the last few days.
First and foremost, IU had more than one player taken in the NBA draft for the first time since 2017. This puts a coronation on Indiana coach Mike Woodson's first couple of years which saw much-improved basketball. Other items of note took place as well, though. This included a couple of schedule updates for 2023-2024, some small recruiting nuggets, and Assembly Call and Inside the Hall having new shows. We will, as usual conclude with a look at how other Hoosier sports are doing, led by soccer announcing a trio of player additions for the coming season.
• Jalen Hood-Schifino drafted by the Lakers
• Trayce Jackson-Davis taken by Warriors
• Recruiting updates
• Schedule announcements
• Assembly Call Radio and Podcast on the Brink
• Hoosier Roundup
Banner #1 – Jalen Hood-Schifino drafted by the Lakers
The first two seasons under Mike Woodson have seen substantial steps forward on the court. When Woodson took over in 2021, the team had not made the NCAA tournament since 2016. While results have not been at an elite level, the Hoosiers have gone to March Madness in consecutive seasons for just the third time since the Kelvin Sampson era ended in 2008.
A big part of the improvement has been because of stronger recruiting and higher-level players coming to Bloomington. No one meets this criteria more than former five-star prospect Jalen Hood-Schifino. IU's star point guard from 2022-2023 was projected to need multiple years on campus before being ready for the pros. However, with Woodson's help in developing him, Hood-Schifino managed to be a solid first-round pick after just one season at Indiana.
With his coach in attendance when his name was called in New York, Hood-Schifino went to the Los Angeles Lakers, who had the 17th selection. This puts him in a situation with a strong squad that also happens to have NBA superstar Lebron James. Also, Hood-Schifino becomes just the ninth selection in the first round since 2003 among players who formerly donned the Cream and Crimson.
Banner #2 – Trayce Jackson-Davis taken by Warriors
Many expected Trayce Jackson-Davis to be taken late in the first round or early in the second round. However, this did not materialize, and it looked like the entire draft might go by without his name being called. Many, including the Pacers, passed on him (their GM Chad Buchanan later explained on local radio that TJD did not want to go to his home state squad) as the latter picks went by. This caused Jackson-Davis to tweet "Y'all will regret it… I promise you".
However, it turned into a tale of all's well that ends well. This is because just two picks from the end of the night, Jackson-Davis fulfilled his dream and was selected by the Golden State Warriors. While many players taken this late have trouble latching on in the NBA, Jackson-Davis was given a guaranteed contract for three years. He also joins a team short on frontcourt depth that is already a championship contender and features NBA star Stephen Curry.
Reaction to Jackson-Davis (and Hood Schifino) being taken was decidedly mixed. However, in the end, both Hoosiers are headed to play professionally, just as was projected when the night began.
Banner #3 – Recruiting updates
While getting players to the NBA has been relatively rare for the Hoosiers recently, Woodson is very much looking to change this. With more blue-chip prospects choosing IU now, names being called on draft night figures to increase quickly. Already, former five-star recruits Kel'el Ware and Mackenzie Mgbako are projected 11 and 31 respectively by ESPN after the upcoming 2023-2024 season.
While no commitments for 2024 and beyond have happened yet, many of the best continue to have Indiana near the top of their list. Much of the top talent is being pursued by Hoosiers and Inside the Hall compiled where all of them are ranked at the moment. Of those, Tyler Betsey, Boogie Fland, and Jaeden Mustaf have all visited campus recently. Also, Annor Boateng had a highlight video of him released.
Banner #4 – Schedule announcements
While future rosters beyond 2023-2024 remain in flux, the players on IU for next season are likely set. Also, pieces of the schedule continue to fill in as yet another opponent was announced this week in the form of Morehead State. The Hoosiers also played the Eagles last season and they are the first opposition so far that is known to rank outside the KenPom top 200 at a lowly 237.
The most interesting reveal for next season, though, came on the women's side. This was because the Big Ten released this week which opponents would be faced once vs. twice. If Indiana is to win their second straight conference championship, they will have to earn it as they were given a brutal draw.
They will go head-to-head against fellow league title contenders Illinois, Iowa, and Maryland twice. A solid Purdue squad is also locked in as a double play every year as a rival. The only break comes with facing woeful Northwestern multiple times. In terms of single plays, this was also a difficult task as they head to elite Ohio State and good Nebraska without a return trip to Bloomington from them. In terms of home-only draws, all four of these contests are against opposition that figures to finish towards the bottom of the Big Ten.
Banner #5 – Assembly Call Radio and Podcast on the Brink
Both Inside the Hall and Assembly Call had shows this week. Podcast on the Brink returned after a long absence to discuss scheduling with Rocco Miller.
Meanwhile, AC Radio was moved to Wednesday to not conflict with the draft and in doing so previewed the event before it took place. Finally, Doing The Work had radio voice Austin Render on as a special guest to look back at the previous year and preview the upcoming one.
Banner #6 – Hoosier Roundup
• Men's Soccer added three late signees to their recruiting class for this coming fall.
• Football had a feature article on defensive back Noah Pierre
• Volleyball announced their representatives at Big Ten Media Day.
• Wrestling had a USA Senior All-American.
• Field hockey and men's swimming and diving each had an athlete receive an Outstanding Sportsmanship Award. Furthermore, four other field hockey players were announced as participants in the 2023 Nexus Championship.
Thanks for your continued support for The Assembly Call and Inside the Hall. We'll be back next weekend with a new roundup.
Now go enjoy yourself a 6-banner Sunday.
Aaron (Ari) Shifron
Assembly Call Contributor
Filed to: