What they're saying: NBA draft grades for Lakers, Warriors after selecting Jalen Hood-Schifino, Trayce Jackson-Davis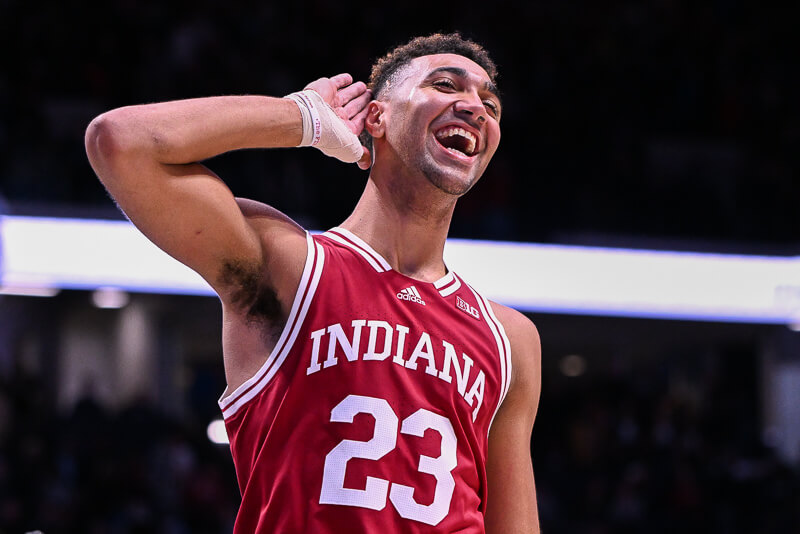 Jalen Hood-Schifino was selected No. 17 by the Los Angeles Lakers and Trayce Jackson Davis went No. 57 to Golden State in Thursday's NBA draft.
We've compiled draft grades and other feedback from around the Web on the selection of both players into the roundup below:
Hood-Schifino
LOS ANGELES LAKERS B 

With D'Angelo Russell's free agency situation up in the air, the Lakers find something of a doppelgänger in Hood-Schifino. The Big Ten Freshman of the Year is a poised pick-and-roll maestro with excellent vision and passing touch, and his Montverde Academy pedigree shines through in his disciplined defensive fundamentals. JHS has a beautiful pull-up game that currently extends only as far as the midrange. The Lakers have done a great job developing players in the Rob Pelinka era, and if they can get him comfortable from deep, it could open up much more in his game.
Los Angeles Lakers: C
Round 1: Jalen Hood-Schifino (No. 17)
Round 2: Maxwell Lewis (No. 40)

Although Hood-Schifino went later than expected, I'm still not a fan of the value for the Lakers. Hood-Schifino ranked outside the top 30 of my projections and his best skill (contested shot making) isn't a fit alongside Anthony Davis and LeBron James, granted that he might ultimately outlast them on the L.A. roster. With the 40th pick, acquired in exchange for cash earlier in the day, the Lakers took a stronger gamble on Lewis, the local Pepperdine player. It wouldn't have been surprising had Lewis gone late in the first round.
Well, this is an interesting one for me, personally. The Lakers' track record in the draft over the last decade or so has been as good as any team's in the league. On the other hand, I think Hood-Schifino is the most overrated player in the draft. As an on-ball player specializing in middies and floaters, but with limited ability to either shoot the 3 or get all the way to the cup, I don't see a ton of upside here, and I don't really see how he fits in on a team with LeBron James and Anthony Davis. The Lakers' track record here deserves respect, but I'm a bit puzzled.
Adam Finkelstein, CBSSports.com:
Hood-Schifino showed in high school and college that he could be a role player, and that's important here. Still, he's a bit streaky as a scorer and especially as a shooter, which will be important for the Lakers immediately. The long-term play here is a nice player, but is he ready to contribute to a team that expects to be good now? Grade: B
Zach Buckley, Bleacher Report:
The Lakers were likely to add a playmaker this offseason, and while they could search for more in free agency or trades, they at least started to scratch that itch with this pick.

Hood-Schifino aces the eye test as a big, physical playmaker, and his feel for the game might be even more impressive than his raw gifts. He can manipulate defenses, which makes him excellent in ball-screen situations. He competes on defense and maintains his focus away from the ball.

He comes with plenty of question marks, though, as he's not the best athlete, ball-handler or shooter around. He has some ignitable nights, but he isn't nearly consistent enough. If he's going to be a primary creator, he needs a more reliable pull-up shot. If he's going to be off the ball more, he has to level up his spot-up shooting.

If his shooting perks up, he's a good fit and a good find in this spot. If it doesn't, it could be hard for him to find minutes with both LeBron James and Anthony Davis on the floor.

Grade: B
Grade: C+

Hood-Schifino is a huge 6'6 guard who can make plays out of the pick-and-roll while offering pull-up shooting potential. He's not a great athlete, and didn't get many easy buckets as a freshman for Indiana, which is one reason he struggled to score efficiently at times. I had Hood-Schifino ranked outside my top-30, but the NBA teams were reportedly always higher on him. His upsides rests on him turning into a knockdown pull-up shooter off the dribble, but I'm not super encouraged by his college tape or percentages. The Lakers did need a guard and if this saves them from giving D'Angelo Russell a big contract, it could be worth it.
Grade: B-

Hood-Schifino plays bigger than his 6-5 frame and was the most improved ball-handler in the pick-and-roll option this season. Defensively, he keeps guards in front and can cut players off trying to turn the corner off the switch. Hood-Schifino participated in Chris Paul's camp prior to his freshman season at Indiana and Paul praised Hoood-Schifino's defense on the perimeter.
Jackson-Davis
Golden State Warriors: A-
Round 1: Brandin Podziemski (No. 19)
Round 2: Trayce Jackson-Davis (No. 57)

I found the talk about the Warriors adding older prospects a bit overhyped. Podziemski, 20, is actually younger than Miller and the Thompson twins. The difference between him and past Golden State picks is that Podziemski rates higher in terms of overall basketball ability than physical potential. We'll see whether that limits Podziemski in the pros, but I'm betting on someone who ranked in the top 10 of my projections. Jackson-Davis, who will be on a full NBA contract according to new Warriors GM Mike Dunleavy Jr. (a move that will save Golden State in terms of luxury-tax payments), does fit the older mold at 23. By the 57th pick, however, Jackson-Davis was arguably the best player available.
The tail end of Mike Dunleavy Jr.'s first draft day as the Warriors' new general manager ended with a minor move layered into some bigger picture themes about the evolving direction of his roster.

Trayce Jackson-Davis, a prospect the Warriors ranked as a late first-rounder on their final big board, was still available at the 57th pick. The Wizards held the 57th pick. That proved relevant because, earlier in the day, the Warriors agreed to a blockbuster Jordan Poole for Chris Paul swap with Washington. This gave the Warriors a chance to broaden out the deal and accomplish another goal.

They linked up with the Wizards again, agreed to add Patrick Baldwin Jr. into their outgoing package and in a roundabout way acquired that 57th pick for cash considerations. Then they used it to grab Jackson-Davis, a prospect they coveted, behind-the-scenes manipulating him deeper into the second round and into their grasp, in part, because Dunleavy has a strong relationship with Jackson-Davis' agent — James Dunleavy, Mike's brother.

This outcome appealed to both sides because the Warriors plan to give Jackson-Davis a multi-year contract on the main roster, rare for a late second-rounder.

"He'll be on the regular 15-man," Dunleavy said. "We're not overly loaded in the frontcourt (after Kevon) Looney. Hopefully we can get Draymond (Green) back. (Jackson-Davis) is a guy who will provide insurance and hopefully grow with the program."
I don't give out 'A's very often in the second round, but I'll slap my stamp of approval happily here on this one. Jackson-Davis was a first round prospect for me so this pick for the Warriors at No. 57 feels like robbery. He was a productive four-year college player at Indiana whose shooting touch could allow him in time to develop a perimeter shot and be a floor-spacing threat. Grade: A
Zach Buckley, Bleacher Report:
A draft slide for Trayce Jackson-Davis was always possible, as he's older (23), undersized (6'8″) and not a shooter. But dropping all the way to No. 57 was ridiculous, and the Warriors were wise to pounce on that.

He'll fit their system like a tailored suit. He has functional handles and phenomenal footwork. He can finish above the rim and has soft touch around it. His expanding that shooting range to the perimeter is possible at some point. He's a clever passer who could be tremendous on the short roll.

It'll take creativity to bring out his best, but Golden State could carve out a role for him the same way it once did for Draymond Green. Jackson-Davis is a keeper. Those are almost impossible to find this late in the draft.
Filed to: Jalen Hood-Schifino, Trayce Jackson-Davis