A look at where Indiana's recruiting targets stand in the 2024 rankings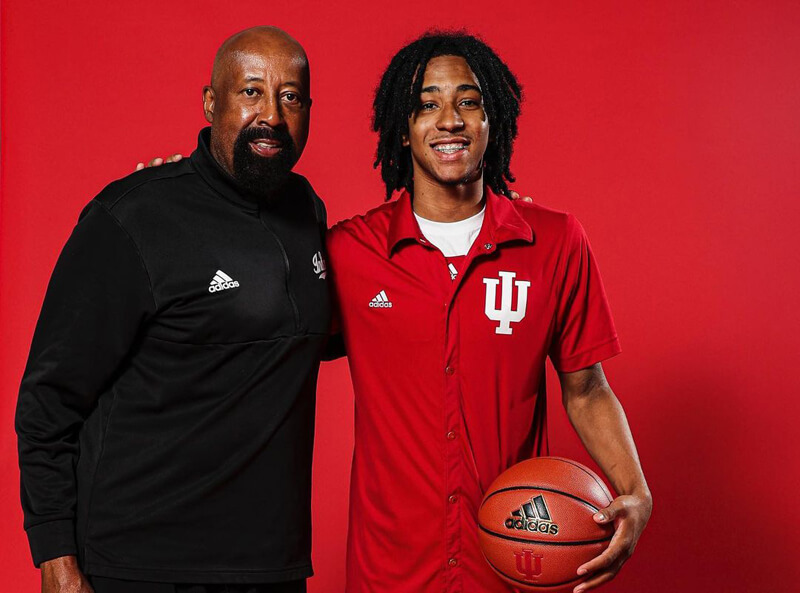 Indiana's list of 2024 recruiting targets includes many nationally ranked prospects.
The Hoosiers have already hosted many of these targets for official and unofficial visits, including Tyler Betsey, Jaeden Mustaf and Boogie Fland this month.
Our 2024 Indiana Basketball Recruiting Board continues to be updated with the latest on this class.
Several of the national services have updated their rankings recently and we've compiled all of that information below for each of IU's 2024 targets:
247Sports: 5-star (8)
247Composite: 5-star (6)
On3: 5-star (11)
On3 Industry Ranking: 5-star (8)
ESPN: 5-star (8)
Rivals: 5-star (7)
247Sports: 5-star (1)
247Composite: 5-star (2)
On3: 5-star (1)
On3 Industry Ranking: 5-star (2)
ESPN: 5-star (2)
Rivals: 5-star (3)
247Sports: 5-star (13)
247Composite: 5-star (8)
On3: 5-star (7)
On3 Industry Ranking: 5-star (7)
ESPN: 5-star (6)
Rivals: 5-star (9)
247Sports: 5-star (4)
247Composite: 5-star (4)
On3: 5-star (4)
On3 Industry Ranking: 5-star (4)
ESPN: 5-star (4)
Rivals: 5-star (2)
247Sports: 5-star (16)
247Composite: 5-star (9)
On3: 5-star (8)
On3 Industry Ranking: 5-star (9)
ESPN: 5-star (14)
Rivals: 5-star (8)
247Sports: 4-star (74)
247Composite: 4-star (70)
On3: 4-star (100)
On3 Industry Ranking: 4-star (81)
ESPN: 4-star (86)
Rivals: 4-star (86)
247Sports: 5-star (6)
247Composite: 5-star (11)
On3: 4-star (20)
On3 Industry Ranking: 5-star (13)
ESPN: 5-star (9)
Rivals: 4-star (30)
247Sports: 4-star (26)
247Composite: 4-star (38)
On3: 4-star (44)
On3 Industry Ranking: 4-star (38)
ESPN: 4-star (47)
Rivals: 4-star (50)
247Sports: 4-star (20)
247Composite: 4-star (22)
On3: 4-star (13)
On3 Industry Ranking: 4-star (16)
ESPN: 5-star (11)
Rivals: 4-star (49)
247Sports: 4-star (28)
247Composite: 4-star (27)
On3: 4-star (15)
On3 Industry Ranking: 4-star (23)
ESPN: 4-star (50)
Rivals: 5-star (14)
247Sports: 4-star (43)
247Composite: 4-star (73)
On3: 4-star (28)
On3 Industry Ranking: 4-star (35)
ESPN: 4-star (75)
Rivals: 4-star (135)
247Sports: Not ranked
247Composite: 4-star (100)
On3: 3-star (137)
On3 Industry Ranking: 3-star (139)
ESPN: 4-star (85)
Rivals: Not ranked
247Sports: 4-star (38)
247Composite: 4-star (24)
On3: 5-star (9)
On3 Industry Ranking: 4-star (19)
ESPN: 4-star (31)
Rivals: 5-star (16)
247Sports: 4-star (53)
247Composite: 4-star (60)
On3: 4-star (31)
On3 Industry Ranking: 4-star (53)
ESPN: 4-star (54)
Rivals: 4-star (99)
247Sports: 4-star (33)
247Composite: 4-star (48)
On3: 4-star (37)
On3 Industry Ranking: 4-star (47)
ESPN: 4-star (68)
Rivals: Not ranked
247Sports: 4-star (55)
247Composite: 4-star (47)
On3: 4-star (22)
On3 Industry Ranking: 4-star (41)
ESPN: 4-star (52)
Rivals: Not ranked
247Sports: 4-star (25)
247Composite: 5-star (12)
On3: 5-star (12)
On3 Industry Ranking: 5-star (11)
ESPN: 5-star (15)
Rivals: 5-star (6)
247Sports: 4-star (49)
247Composite: 4-star (51)
On3: 4-star (57)
On3 Industry Ranking: 4-star (52)
ESPN: 4-star (60)
Rivals: 4-star (51)
Filed to: Asa Newell, Austin Swartz, Boogie Fland, Bryson Tucker, Caleb Williams, Curtis Givens III, Derik Queen, Dylan Harper, Flory Bidunga, Jaeden Mustaf, Liam McNeeley, Marcus Allen, Patrick Ngongba, Rakease Passmore, Travis Perry, Tyler Betsey, VJ Edgecombe