6-Banner Sunday: Indiana adds five-star Mackenzie Mgbako to 2023-24 roster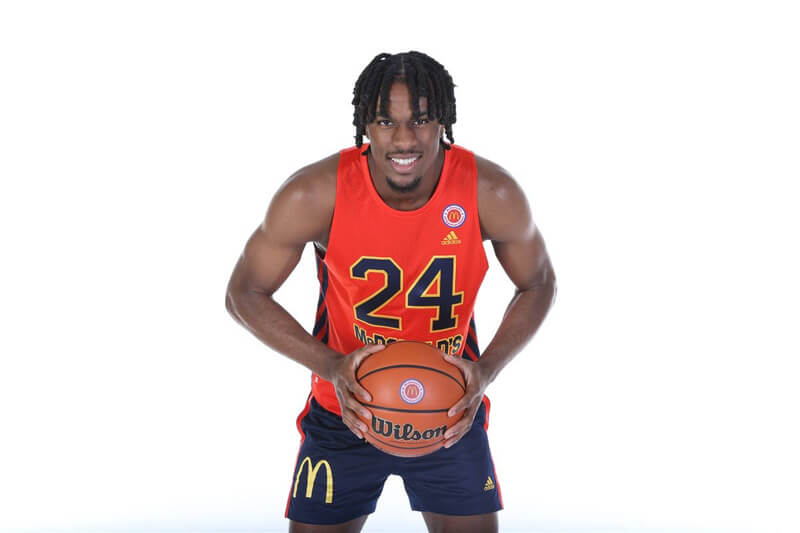 6-Banner Sunday is Inside the Hall's weekly newsletter in partnership with The Assembly Call. More than 9,000 Indiana fans receive the newsletter each week. In addition to appearing each week on the site, you can also opt to receive 6-Banner Sunday by email. A form to subscribe via email is available at the bottom of this week's 6-Banner Sunday.
Welcome to another edition of 6-Banner Sunday, a joint production between The Assembly Call and Inside the Hall, and presented by our friends at Trueblood Real Estate, where we highlight the five most essential IU basketball stories of the past week, plus take a look at how the other IU sports programs are doing.
Indiana got the best news it has all offseason from a recruiting standpoint as they landed a commitment from 2023 five-star forward Mackenzie Mgbako. However, this was far from the only big story in the program's very busy week.
Besides this, two more opponents were announced for next season's schedule, a fan-favorite event was finalized, and a couple of recent former Hoosiers continued on their path to the NBA. Also, both Inside the Hall and Assembly Call had shows, and we will as usual, conclude with a look at how other IU sports are doing, led by a great week from baseball.
• Mackenzie Mgbako commits to Indiana
• Schedule updates for 2023-24 season
• Annual Huber's event announced
• Trayce Jackson-Davis and Jalen Hood-Schifino invited to NBA draft combine
• AC Radio and Podcast on the Brink
• Hoosier Roundup
Banner #1 – Mackenzie Mgbako commits to Indiana
IU already has an All-American player and leading scorer named Mackenzie on one of their basketball teams. Now they will have one on each hoop squad as Mackenzie Mgbako pledged to the Hoosiers on Friday. He joins women's star Mackenzie Holmes as players at Indiana with that name. This could create a situation where the leading point-getter and best player on each team share a given name despite being of opposite genders. Indeed, shortly before Mgbako shared the news on Friday that he was going to be a Hoosier, Holmes tweeted  "Bloomington could use another Mack" in reference to him.
In landing Mgbako, Indiana coach Mike Woodson beat out Kansas in a head-to-head recruiting battle and the school lands their second highest-ranked recruit ever per 247 Sports.
Mgbako originally signed with Duke but re-opened his commitment after Kyle Filipowski decided to return to the Blue Devils instead of going to the NBA. Mgbako also gives IU an athletic wing that can shoot and spread the floor, which this team was missing.
The Hoosiers still have a scholarship open should they find another player they like. However, with Mgbako in the fold, IU now has a squad that should comfortably make the NCAA tournament and finish in the top half of the Big Ten, if not higher.
Banner #2 – Schedule updates for 2023-24 season
Getting Mgbako and Ware to join the Hoosiers for next season is a big deal in part because of the difficult non-conference schedule the team will face. It was known they had showdowns against Auburn, Kansas, and two of Connecticut, Louisville, or Texas. Also, a game had already been announced against top-160 KenPom team Harvard.
However, it was revealed this week that the game against the Crimson will be played in Indianapolis rather than Bloomington the Sunday after Thanksgiving. Besides this, two more opponents were revealed. While they are not top-flight matchups, they are an improvement on the "guarantee games" from past seasons. The Hoosiers will host Florida Gulf Coast to open the season on Nov. 7 and then face Wright State at home nine days later. Both of these teams rank in the top 200 of KenPom and the Eagles pulled an upset against tournament participant USC in Los Angles to begin 2022-2023.
Fans now know seven of the 11 matchups on the pre-Big Ten slate and they range from elite to decent so far, with none ranked lower than 197. Inside the Hall has compiled a list of all the known contests for 2023-2024.
Banner #3 – Annual Huber's event announced
A fan favorite has officially been confirmed for later this month as IU holds its annual get-together at Huber's Winery on May 31 in Southern Indiana. However, a significant change is in store for this year.
Rather than being hosted by IU and the Varsity Club, it will instead be an NIL fundraiser put on by Hoosiers For Good. The event will begin at 5:30 p.m. ET and costs $50 per person or $1000 to sponsor a table.
Banner #4 – Trayce Jackson-Davis and Jalen Hood-Schifino invited to NBA draft combine
Trayce Jackson-Davis and Jalen Hood-Schifino both project highly in the upcoming NBA draft.  As a result, they were among 78 players (including 11 from the Big Ten) invited to the NBA Combine later this month.
Inside the Hall compiled a list of when the two might hear their name called on June 22. Hood-Schifino will most likely be taken first and projects anywhere from late in the lottery to late in the first round. Meanwhile, Jackson-Davis should be expected to go between very late in the first round to early in the second round.
Banner #5 – AC Radio and Podcast on the Brink
Assembly Call and Podcast on the Brink both had new episodes this week. POTB was recorded before Mgbako's commitment and did an off-season mailbag with Justin Albers.
Meanwhile, Assembly Call had their regular Thursday night show in preparation for the Mgbako announcement. They then did an emergency podcast within minutes of his commitment to IU.
Banner #6 – Hoosier Roundup
• Baseball had a perfect week with a win at Northwestern to sweep that series. They then followed that up with a huge road victory against Xavier which is a borderline quad-one game. Finally, they have dominated arch-rival Purdue in their first two contests this weekend to tie for the Big Ten lead with just four matchups left in conference play. They are also in a good position for their first NCAA tournament since 2019 with a top-30 RPI.
• Women's Basketball announced several fan changes for the upcoming 2023-2024 season. This includes adding reserved seating on the stadium's east side in the first 25 rows.
• Softball suffered a heartbreaking loss in the Big Ten tournament championship to an elite Northwestern squad after two wins. Before this, they finished a sweep of Michigan State to obtain the runner-up spot in the league. The NCAA Selection show is tonight at 7 p.m. ET on ESPN2 and IU will hear their name called for a Regional for the first time in 12 years after a historic 42-16 record to this point. This is the most victories the program has had since 1994. Also, Taryn Kern was named the Big Ten Player of the Year and the top freshman in the conference.
• Track and Field is hosting the Big Ten Championships at home, which still have one day left to go.
• Women's golf added a transfer.
• Wrestling signed a transfer as well.
• Men's Soccer celebrated the program's 50th anniversary.
Thanks for your continued support for The Assembly Call and Inside the Hall. We'll be back next weekend with a new roundup.
Now go enjoy yourself a 6-banner Sunday.
Aaron (Ari) Shifron
Assembly Call Contributor
Filed to: