What they're saying: An updated look at the current NBA draft stock of Jalen Hood-Schifino and Trayce Jackson-Davis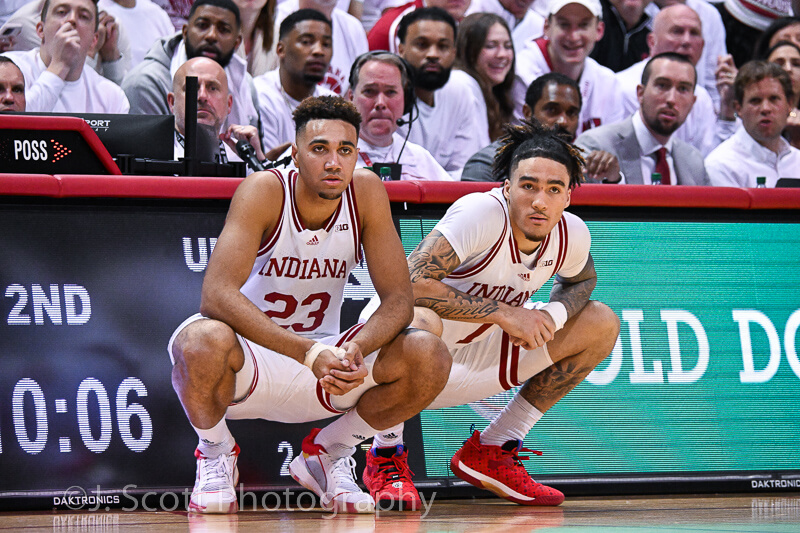 The NBA draft will take place next month at the Barclays Center and two former Hoosiers, Jalen Hood-Schifino and Trayce Jackson-Davis, are expected to be selected.
The NBA draft combine will take place next week in Chicago and the draft lottery takes place one week from today.
Here's a look at where each player currently stands in several of the latest mock drafts and big boards (information compiled at 8 a.m. ET on Tuesday, May 9):
Jalen Hood-Schifino
• ESPN.com, Jonathan Givony and Jeremy Woo: No. 16
The Hawks are heavily reliant on the shot-creation prowess of Trae Young, whose standing is somewhat of an open question after a tumultuous season that saw changes in the front office and coaching staff. With that in mind, adding another lead guard to the team could make sense, making the live-dribble passing, shot-making and all-around aggressiveness Hood-Schifino brings attractive. He's likely not ready to be handed the keys to an NBA offense anytime soon considering the huge swings in effectiveness we saw this season, but his upside is clearly significant for a team that can afford to be patient with his development. — Givony
• The Athletic, Sam Vecenie: No. 16
• Bleacher Report, Jonathan Wasserman: No. 21
Hood-Schifino may have raised some eyebrows of late with cold shooting and some lackadaisical play. There will still be first-round interest in a 6'6″ ball-handler who can control possessions with his pace, sink defenses with his pull-up and facilitate.
• The Ringer, Kevin O'Connor: No. 19
At his best in the pick-and-roll. He plays with great pace, using his screen to get into the middle of the floor, where he can pull up from midrange or dissect the defense with various passes to his rolling big.

Good midrange pull-up shooter capable of draining shots off movement. If he's successful in extending his range behind the NBA line, he could become a drop-coverage killer.

Though he's not a great at-rim finisher yet, he doesn't shy away from contact. With his size and midrange touch, he has the potential to become a foul magnet.

Versatile defender with a muscular frame and great technique. He does a nice job of sliding his feet laterally to stick with his opponent, whether it's out of an isolation or when fighting over screens.

Handsy defender who pokes on the ball, breaks up handoffs, and is capable of racking up deflections off the ball.
• NBADraft.net: No. 16
• Yahoo Sports, Krysten Peek: No. 14
Hood-Schifino is a tough guard who makes good reads off the dribble and as the season went on, his 3-point read off the pick-and-roll improved. His release looks smoother and the ball placement is a bit higher than when he was five-star high school recruit. His footwork on defense and the way he uses his body to direct players, instead of reaching, is what stands out and will translate at the next level. Prior to the college season starting, Hood-Schifino was one of the best defensive guards at Chris Paul's camp in Los Angeles and even locked up Paul and Devin Booker a couple times with NBA scouts watching from the sidelines.
• SBNation, Ricky O'Donnell: No. 22
• USA Today, For The Win, Bryan Kalbrosky: No. 27
He desperately needs to improve his jumper considering, per AI-Powered statistics provided by Stats Perform, he was just 8-for-36 (22.2 percent) on 3-pointers from NBA distance. But any freshman who is his size and who looks as comfortable as he does in ball screens is a sure-fire first-round draft pick.
• HoopsHype, Aggregate Mock Draft: No. 16
Indiana's Jalen Hood-Schifino has put himself in the conversation to become a lottery pick thanks to his elite 6-foot-5 size and 6-foot-10 wingspan for the point guard position and as a defender who can cover multiple positions.

Currently, he's considered a streaky three-point shooter, but his free throw percentage (77.6) offers the plausible belief that his three-point shot will improve and become more consistent over the years.
• CBS Sports: No. 13
• SportsIllustrated, Kevin Sweeney: No. 20
I'm torn on how to evaluate Hood-Schifino as an NBA prospect. There are plenty of pros: above-average positional size, solid defensive instincts and an advanced midrange game. At the same time, Hood-Schifino lacks the burst to create separation from defenders and isn't necessarily a primary ballhandler in the NBA. As long as he shoots it well, he'll have a long career and might be worthy of a lottery pick. But there's also some real downside here that caused me to move him down to the late teens.
• NBCSports, Tyler Byrum and Chase Hughes: No. 19
If Hood-Schifino developed a more consistent 3-point shot, he might have been in the lottery conversation. A big guard (6-foot-6, 215 pounds) who can penetrate the paint and facilitate at an elite level in the high post is a hot commodity for draft evaluators. His go-to shot is the midrange pull-up jumper. – TB
• FOX Sports, John Fanta: No. 11
The 6-foot-6 Hoosiers product showcases a well-rounded offensive ability in his one season in Bloomington, scoring at least 18 points in eight games, highlighted by a 35-point master class in a primetime road win over Purdue in February. At 19, Hood-Schifino has the upside to suggest he's deserving of a lottery slot in this class, presenting the traits that many NBA teams look for in guard play.

What stands out about Hood-Schifino is how willing of a defender he is at his age. The Big Ten Freshman of the Year showcased his ability to impact the game for others as well, averaging nearly four assists per game to go along with his 14 points on average. This is an upside pick, and would be a selection of someone who went through the Big Ten grinder and succeeded during it.
Trayce Jackson-Davis
• ESPN.com, Givony and Woo: No. 33
• The Athletic, Vecenie: No. 40
• Bleacher Report, Wasserman: No. 33
Improved passing, short-range creation and shot-blocking have helped reshape Jackson-Davis' image as an outdated post scorer. While the senior figures to still find himself with a second-round grade on most boards, it wouldn't be surprising if some teams saw an NBA big worth taking in the 20s.
• The Ringer, O'Connor: No. 31
Constant lob threat. Indiana runs screening plays to get him skying toward the rim.

Primarily a post scorer in college. Although that won't be his role in the NBA, it's still a valuable tool. He can dribble into post-ups and expose mismatches. And he's excellent at sealing off defenders under the rim to create easy scoring chances.

Displays soft touch on hook shots and floaters.

Helpful playmaker who can bring the ball up the floor to initiate dribble handoff actions. With his rolling ability, his value will be heightened when he's paired with shooters who can deliver accurate passes. He does a good job of throwing cross-court passes in the post to shooters, a skill that can translate to any spot or situation on the floor.

Quick second-leaping ability enhances his chances of making plays around the basket—whether he's fighting for putbacks on offense, or altering shots on defense.

Scheme-versatile defender who is effective in drop coverage because of his great athleticism and coordination blocking shots, but he's also agile enough to comfortably switch screens.
• NBADraft.net: No. 20
• Yahoo Sports, Peek: No. 27
Jackson-Davis made a strong statement to close out the season and showed how valuable he is in a two-man game off ball screens and in high-low situations. He might not be the biggest forward in this draft class, but he has crafty footwork around the rim and a much improved midrange game.
• SBNation, O'Donnell: Not ranked in top 30
• USA Today, For The Win, Kalbrosky: No. 37
• HoopsHype, Aggregate Mock Draft: No. 29
Indiana's Trayce Jackson-Davis is a projected first-round pick for the first time in the aggregate mock draft and was the highest first-round riser in this edition, vaulting 17 spots.

Jackson-Davis is the son of former NBA veteran Dale Davis and is considered a good rebounder and post scorer. He can also operate as a passer from the mid-post and in dribble handoff action.

Looking ahead, he'll need to expand his range to adapt to the NBA game and become a more consistent foul shooter.
• CBS Sports: No. 31
• SportsIllustrated, Sweeney: No. 35
I was skeptical of Jackson-Davis's NBA prospects until his senior year, when his passing dramatically improved. He'll never be a star at the next level, but he's simply too productive and smart not to find his way onto an NBA roster, even with his shooting woes.
• NBCSports, Byrum and Hughes: Not ranked in top 30
• FOX Sports, Fanta: No. 30
Dominating his final year at Indiana with 20.9 points, 10.8 rebounds and 4.0 assists per game on 58% from the floor, Jackson-Davis can enter into an NBA organization and serve as a frontcourt piece off the bench right away. He has great maturity, and the intensity that he plays with will never come into question. LA needs guys who can come right in and help them, especially with the restrictions added into the new CBA when it comes to roster additions.
Filed to: Jalen Hood-Schifino, Trayce Jackson-Davis