Class of 2023 five-star forward Mackenzie Mgbako commits to Indiana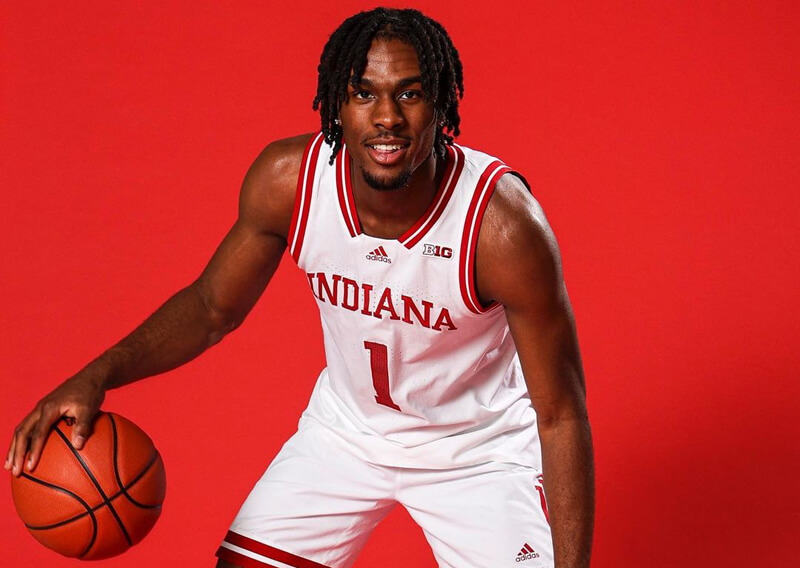 Class of 2023 Roselle Catholic (N.J.) forward Mackenzie Mgbako committed to Indiana on Friday evening.
Mgbako, who originally signed with Duke last fall, reopened his recruitment in April. He visited St. John's, Kansas and Indiana before choosing the Hoosiers. Mgbako also considered Louisville but did not visit the Cardinals.
The 6-foot-8 forward is the No. 8 player in the 2023 class, according to the 247Composite.
His national ranking makes him the highest-ranked high school recruit to commit to the program under Mike Woodson, who is entering his third season in Bloomington.
According to the RSCI rankings, the only top 10 recruits to commit to Indiana since 1998 are Eric Gordon, Romeo Langford, Noah Vonleh, Jared Jeffries and Cody Zeller.
Mgbako joins Gabe Cupps and Jakai Newton as the third high school player joining the Indiana program for the 2023-24 season. The Hoosiers have also added three transfers – Kel'el Ware (Oregon), Anthony Walker (Miami) and Payton Sparks (Ball State) – for next season.
Mgbako spoke with ESPN about his decision:
"My decision will put me in a position to flourish and thrive," Mgbako told ESPN. "The staff showed a lot of love and I trust them. They have a need for my game. It's a great fit. If I do my job, I will have the opportunity to start. I can bring scoring, rebounding and passing."

Mgbako spoke with Carmelo Anthony, who played for Indiana coach Mike Woodson while with the New York Knicks. He said that Anthony told him, "[Woodson] is a genuine guy. But on the court, he will push you."

Mgbako's NLI opportunities in Bloomington was also a factor in his decision.

"It works hand-in-hand with the decision," he said. "You get paid for what you love to do. Indiana has great NIL opportunities."
Indiana has one scholarship still open on the 2023-24 roster.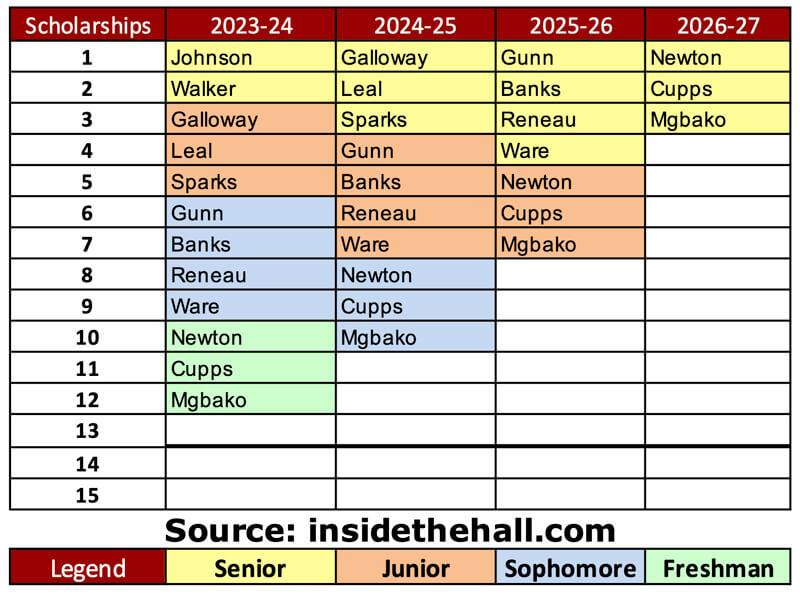 Mgbako, who will turn 19 in November, averaged 16.3 points and 9.2 points as a senior at Roselle Catholic. He was named a 2023 McDonald's All-American and played in the 2023 Nike Hoop Summit.
Here are some scouting reports on Mgbako from the national services:
His shot-making from behind the arc is his best asset. He can also make the types of shots that translate to the next level – pick-and-pop threes, slipping out of ball screens to make shots on the move, or creating space with a series of side-step or step-back shots. The mid-post has long been a staple of his individual offense, but now he's getting some easy points by moving without the ball more freely. Physically, Mgbako appears to be in the best shape of his career to date and was also productive enough on the glass to hold his own at the four. His swing skills are his defensive versatility and shot-creation abilities, both of which are rooted in his mobility, footspeed, and ability to play low to the ground when necessary. If those two areas develop, both his versatility and overall projection will go to new levels.
On3:
It is all about the jump shot. The release is consistent, high, and soft. Mgbako steps into it confidently off the catch and his balance is right on. Then you see the positional size at 6-foot-8/6-foot-9 and you see the attraction. Past the jump shot, Mgbako attacks closeouts in a straight line. His handle is average, his hips seem a little stiff, and he is a slightly above average athlete. Despite each of these being a concern moving forward, the shooting and the confidence are very real traits here and he rebounds his area. Mgbako has consistently performed at a high level is big settings.
Strengths: 6'8.75 forward … Good size and length for position with a 6'10 wingspan and 8'9.25 standing reach … Good strength and impressive physical profile. One of the more college ready players from a physical standpoint … Highly active and moves well off the ball … Good athlete and very well-coordinated. Throws down dunks with either hand in the half-court. Doesn't hesitate to use either hand at the rim, while contorting his body in the congested paint … Can be a matchup problem taking smaller wings into the post and there aren't many who can match his strength at this level. Flashes solid post-play: reverse pivots, fadeaways, and jump hooks … Effective slasher and initiates/finishes through contact … Good rebounder for position. Averaged 7.4 rebounds per game over the Nike EYBL in 2022 … Good tools and versatility as a defender, showing ability to switch, defending up and down the lineup. Blocks shots well for position. Averaged 1 block per game over the Nike EYBL in 2021 and 0.9 blocks per game in 2022 … Despite tunnel vision at times, he's capable of making impressive passes off the dribble. Also capable of impressive cross-court passes out of the post … Good aggression, stays engaged, and consistently plays hard. Highly confident and doesn't second guess himself …

Weaknesses: Above average athlete but isn't incredibly explosive … He can get wild with his shot selection and has tunnel vision at times, bailing out the defense. Has a habit of picking up his dribble early, holding it for a few seconds, then go up with a contested shot, sometimes from distance. While it works at times at this level, he has a tendency to put his head down and force his way to the rim. Has room to improve offensive technique overall as players will match his physicality at the next levels. Very high-volume shooter at a not so efficient rate. Averaged 16 points (13.4 FGA) per game on 42.9% FG% over the Nike EYBL in 2021 and 16.2 points (15.3 FGA) per game on 42.7% FG% in 2022 … While he does have range out the 3PT line, and his jump shot looks good as he keeps it straight (misses fall short or too long) but he lacks consistency overall. Shot 25.9% 3PT% on 6.8 3PT attempts per game over the Nike EYBL in 2022 … Can improve as a free throw shooter. Shot 68.4% FT% over the Nike EYBL in 2021 and 63.8% FT% in 2022 … Can tighten up as a ball-handler and tends to get loose with the ball even without defensive pressure. Averaged 1 assist to 1.7 turnovers per game over the Nike EYBL in 2021 and 1.7 assists to 1.8 turnovers per game in 2022 … Isn't the quickest laterally, which will be imperative defending wings at the next levels. Picks up unnecessary fouls and found himself in foul trouble throughout the EYBL season. Can work on staying in position defensively as he bites and gambles a bit often …
Filed to: Mackenzie Mgbako