6-Banner Sunday: Hoosier men and women move on to second round of March Madness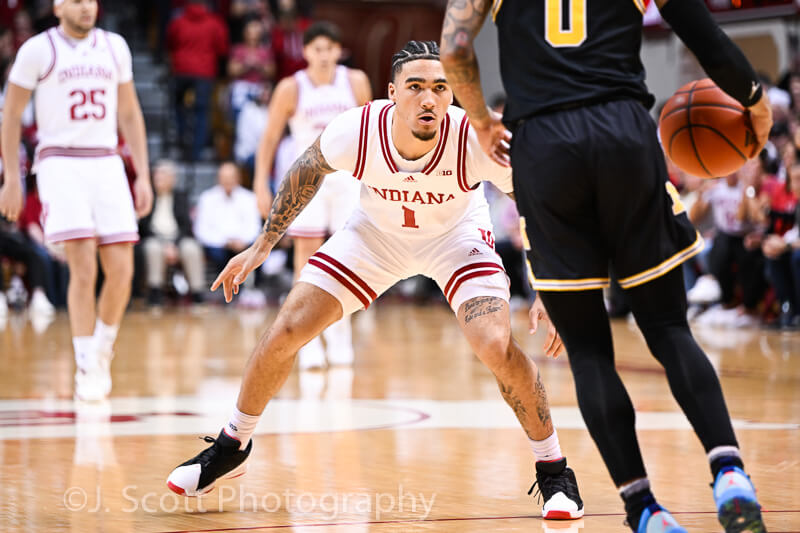 6-Banner Sunday is Inside the Hall's weekly newsletter in partnership with The Assembly Call. More than 9,000 Indiana fans receive the newsletter each week. In addition to appearing each week on the site, you can also opt to receive 6-Banner Sunday by email. A form to subscribe via email is available at the bottom of this week's 6-Banner Sunday.
Welcome to another edition of 6-Banner Sunday, a joint production between The Assembly Call and Inside the Hall, and presented by our friends at Trueblood Real Estate, where we highlight the five most essential IU basketball stories of the past week, plus take a look at how the other IU sports programs are doing.
It's the best time of year for college basketball with March Madness underway. For IU fans the week could not have gone better as both the men's and women's teams have moved on to the round of 32. While Indiana survived their challenges, other teams were less fortunate including arch-rival Purdue.
Away from the court, Assembly Call and Inside The Hall had their regular shows and we will as usual conclude with a look at how other Hoosier sports are doing led by solid play recently from softball.
• Hoosiers beat Kent State to advance to NCAA tournament second round
• Women easily defeat Tennessee Tech without Mackenzie Holmes
• Men and women to take on Miami (FL) with Sweet Sixteen berths on the line
• Purdue upset as top seed and other results in NCAA games
• Assembly Call and Podcast on the Brink
• Hoosier Roundup
Looking for tickets to upcoming Indiana games? Vivid Seats has you covered for IU's NCAA Tournament run. The Hoosiers take on Miami today in the Round of 32. Vivid Seats is a full-service provider – with an industry-leading customer service team, reachable by phone or online during extended business hours. (These links are Inside The Hall affiliate links, so a commission will be paid to ITH if you click and make a ticket purchase.)
Banner #1 – Hoosiers beat Kent State to advance to NCAA tournament second round
While upsets occurred left and right on the first three days of March Madness (more below), four-seed IU had no such issues taking out underdog Kent State in a game they controlled from start to finish on Friday 71-60.
Trayce Jackson-Davis (who was named an AP First-Team All-American) and Race Thompson took apart a smaller Golden Flashes squad inside with 24 and 20 points respectively. Miller Kopp helped spread the floor with 13 points and a trio of three-pointers. Indiana led by double digits for all but 18 seconds from the 16:56 mark of the second half until the final buzzer sounded. Jackson-Davis was also dominant on defense with five blocks and altered many of Kent State's attempted layups inside which led to misses.
Afterward, IU coach Mike Woodson and Kent State head man Rod Senderoff spoke, Justin Albers had a Minute After, Alex Bozich penned Five Takeaways, and William McDermott and Amanda Foster wrote columns.
Banner #2 – Women easily defeat Tennessee Tech without Mackenzie Holmes
When the bracket was announced last Sunday, the women's team drew their first-ever one-seed in the NCAA tournament. As a result, they got 16-seed Tennessee Tech yesterday and cruised by them 77-47. The game was played in front of 13,607 fans which was the second largest crowd in program history behind only the recent sellout against Purdue on senior day.
The concern though is that the Hoosiers were forced to play without first team All-American center Mackenzie Holmes who was held out of the contest. This was after playing at less than 100% against Ohio State in the Big Ten Tournament. While this was not an issue against the under-talented Golden Eagles, it will become a growing problem as IU faces more talented squads later in March Madness. Head coach Teri Moren did say after that Holmes is day-to-day and could well play in their next game. However, even a limited Holmes lowers the ceiling for a national championship contender like Indiana.
Foster wrote a free column about Holmes' absence after for Inside the Hall, while Assembly Call had an article for subscribers of its Community.
Banner #3 – Men and women to take on Miami (FL) with Sweet Sixteen berths on the line
With the men's and women's teams now onto the second round, the only thing standing in the way of both making the Sweet 16 in the same season for the first time is Miami (FL). In a coincidence that is not often seen, Indiana fans will get a double dose of Hoosiers vs Hurricanes.
The men go head to head at 8:40 pm on TNT today while the women square off on Monday. Woodson and Miami coach Jim Larranaga spoke to the media and previewed the game. Meanwhile, for the women, Hurricanes head coach Katie Meier was quoted as saying this about both sides squaring off:
"That's awesome. I mean, what a great situation," Meier said "I know our athletic director was on a plane going back and forth with someone from Indiana as well. It's awesome. Indiana is known as a basketball school. I grew up in Illinois. I'm fully aware of that. I know the history here. It was a great place to play, just a great environment. We're looking forward to playing Indiana."
Banner #4 – Purdue upset as top seed and other results in NCAA games
While the Hoosiers cruised as favorites in their first-round games, many other squads were not so lucky. First and foremost, IU's arch-rival Purdue became just the second-ever number-one seed on the men's side to lose a first-round game as they were defeated by Fairleigh Dickinson. It was the Boilermakers' third straight loss to a double-digit seed in March Madness.
In other upsets, Virginia lost to 13-seed Furman on a turnover and late three-pointer. Also, Arizona who crushed IU earlier in the year was stunned by 15-seed Princeton. The Tigers also became the latest mid-major from New Jersey to make a surprising Sweet 16 appearance after beating Missouri on Saturday. Lastly, top-seeded Kansas will not repeat as national champions after being knocked out by Arkansas in the second round.
On the women's side, Princeton also pulled a shocker to get to the second round. Meanwhile, 12 seeds Florida Gulf Coast and Toledo nabbed unexpected victories. The Eagles are in the Hoosiers bracket and the winner between them and Villanova would face the Hoosiers in the round of 16 in Greenville S.C. should IU advance on Monday.
Banner #5 – Assembly Call and Podcast on the Brink
Assembly Call and Inside the Hall both had new shows this week. ITH's Podcast on the Brink previewed IU's matchup against Kent State with Rocco Miller.
Meanwhile, Assembly Call had a busy week with shows discussing the Hoosier's draw in the NCAA Tournament as well as a special episode previewing the game against the Golden Flashes. In addition, the normal AC Radio and postgame shows were on-air as well.
Banner #6 – Hoosier Roundup
• Softball has won 12 straight games.
• Baseball finished off a sweep of Bellarmine before losing to Kentucky and sweeping Morehead State.
• Women's Swimming and Diving finished a program record-tying 7th at the NCAA Championships.
• Women's Golf finished 9th at the Clover Cup.
• Men's Golf placed 4th at the Seminole Intercollegiate.
• Men's Tennis fell to UC Santa Barbara.
• Women's Tennis beat UNLV.
• Water Polo lost three matches this weekend to top-10 teams.
• Wrestling competed at the NCAA Championships.
Thanks for your continued support for The Assembly Call and Inside the Hall. We'll be back next weekend with a new roundup.
Now go enjoy yourself a 6-banner Sunday.
Aaron (Ari) Shifron
Assembly Call Contributor
Filed to: