Miller Kopp does the little things in Indiana's win against Kent State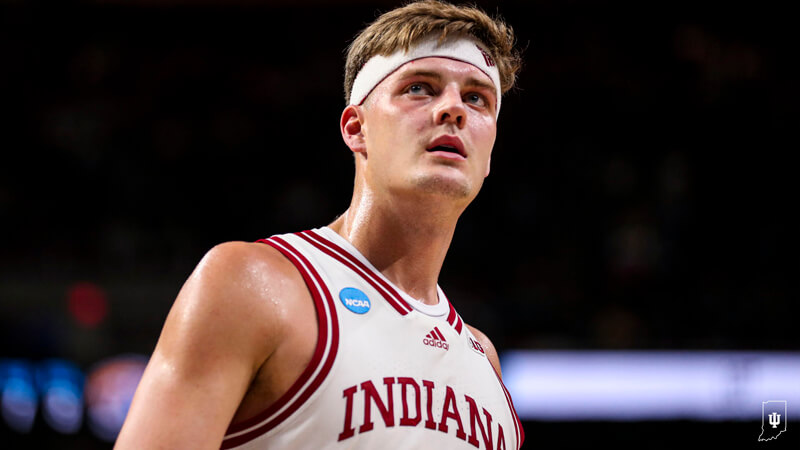 ALBANY, N.Y. — Indiana's Miller Kopp typically finds himself as the third or fourth option in the Hoosiers offense. Usually, he might be standing on the perimeter waiting for the ball to come his way. But just four minutes into the first half against Kent State, Kopp was tired of waiting around.
The senior, wearing a headband for the first time this season, dug into his hips for power and darted toward the middle of the floor. Trayce Jackson-Davis, who was being double-teamed on the baseline found his streaking teammate. Kopp gathered his feet and attacked the rim, sending him to the foul line.
In the grand scheme of things, it was a simple play in a dominant win. But for Kopp, it was a sign of the game he would have: gritty, confident and intuitive on both ends of the floor.
In the Hoosiers' 71-60 win over Kent State in the first round of the NCAA tournament, Kopp got his knees scraped up. He found his body on the floor multiple times throughout the evening.
On top of putting up 13 points and making three 3s, the senior played a team-high 36 minutes and grabbed five rebounds. It was Kopp's 10th game with three or more 3s this season.
Oh, and the headband. The former Northwestern transfer decided in the team's shoot-around that he would be wearing it for Friday's game. But with Kopp, whose ambiguous nature creates endless entertainment, there's always a twist. He decided to wear it upside down. The red Adidas logo may have only been read correctly when Kopp was on MVP Arena's floor.
"If I'm wearing a headband, I might as well rock it upside down," Kopp said. "Guys were clowning me a little bit and then a couple of guys gave me a little confidence, like 'yeah bro you look good, you kinda look good.' That's all I needed to hear."
Maybe the headband gave the Houston native the confidence he needed to perform, or maybe it's been something that has quietly been brewing over the season. The difference between the player Kopp was last year and the one he is this year can primarily be attributed to his comfort level.
After transferring in last season, the 6-foot-7 forward had to find his footing. After getting acquainted with Indiana's basketball culture and finding his personality along the way, it almost feels like night and day. And when you're more comfortable, you're more confident. And then the shots start going in.
The fifth-year senior has started every game since he began wearing the cream and crimson. Last season, Kopp made 39 3-pointers. This season, he's made 61 and counting.
He's also developed into a much-improved defender. While he may not have the quickness and athleticism to keep up with skilled players at his position, he plays smart. His alertness and attention to detail were on display against the Golden Flashes.
"He's gotten a lot better on the defensive end," Trey Galloway said postgame. "He can do a lot of things that don't show up in the stat sheet. Deflections, getting on the floor, being in the right spot on defense is huge for us… It's been great to just see him have a really good year."
As an example of hustle, Galloway mentioned an over-the-back call Kopp drew in the first half as one of the little ways he affected the game.
There's no doubt that Kopp is the best shooter Indiana has. And when that label is pinned on a player and on the scouting report, it can be easy to coast into that role.
But instead of doing that, Kopp has proven he's more than just a spot-up shooter. He's a leader, a good defender and a confident player.
Although, just as any 44.5 percent 3-point shooter could, he could always shoot it more.
"Coach Woody, he's been kinda ticking me off, but in a good way. He's been yelling at me to shoot more," Kopp said postgame. "And if I turn down a shot, I don't hear the end of it."
On Friday, he let it fly. The sharpshooter has attempted five or more shots from beyond the arc 14 times this year. Last year, he only did that eight times. In those 14 games, the Hoosiers have a record of 11-3. All three losses came back in December.
From deflecting passes, drawing over the back calls and attacking the basket in the middle of the floor, Kopp's best attributes were all on full display in Indiana's win over Kent State.
The growth in his personality is vibrant. He's held blaring speakers in his outstretched arms over his head in the locker room, he's given his teammates ridiculous words to fit into their media availabilities and now he's worn an upside-down headband. What he does next might surprise all of us. But as he keeps surprising, Indiana keeps winning.
(Photo credit: IU Athletics)
Filed to: 2023 NCAA tournament, Miller Kopp