What to Expect: Miami (FL)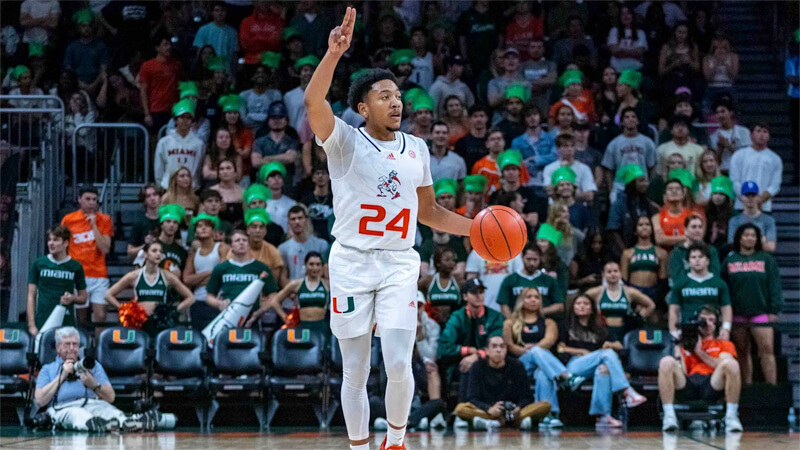 Indiana advanced to the round of 32 of the 2023 NCAA tournament with a 71-60 win against Kent State on Friday night in Albany. The Hoosiers will now face ACC co-regular season champion Miami (FL) on Sunday evening at MVP Arena.
Sunday's game will tip at approximately 8:40 p.m. ET on TNT:
Indiana won its first NCAA tournament round of 64 game on Friday against MAC champion Kent State in convincing fashion. The Hoosiers led by as many as 15 points in the second half as Trayce Jackson-Davis put together a dominant effort.
The focus now shifts to Miami, Indiana's Sunday opponent in the round of 32. The Hurricanes are 26-7 and beat Drake 63-56 on Friday in Albany.
MEET THE HURRICANES
Miami has one of the nation's best offenses and is balanced with four players averaging double figures.
The strength of the Miami attack lies in the quartet of fourth-year junior Isaiah Wong, third-year sophomore Nijel Pack, fifth-year wing Jordan Miller and third-year sophomore Norchad Omier.
Wong is the leading scorer for the Hurricanes and averages 15.8 points in 33.2 minutes per game. He's a 37.5 percent 3-point shooter and is connecting on 1.6 attempts from distance per game. But Wong also succeeds in getting to the line (4.7 attempts per game) and is an 83.3 percent shooter from the stripe.
He also leads the Hurricanes in assists (3.4 per game) and is third in rebounding at 4.3 per contest. Wong struggled against Drake as he finished with just 12 points on 2-for-9 shooting from the field, but he did get to the line nine times and knocked down eight of those attempts.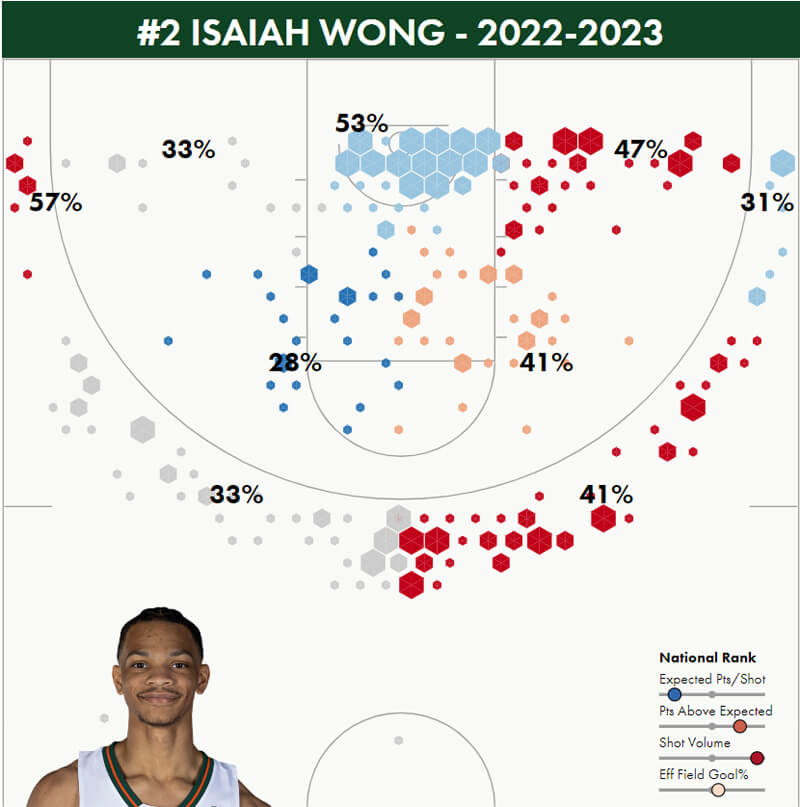 Pack, an Indianapolis native transferred to Miami from Kansas State in the offseason and is fourth on the team in scoring at 13.4 points per game. He's just 6-foot but does a great job creating space and can get his shot off the dribble from just about anywhere on the floor. As his shot chart below shows, Pack is a potent 3-point shooter from just about everywhere.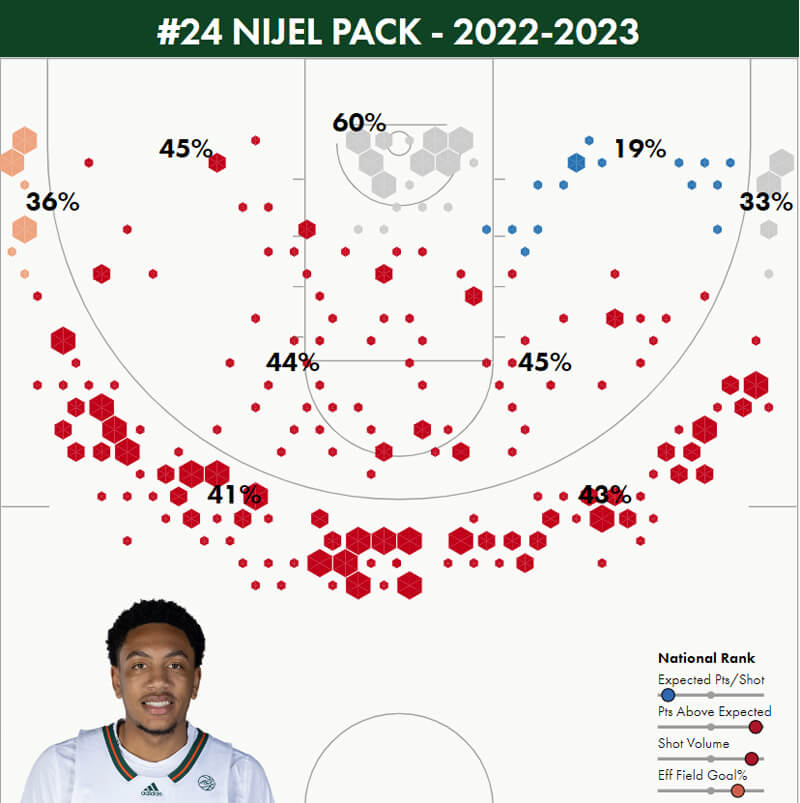 Miller is in his fifth year overall and second at Miami after transferring from George Mason. The Middleburg, Virginia native plays the four for Jim Larranaga and is second on the team in scoring at 15 points per game. Miller is making an efficient 59.5 percent of his 2s and also shoots 35.6 percent on 3s. As his shooting chart shows, he's an elite finisher in the paint.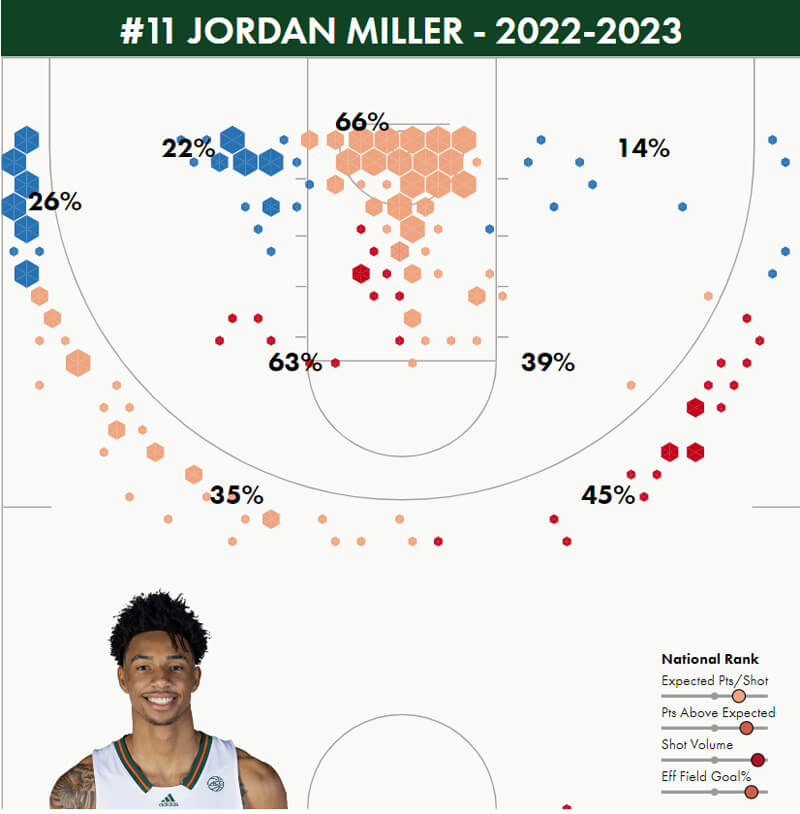 Omier transferred from Arkansas State in the offseason and nearly averages a double-double with 13.6 points and 9.8 rebounds per game. At 6-foot-7 and 248 pounds, Omier is usually undersized at the five, but more than holds his own as a scorer and rebounder. His health status entering the Drake game was in question after an ankle injury he suffered against Duke in the ACC tournament, but Omier played 36 minutes on Friday and finished with 12 points and 14 rebounds.
Miami's fifth starter is sophomore Wooga Poplar, a 41.1 percent 3-point shooter who primarily plays the three alongside Pack and Wong. Poplar had a steal percentage of 2.6 in ACC games, which ranked sixth in the league.
Larranaga plays a short bench as just three other Canes logged minutes in Friday's win. Guards Bensley Joseph and Harlon Beverly will see time in the backcourt off the bench with 6-foot-9 Anthony Walker providing frontcourt depth.
TEMPO-FREE PREVIEW
All stats are current through Friday's games.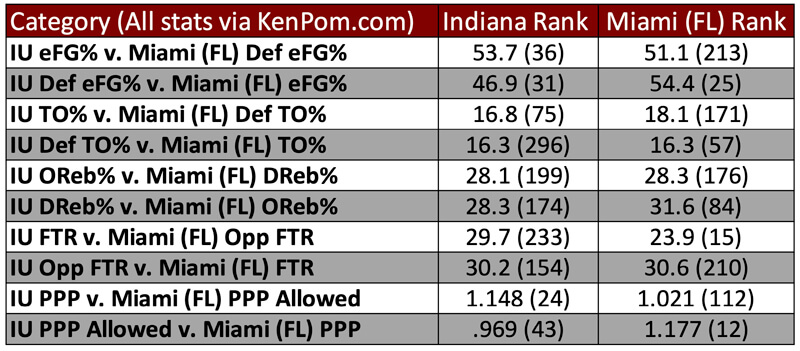 Miami is an elite offensive team with an average defense. The Canes did hold Drake to only 56 points on Friday, but the Bulldogs are a sub-100 offensive efficiency team, per KenPom.
Offensively, there's not much Miami struggles with. The Canes shoot 36.7 percent on 3s, 54.1 percent on 2s and 77.7 percent from the free throw line. All of those numbers rank in the top 41 nationally. Miami also does a great job on the offensive glass (31.6 OR%) and turns it over on just 16.3 percent of its possessions. This is an athletic group that can score in a variety of ways with good athleticism across multiple positions.
Miami at times seems indifferent on the defensive end. The Canes don't foul much (23.9 percent opponent free throw rate), but don't pressure the ball particularly well and allow their opponents to shoot 51.8 percent on 2s.
Miami had similar offensive and defensive numbers a season ago. It advanced all of the way to the Elite Eight with tournament wins against USC, Auburn and Iowa State before falling to eventual national champion Kansas.
WHAT IT COMES DOWN TO
The KenPom projection is Indiana by one with a 56 percent chance of a Hoosier victory. The Vegas line as of Saturday afternoon favors Indiana by 1.5 points.
Miami has legitimate NCAA tournament experience as Wong and Miller were both starters on last season's Elite Eight team. Indiana, however, has arguably the best player in the country in Trayce Jackson-Davis and a legitimate size advantage in the post.
This should be one of the more competitive games on Sunday with two great offensive teams who can create matchup problems at numerous positions.
(Photo credit: Miami Athletics)
Filed to: 2023 NCAA tournament, Miami (FL) Hurricanes