Trayce Jackson-Davis dunks, sets records and propels Indiana to NCAA tournament victory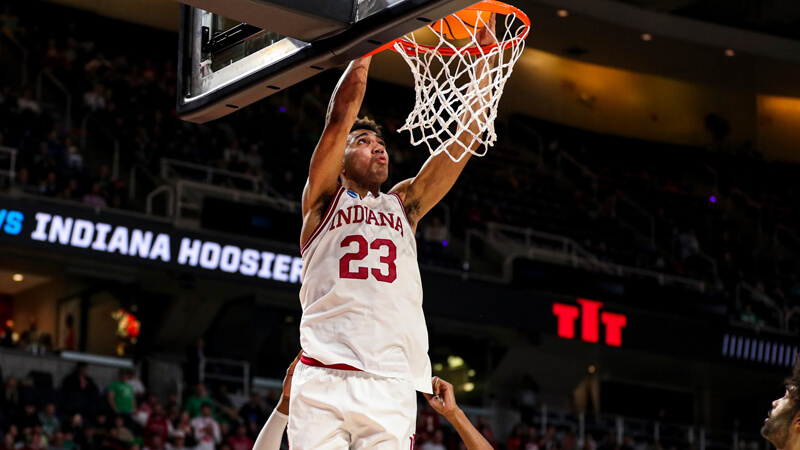 Three days before Indiana's first NCAA tournament game, Trayce Jackson-Davis took to Instagram to announce his latest NIL deal, this time with Dunkin'.
It's rare for many NIL deals to emerge as relevant during a game — except for athletic gear, of course — but Friday night's game was anything but typical.
A 9:55 p.m. local tip time turned into a 10:45 p.m. one, which was then moved up to a 10:36 p.m. tipoff. Fans were scattered around MVP Arena in Albany, New York; some sleeping, some screaming, some clasping their hands in prayer. Coffee was consumed at absurdly late hours.
So why not connect Jackson-Davis' performance to a NIL deal?
The All-American is known for his dunks, after all. One could even say he runs on dunking.
Jackson-Davis finished the night with a whopping five dunks, all of which came with under nine minutes to go in the second half. He had by no means struggled before that time but simply elevated — literally and figuratively — to a kind of play that seemed almost unattainable for the national player of the year candidate. And that's saying something.
Jackson-Davis' first slam was of a soaring nature, the kind destined to end up on a poster. It pushed Indiana's lead over Kent State to double digits and seemed to bring back the energy to a bench that had just seen back-to-back 3-pointers from the Golden Eagles.
But the next possession solidified the idea that the Hoosiers would not lose.
Jackson-Davis found himself with the ball and an open lane, and drove in for another dunk. He did so successfully, but ended up on the ground after the fact. He rolled over onto his stomach, yelling and punching the floor.
No, he wasn't hurt. In fact, it was just the opposite, as Jackson-Davis had found his groove and he knew it.
"I finally got a little bit of a groove and had a big play, an energy play," Jackson-Davis said postgame. "I just try to do whatever to help my team win because I know they feed off my energy. So it was big, and then after that, I feel like everything was kind of smooth from there on out."
That's not to say Jackson-Davis wasn't a significant factor in Indiana's success for the other 31 minutes of the game. In fact, it was his all-around performance that helped lead Indiana to its 71-60 victory over Kent State in the first round of the NCAA tournament.
But the second half, and especially those final nine minutes, saw a different Indiana team, and a different Jackson-Davis. 10 of his 14 second-half points came from dunks, and all of them seemed to come easy.
The Hoosiers were playing as a complete unit, finding each other on offense and flowing smoothly on defense. They knew how capable Jackson-Davis was of taking over the game, and they let him do just that.
"Things just started to open up a little bit more once we opened the floor up and got out and got some easy buckets," Woodson said. "And then he brought it home for us down the stretch because I thought he made about three or four plays down the stretch to put the game out of reach."
But Friday night's game wasn't just about dunks for Jackson-Davis. He also made history. Again.
Since blocks became an official stat in 1985-86, Jackson-Davis is the only IU player to record five in an NCAA tournament game; he finished Friday night's game with a final stat line of 24 points, 11 rebounds, five assists and five blocks.
Unsurprisingly, Jackson-Davis led the Hoosiers in all of those categories. His presence on both ends of the floor was virtually indomitable, with his blocks coming at key moments and his assists setting up players like Race Thompson and Miller Kopp — both of whom also scored in double figures.
To his team and his coaches, though, it was like any other day.
"Trayce had his usual game," Woodson said.
Short and sweet: the opposite of what Indiana hopes its NCAA tournament run will be.
With the victory — Indiana's first in an NCAA tournament round of 64 game since 2016 — the Hoosiers are set to play No. 5-seed Miami (FL) Sunday at 8:40.
Coffee may be necessary, as it was on Friday night. Perhaps there will even be some Dunkin' again.
(Photo credit: IU Athletics)
Filed to: 2023 NCAA tournament, Trayce Jackson-Davis