No Holmes, no problem: Indiana cruises to 77-47 win over Tennessee Tech in first round of NCAA tournament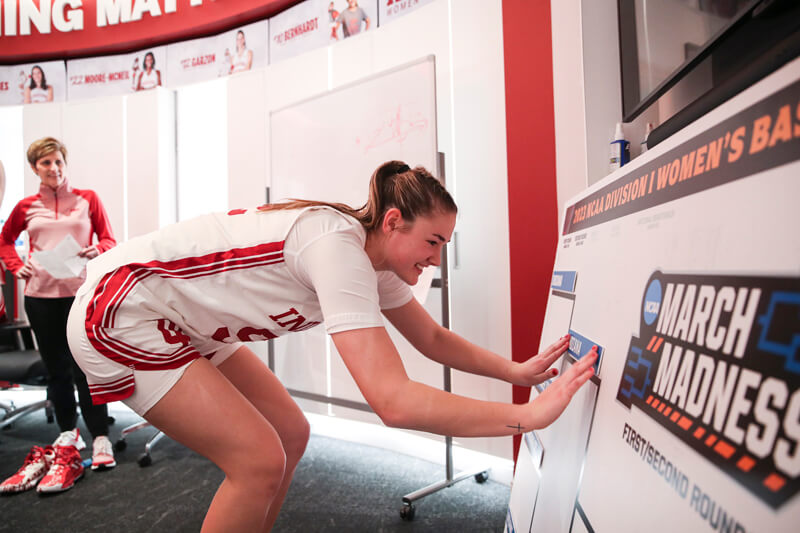 Lilly Meister sat on the sidelines right before introductions began Saturday morning in Simon Skjodt Assembly Hall, as she's done so many times before this season. But this time, it was different.
Instead of standing and lining up to cheer on Indiana's five starters, Meister stayed seated. Instead of keeping her warmups on, Meister took her top layer off to put her jersey on full display.
She was getting the first start of her career, and it was coming on the biggest stage she'd ever been on.
"It's a little nerve-wracking, but this is the best atmosphere ever," Meister said postgame. "But once the tip went off, it was just another game."
Meister started in place of Mackenzie Holmes, who did not appear in Indiana's game against No. 16-seed Tennessee Tech due to knee soreness. Teri Moren said Holmes was available if need be, but that was never the case; the Hoosiers coasted to a 77-47 victory with relative ease, even without their All-American.
"As great as Mackenzie is, and she's an amazing player, I think we are a really complete team," Grace Berger said. "We have really good guard play, we have really good backup post players coming in off the bench."
Meister and Alyssa Geary split minutes, each putting up new season-highs of 20 and 17 minutes, respectively. Meister had one of the best games in her young Hoosier career, scoring seven points, grabbing four rebounds and putting up three blocks — another career-high.
Geary recorded three points, three rebounds and put up season-highs in assists and steals with two and one, respectively. She also contributed one block to Indiana's total of 11.
Defense was the name of the game for the Hoosiers, as it has been for the whole season. They started out shaky in the first quarter, allowing Tennessee Tech to hit open 3-pointers and stay firmly in contention for the lead.
But all thanks to a one-timeout, Indiana quickly righted the ship and sailed to victory after the first quarter.
"There was a media timeout where Grace Berger and Chloe (Moore-McNeil) really challenged their teammates to do a much better job in protecting the 3-point line," Moren said.
Moore-McNeil was apparently "madder than a hornet" in the huddle, pushing her teammates to do a better job on defense. They did.
After allowing 18 points in the first quarter, Indiana held Tennessee Tech to 12 points or less in the next three quarters. The Golden Eagles, who average 69 points per game, only scored 47 points on 28 percent shooting.
Indiana also dominated in the paint, even without Holmes, scoring 44 points to Tennessee Tech's 16. The Hoosiers never let up.
"No matter what the score looks like, we're still going to want to play good basketball," Moren said. 'We're going to want to take care of the ball, and we're going to want to get the shot that we want to get. That's the discipline of our program."
Without Holmes, Indiana was without one of its most disciplined players, and primary leaders, on the floor. But with players like Moore-McNeil and Berger out there for most of the game, the Hoosiers weren't without direction.
Berger, the epitome of discipline, was the driving force behind Indiana's victory, with 17 points, six rebounds, four assists, three blocks and one steal. As point guard, she passed the ball with blazing speed and found open lanes for herself and her teammates.
"Grace Berger came out with just a different level of urgency today, and we needed her to do that," Moren said. "We need her to do that the remainder of the tournament. She's our leader, and as Grace goes, we go."
So when Berger charged down the court on a fastbreak, her teammates followed her. When she lobbed a pass halfway down the floor, someone was there to catch it. When she bounced a no-look pass in the paint, it found its way into the basket.
Berger dictated Indiana's pace for a majority of the game, and most of the time that pace was fast. 29 of Indiana's points came on the fastbreak, with 20 coming in the second quarter alone.
"It's obviously who we are, who we want to be," Moren said. "Pushing the pace and running."
The Hoosiers showed just who they were Saturday; a well-rounded, talented team capable of winning — and playing like one of the top teams in the country — without their best player.
Because Indiana has a team full of players who bring their best every game, play with the right mindset and know what they need to do to win. And that's what you need in March.
"It's the NCAA Tournament, so it's win or go home," Berger said. "So there's really no reason for any of us not to have a sense of urgency in every game moving forward. We're on the biggest stage, that's where we belong and that's where we want to be."
(Photo credit: IU Athletics)
Filed to: