6-Banner Sunday: Big Ten releases 2022-23 conference schedule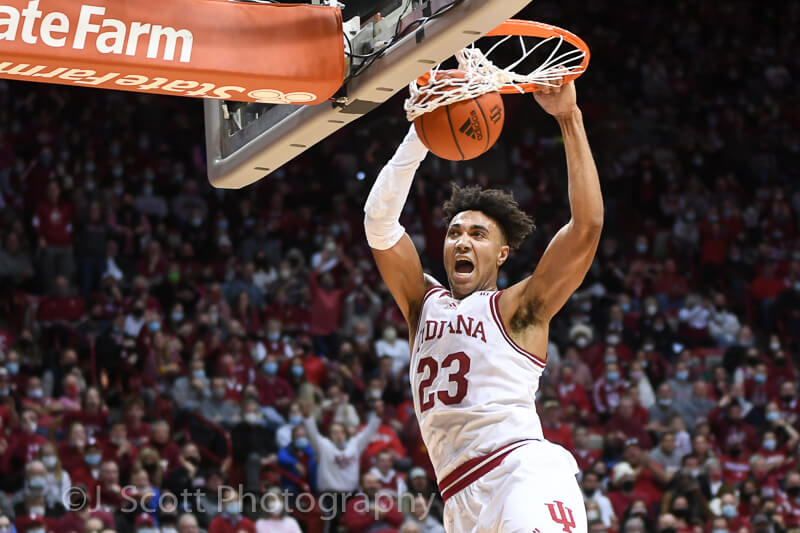 6-Banner Sunday is Inside the Hall's weekly newsletter in partnership with The Assembly Call. More than 9,000 Indiana fans receive the newsletter each week. In addition to appearing each week on the site, you can also opt to receive 6-Banner Sunday by email. A form to subscribe via email is available at the bottom of this week's 6-Banner Sunday.
Welcome to another edition of 6-Banner Sunday, a joint production between The Assembly Call and Inside the Hall where we highlight the five most essential IU basketball stories of the past week, plus take a look at how the other IU sports programs are doing.
As the IU basketball season draws closer, the news continues to heat up. The imminent approach of the team taking the court for the first time against other competition was none more evident than the Big Ten schedule being revealed earlier this week.
Besides that, the Hoosier hype train continues to chug along as several more sources gave the team and players honors and high rankings for the upcoming year. While the present looks bright for the Cream and Crimson, it was made possible by Indiana greats of the past and a couple of them were inducted into the IU Hall of Fame this week.
Besides these stories, Assembly Call Radio had a new episode once again and other Hoosier sports continued fall competition as football got another victory. In brief news, Inside the Hall's William McDermott had a feature on 2023 commit Gabe Cupps.
• Big Ten releases 2022-23 conference schedule
• More hype, honors and high rankings for upcoming season
• DJ White and Don Fischer among those selected for IU Athletics Hall of Fame
• Assembly Call radio
• IU football overcomes slow start to beat Idaho
• Hoosier Roundup
Banner #1 – Big Ten releases 2022-23 conference schedule
While the non-conference schedule has been known since the summer, the Big Ten portion was not. That changed Thursday with the release of dates for IU's conference games (tip times and TV designations will come later).
The Hoosiers will open Big Ten play at Rutgers in early December. It gets tougher as the year goes on though and consists of a brutal finish against squads all projected to compete with Indiana for the Big Ten Title. If the cream and crimson are to take home their third conference championship in a decade, they will have to earn it with the challenging slate down the stretch.
Inside The Hall's Alex Bozich broke down the schedule upon its reveal this week.
Banner #2 – More hype, honors and high rankings for the upcoming season
While the date on the calendar may have changed since last week, the expectations for the upcoming season did not change both internally and externally.
While many might agree a No. 6 ranking is a little ambitious heading into the season, Lindy's Sports thinks that high of the Hoosiers, ranking them one spot away from the top five. Joe Lunardi thinks pretty highly of IU as well putting Indiana as a three seed in his latest bracketology which is the highest among Big Ten teams.
While the team is thought of highly, so is star Trayce Jackson-Davis as yet another publication named him a preseason All-American. Whether the Hoosiers can live up to all this hype remains to be seen, but excitement heading into the season is at a place not seen in at least a half-decade.
Banner #3 – DJ White and Don Fischer among those selected for IU Athletics Hall of Fame
While many may have assumed IU legendary broadcaster Don Fischer was already in the IU Hall of Fame, this was not the case and he will be inducted into it with this year's class.
Joining Fischer in the 39th class of Hoosier Hall of Famers will be recently retired IU basketball great DJ White, volleyball legend Ashley Benson (daughter of Hoosier basketball great Kent Benson), legendary women's tennis coach Lin Loring, track and field star Tina Parrott, and top swimmer Jenn Christy.
Banner #4 – Assembly Call radio
Assembly Call radio was once again on air this week.
With the release of the schedule this week, that was the main topic of the show on Thursday.
Banner #5 – IU football overcomes slow start to beat Idaho
After one of the most disastrous first halves in IU history, the Hoosiers came alive in the final 30 minutes to defeat lowly FCS Idaho 35-22 to improve to 2-0 on the year.
Trailing 10-0 at the break and unable to do anything, the offensive line finally opened up holes for running back Shaun Shivers after six disastrous quarters in run blocking to start the season. Behind Shivers' 164 yards on just 20 carries, Indiana scored a touchdown on every second-half possession they had outside the final one where they kneeled the clock out.
The team stays home for the third week in a row to start the 2022 campaign facing Western Kentucky at 12 p.m. ET next Saturday on BTN.
Banner #6 – Hoosier Roundup
• Men's basketball was not the only one to release their schedule as women's basketball did so with there's as well this week. Inside the Hall's Amanda Foster gave her initial reaction.
• Men's Soccer had a terrific week edging St. Johns and knocking off an elite Akron team in dominating fashion.
• Women's soccer had their match against Notre Dame canceled for rain and tied Louisville.
• Field Hockey is red hot after knocking off California, UC Davis, and Ball State this week. They have won four straight matches and had a player named Big Ten freshman of the week.
• Volleyball had a rough week going just 1-2 at a tournament in North Carolina.
• Men's Golf finished seventh in their first tournament of 2022.
• Baseball and Softball announced their dates for exhibition fall games.
• Six IU athletes were named to the USA Swimming National Team.
• Wrestling picked up a couple of transfers for the upcoming season.
Thanks for your continued support for The Assembly Call and Inside the Hall. We'll be back next weekend with a new roundup.
Now go enjoy yourself a 6-banner Sunday.
Aaron (Ari) Shifron
Assembly Call Contributor
Filed to: