Four quick reactions to Indiana's 2022-2023 schedule release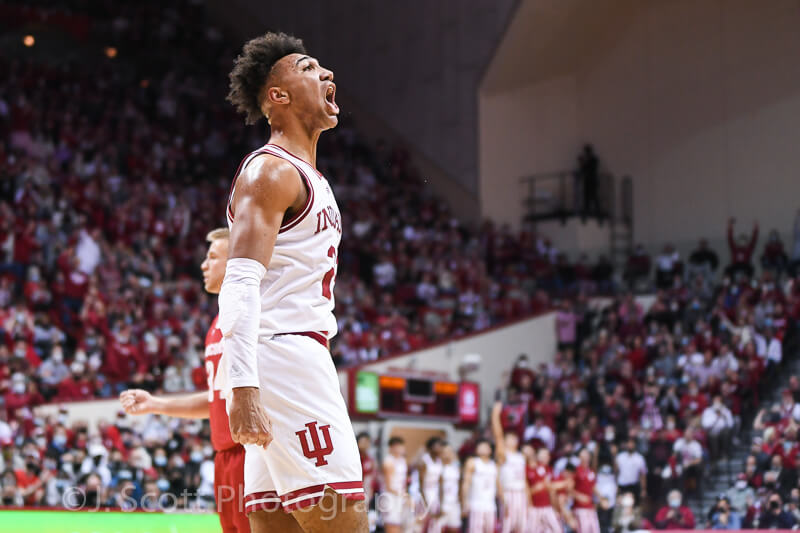 Indiana's 2022-2023 men's basketball schedule was completed with the release of the Big Ten schedule on Thursday.
Here are four quick reactions after examining the slate the Hoosiers will navigate this winter:
Seven of Indiana's conference home games fall on weekends
Seven of Indiana's 10 Big Ten home games will be played on a Saturday or Sunday.
Those seven contests: Northwestern, Wisconsin, Michigan State, Ohio State, Purdue, Illinois and Michigan. Four of the games fall on Saturday with three on Sunday.
This is a favorable development for the Hoosiers to use Assembly Hall as a major home court advantage.
While official attendance numbers list every game as a sellout because of season tickets, it's no secret that weekend home games against Big Ten competition produce bigger crowds and better atmospheres.
Indiana has done a poor job in recent seasons of defending its home court but is set up better to win in Bloomington this winter.
Indiana has a very difficult five-game stretch beginning in late November
It was already known that Indiana was going to be challenged with its non-conference schedule. The Hoosiers will play North Carolina, Arizona and Kansas in a 18-day stretch from November 30 through December 17.
What we didn't know, before Thursday, was the two Big Ten opponents that would fall in between the North Carolina and Arizona contests.
The Hoosiers will open league play on Saturday, Dec. 3 against Rutgers in Piscataway before hosting Nebraska on Wednesday, Dec. 7 in Bloomington. Indiana will be favored against Nebraska, but it's possible the Hoosiers will be underdogs or only slight favorites in the other four contests.
Indiana will be ranked in the top 25 in the preseason polls, but the Hoosiers will have earned their ranking if they're still in the polls following that difficult stretch.
The Hoosiers have a 12-day break around the holidays
Indiana will conclude non-conference play on Friday, Dec. 23 with a home game against Kennesaw State.
The Hoosiers will then have 12 days between games before traveling to Iowa on Thursday, Jan. 5. It's always a challenge for college coaches to give players a break around the holidays, but the IU players will be able to spend a lengthy period of time at home this year around Christmas.
Will that long of a break prove advantageous?
Indiana's first game after the break will be on Thursday, Jan. 5 at Iowa.
The close to the Big Ten schedule is the toughest stretch in conference play
Every Big Ten game is difficult, but the close to Indiana's schedule will be its toughest part of conference play.
Four of Indiana's final seven games will be on the road. Three of those opponents – Michigan, Michigan State and Purdue – are projected to finish in the top half of the conference.
And Indiana's home games in that stretch are also again teams expected to contend in the Big Ten in Illinois, Iowa and Michigan.
Given the imbalance schedules produced in a 14-team league that doesn't play a round-robin format, Indiana has a difficult road to win the Big Ten.
Filed to: 2022-23 schedule