6-Banner Sunday: Trayce Jackson-Davis named preseason first team All-American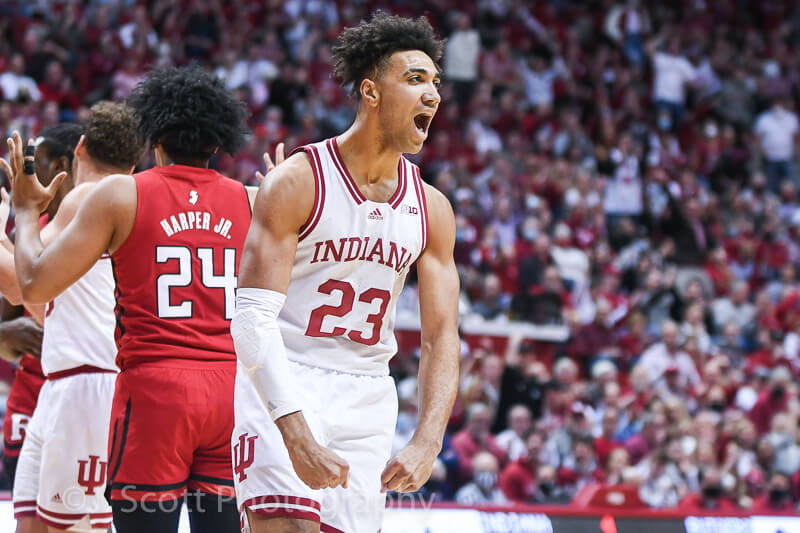 6-Banner Sunday is Inside the Hall's weekly newsletter in partnership with The Assembly Call. More than 9,000 Indiana fans receive the newsletter each week. In addition to appearing each week on the site, you can also opt to receive 6-Banner Sunday by email. A form to subscribe via email is available at the bottom of this week's 6-Banner Sunday.
Welcome to another edition of 6-Banner Sunday, a joint production between The Assembly Call and Inside the Hall where we highlight the five most essential IU basketball stories of the past week, plus take a look at how the other IU sports programs are doing.
After a week of news that strayed from the normal offseason recruiting headlines, it is back to the standard in this edition of 6-Banner as new rankings for IU's 2023 commits and prospects were released. However, several stories that affect the immediate future of the Hoosiers also occurred. This included two current players receiving two very different types of honors, an update on one of Indiana's signature non-conference games, and the adjudication of legal matters related to the team's starting point guard.
As usual, Assembly Call Radio had a new episode this week and we will look at how other IU sports are doing with the athletic season underway. In a brief story, former IU legend Randy Wittman received a prestigious award.
• New 2023 recruiting rankings are out
• Trayce Jackson-Davis named All-American and Jalen Hood-Schifino selected for Chris Paul's camp
• More information released on IU's game against Arizona in Las Vegas
• Xavier Johnson's legal issue settled
• AC Radio and Doing The Work
• Hoosier Roundup
Banner #1 – New 2023 recruiting rankings are out
With the winding down of the recruiting cycle for 2023, three well-known services released updated rankings. 247Sports, On3, and Rivals all updated their numbers for the upcoming class.
247Sports, which is often considered the gold standard, has IU commits Jakai Newton and Gabe Cupps at 87 and 107 respectively. Arrinten Page, the Hoosiers' main remaining target for the 2023-2024 season is at no. 60.
On3 is more bullish about Newton and Cupps as they have them at 68 and 95 but are much lower on Page having him down at 121. They also looked at how much NIL money certain players might get and think Cupps is valued at $299,000 due to building a strong social media presence with about 400,000 followers on Instagram.
Finally, Rivals has Page at 57, Newton at 64, and Cupps at 122. All services have the trio as four-star prospects.
Banner #2 – Trayce Jackson-Davis named All-American and Jalen Hood-Schifino selected for Chris Paul's camp
Trayce Jackson-Davis will almost certainly be IU's best overall player this upcoming season while Jalen Hood-Schifino will likely be the top freshman as the highest-ranked player coming into the Big Ten. This week both received distinguished but very different honors.
Jackson-Davis was named a preseason first-team All-American by the highly regarded Blue Ribbon Magazine. No Hoosier has been recognized on this level by the publication since Thomas Bryant in 2016-2017.
Meanwhile, Hood-Schifino was selected as a participant in the Chris Paul Elite Guard Camp. The event is this weekend in Los Angeles but no information has been released yet on what happened at it.
Banner #3 – More information released on IU's game against Arizona in Las Vegas
Fans have known for a while that IU would play an elite Arizona team in a possible top 10 showdown in Sin City on December 10. However, this week it was learned the game would be at 7:30 p.m. ET on FOX "as the first East Coast, prime-time college basketball game ever televised by a broadcast network during the regular season".
Also, tickets to the game are now available for anyone interested in traveling to the contest. They can be purchased at this link and only a limited amount remain, almost exclusively in the upper level.
Banner #4 – Xavier Johnson's legal issue settled
While it is still unclear if Xavier Johnson will face any internal discipline from IU for his incident last spring, the legal side of it is now over.
Johnson pleaded guilty to a Class C misdemeanor for reckless driving and avoided jail time. Instead, he received a 60-day suspended sentence, 360 days of unsupervised probation, 50 hours of community service, and was ordered to pay $185.50 in court fees.
He also was charged with a felony for resisting law enforcement but that was eventually dismissed.
Banner #5 – AC Radio and Doing The Work
Assembly Call was busy this week with a radio show for both men's and women's basketball. AC Radio had special guest Matt Cox of the Three Man Weave on Thursday, while Doing The Work discussed Title IX on Wednesday.
Banner #6 – Hoosier Roundup
After a long offseason, IU's fall athletic competitions are officially happening now with field hockey, men's soccer, volleyball, and women's soccer all having games this week.
• Volleyball opened competition at home and took two of three in the Indiana Invitational and named their captains for the season.
• Women's soccer continued to be stout on defense but inept on offense with two more 0-0 ties to run their record to 0-0-3. They will also host an alumni weekend in October and had their goalie named Big Ten Keeper Of The Week.
• Men's soccer lost a classic to top-ranked and defending national champion Clemson on the road. However, it is a result that should still make Hoosier fans very excited for what is to come for this top-15 team. Off the field, a trio of players were named to the preseason Big Ten watch list and the squad is picked to finish second in the conference. They also had three team members in the national top 50 of preseason rankings. Finally, star defender Daniel Munie stood out individually being named for two preseason honors, including the most prestigious one being a candidate for the MAC Hermann Trophy (college soccer's equivalent of the Heisman Trophy)
• Field hockey lost its opener to Kent State. They did however have three players named to the preseason conference watch list and hired a new assistant coach.
• Fall camp continued for football ahead of this Friday's opener hosting Illinois.
• Men's golf added a recruit.
• Student athletic leadership will host an NIL event with local businesses.
Thanks for your continued support for The Assembly Call and Inside the Hall. We'll be back next weekend with a new roundup.
Now go enjoy yourself a 6-banner Sunday.
Aaron (Ari) Shifron
Assembly Call Contributor
Filed to: