Former IU guard Randy Wittman to be honored with Clevenger Award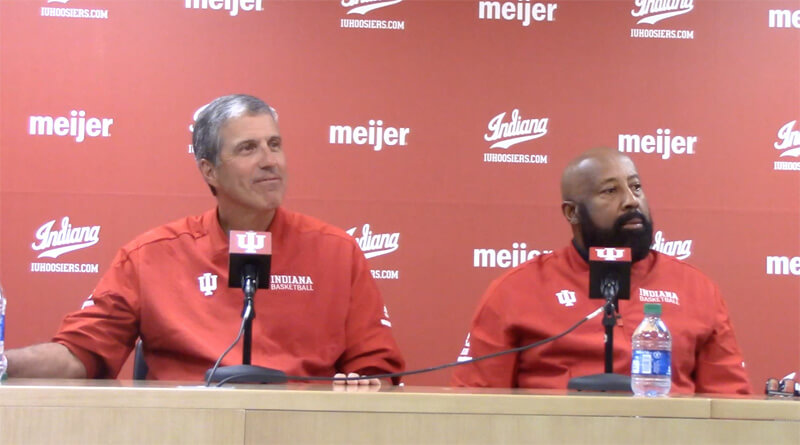 Former Indiana guard Randy Wittman is one of five individuals who will be honored in September for his contributions to IU Athletics.
Wittman and former IU football player Joe Huff will be honored with the Clevenger Award on September 16-17 at the Henke Hall of Champions in Bloomington.
According to IU Athletics, the Zora Clevenger Award is "presented to living I-Men who, as alumni, have made outstanding contributions to Indiana University through service to its athletics program. Clevenger, a coach and athletic director, was characterized by his commitment to excellence, high ideals, and principles. He was devoted to his staff and worked untiringly to assist the coaches in developing their programs and establishing high ethical standards. The award perpetuates the ideals Clevenger set forth in his many years of service as a student, athlete, coach, and athletics administrator. The honor is bestowed upon living I-Men who, as alumni, have made outstanding contributions through service to its athletics program. This is the highest honor given an I-Man by the Association."
Here's more on Wittman from the IU Athletics release:
A member of three Big Ten men's basketball championship teams and the 1981 NCAA Championship squad, Randy Wittman (BS '82) is one of the most accomplished players in the history of IU Men's Basketball.

Wittman starred for Coach Bob Knight's Hoosiers from 1979-83, and ranks 15th in program history with 1,549 points. He averaged 10.4 points/game as a sophomore and was a key piece to the Hoosiers' NCAA Championship squad, capping the title run with 16 points in IU's 63-50 win over North Carolina. As a senior in 1983, he earned Big Ten MVP and All-American honors while averaging a team-best 18.9 points and shooting 54.3 percent from the floor to lead IU to the Big Ten Championship.

Wittman's successes at the collegiate level were followed by success in the pro ranks. After being selected with the 22nd pick in the first round of the 1983 NBA Draft, Wittman spent nine years in the NBA with the Atlanta Hawks (1983-88), Sacramento Kings (1988-89) and Indiana Pacers (1989-92). He averaged 7.4 points/game during his career and averaged double figures three times, highlighted by his 12.9 points/game average with the Hawks in 1985-86.

As his playing career concluded, Wittman quickly moved into the NBA coaching ranks. After seven years as an NBA assistant, he got his first head coaching opportunity with Cleveland, leading the Cavaliers franchise from 1999-2001. He later had head coaching stints with both the Minnesota Timberwolves (2007-08) and Washington Wizards (2012-16). While with Washington, he twice guided the franchise to appearances in the Eastern Conference Playoffs semifinals.

Wittman has remained involved with the IU Men's Basketball program in the nearly four decades since his graduation. A former teammate of current Hoosier head coach Mike Woodson, Wittman was instrumental in IU's successful efforts to welcome Coach Bob Knight back to an IU Men's Basketball game in 2020.
Five individuals are set to be honored for their enormous contributions to Indiana University.

Clevenger Award • Joe Huff
Clevenger Award • Randy Wittman
Grotke Award • Linda Batdorf
Grotke Award • Terri Fancher
Orwig Award • Kurt Zorn

— Indiana Hoosiers (@IUHoosiers) August 26, 2022
Filed to: Randy Wittman