6-Banner Sunday: Big Ten announces historic media rights deal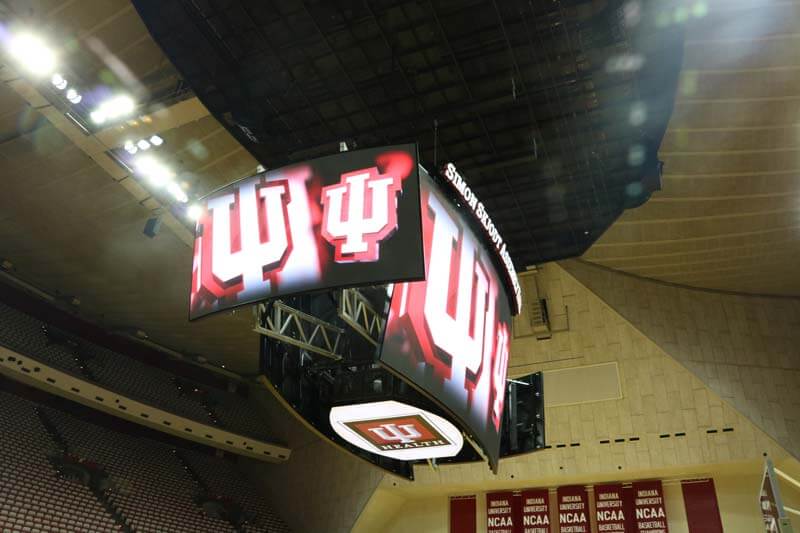 6-Banner Sunday is Inside the Hall's weekly newsletter in partnership with The Assembly Call. More than 9,000 Indiana fans receive the newsletter each week. In addition to appearing each week on the site, you can also opt to receive 6-Banner Sunday by email. A form to subscribe via email is available at the bottom of this week's 6-Banner Sunday.
Welcome to another edition of 6-Banner Sunday, a joint production between The Assembly Call and Inside the Hall where we highlight the five most essential IU basketball stories of the past week, plus take a look at how the other IU sports programs are doing.
After several relatively quiet weeks in the IU basketball world, the last seven days took a 180-degree turn with multiple major stories. The highlight was the groundbreaking media deal the Big Ten signed for the next seven years beginning in 2023 that will see a few changes in how fans see games.
This however was far from the only highlight this week as spectators were able to see the Hoosier basketball team for the first time this season at a Saturday night Fan Fest. A couple of other relatively noteworthy things occurred as well with a former IU great retiring from the game and a reveal of how many dollars were exchanged for most of the Cream and Crimson's non-conference home games.
Recruiting which has been the lead item in the last few 6-Banners was relegated down to the number five story with everything that happened this week. We will as usual conclude with a look at how other IU sports are doing.
A feature from new Inside the Hall writer William McDermott about the team's mounting expectations can be viewed here and this week's Assembly Call Radio here.
• Big Ten signs new media dal with FOX, CBS, NBC and Peacock, but no ESPN
• Hoosier Fan Fest takes places Saturday night
• DJ White announces retirement
• Opponent guarantee game money revealed
• Recruiting news
• Hoosier Roundup
Banner #1 – Big Ten signs new media dal with FOX, CBS, NBC and Peacock, but no ESPN
It has been in the works for weeks and Thursday was finally the day the Big Ten announced its eye-popping new media deal for 2023-2030. The amount is an incredible seven billion dollars and will see games across the Fox, CBS, and NBC networks. Football will be on all day each Saturday with FOX games at noon, CBS matchups at 3:30 pm, and NBC contests in primetime as well as the remaining ones on Big Ten Network, FS1, and Peacock.
However, for basketball which is what the majority of IU supporters care about most, a couple of major changes are coming. The most noteworthy is that no conference games will air on any ESPN networks and the vast majority will be on BTN or FS1 with a few on FOX and CBS. However, the other adjustment fans will have to make is that 47 men's basketball games a season will stream on Peacock as well as 30 women's basketball games. This includes 32 conference games for the men's side so every team including the Hoosiers is likely to appear exclusively on the streaming service at least a couple of times a year.
At this moment Peacock costs $5 a month and is separate from any other service as XFINITY is reportedly ending its free access to it soon. While it has not been announced, BTN+ is unlikely to disappear, meaning fans will still need subscriptions to both cable and BTN+ to watch all IU events. However, they will now need to add Peacock as well.
For schools, the deal will be a huge help financially as each conference member is set to receive 100 million dollars per season by 2025.
Banner #2 – Hoosier Fan Fest takes places Saturday night
While it was extremely informal, fans got their first look at the 2022-2023 edition of the IU basketball team with Fan Fest last night. Inside the Hall's William McDermott and Amanda Foster were on site for the event and provided live updates throughout it as it raised money for NIL for the players.
Whether sophomore Tamar Bates can hit 3-pointers at a high clip once actual games begin is still an open question but if Saturday was any indication, he will be the team's answer to several previous years of struggles behind this line. Bates hit 18 of them in the preliminary round of the 3-point shooting contest then one-upped himself with 19 in the finals to win the event. Also, Trayce Jackson-Davis may have finally developed the outside shot he promised he would by hitting two of them in the scrimmage to close the night. Several thousand fans showed up and TJD tweeted his appreciation for the occasion after saying it would be a fun year.
A couple of other notes are Jordan Geronimo electrified in the dunk contest by rising over the Hoosier Hysterics and Trey Galloway sat out the scrimmage as he continues his recovery from offseason groin surgery.
Banner #3 – DJ White announces retirement
Although there was turmoil around him during his tenure as a Hoosier, DJ White had a very solid four-year career at IU from 2004-2008 where he is 18th on Indiana's all-time scoring list. He is also the 14th and as of now last member of the cream and crimson to win a Big Ten player of the year award which he accomplished in his final season.
This week White announced his retirement from the game of basketball after a solid 14-year pro career that included several years in the NBA as well as stops overseas.
Banner #4 – Opponent guarantee game money revealed
Each year IU pays low major opposition for 'buy games' to come to Assembly Hall in the pre-conference with no return matchup at the opponent's gym. Despite a few hiccups, for the most part these contests are almost sure victories for Indiana and help fund these smaller schools' athletic budgets.
This season the Hoosiers have seven of these games and two exhibition matchups and the figures for each were made public this week. The highest amount given out by IU will be $105,000 to Bethune-Cookman, followed closely by $100,000 to Morehead State, and $95,000 each to Elon and Kennesaw State. The contests against Miami (OH), Little Rock, and Jackson State are part of an exempt tournament so each figure is not available. However, $270,000 will be compensated for the tournament as a whole between those three teams. The Hoosiers will also pay a combined 45,000 dollars to Marian and St. Francis for the exhibition games.
In addition to these 'easier' opponents, the Cream and Crimson have four extreme challenges ahead of them in the fall with games at Xavier and Kansas, as well as a home showdown with North Carolina, and a neutral environment in Las Vegas against Arizona.
Banner #5 – Recruiting news
A couple of small recruiting notes occurred this week despite this topic taking a back seat to the other major happenings of the last few days.
First off, Inside the Hall provided a recruiting update for August on where IU stands with various prospects. Also, 2024 IU target Liam McNeeley had his summer highlight video released.
Banner #6 – Hoosier Roundup
• Women's soccer opened the IU athletic season with a draw against a good West Virginia team. They also had a trio of players named to the Big Ten Watch List.
• Inside the Hall's Amanda Foster had a feature story on IU women's basketball's international players and how their performances overseas could bode well for the upcoming season.  
• Football head coach Tom Allen, the wide receivers, and offensive linemen spoke to the media this week. Also, a couple of Hoosiers were named to preseason award lists.
• Men's Soccer lost two relatively meaningless exhibition games to Bowling Green and Louisville and announced their season opener at Clemson this Friday will air on ESPNU at 7 pm. This is in addition to the previously known four games on BTN.
• Track and Field announced its recruiting class for the coming season.
• Women's golf announced its schedule for the upcoming season.
• Rowing named a new assistant coach.
• Field Hockey unveiled several promotions at various games and named their captains.
Thanks for your continued support for The Assembly Call and Inside the Hall. We'll be back next weekend with a new roundup.
Now go enjoy yourself a 6-banner Sunday.
Aaron (Ari) Shifron
Assembly Call Contributor
Filed to: