Indiana upperclassmen look to put distractions in the past as expectations mount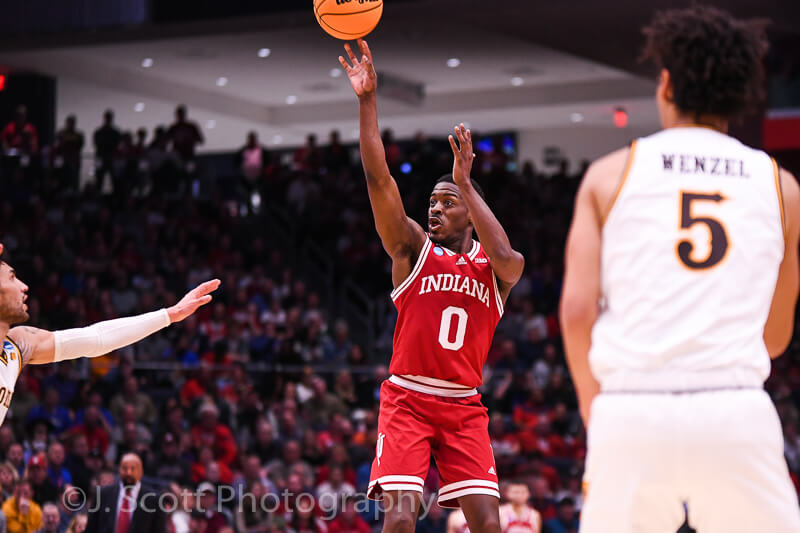 Most will remember the social media storm in the hour leading up to tip-off before Indiana took on Northwestern last season in early February. That was when Mike Woodson announced that five scholarship players would be suspended for disciplinary reasons on the IU radio pregame show with Don Fischer.
The Hoosiers were two games above .500 in conference play and the Wildcats were just 4-8 in the Big Ten heading into the game. Indiana should have come home from Chicago with a win, but didn't.
The Hoosiers lost to the Wildcats 59-51 in a game where Woodson only played six scholarship players.
Indiana simply ran out of gas. All five Hoosiers who started played over 34 minutes each. Trey Galloway, who was filling in at starting point guard, fouled out with 2:36 left and Indiana down four.
The reason behind the suspensions was never disclosed. But the five suspended players, Xavier Johnson, Parker Stewart, Khristian Lander, Michael Durr and Tamar Bates, let their teammates down.
"I'm very upset about it, because I'm strictly about team. And those guys in the locker room know I'm very upset about it," Woodson also postgame. "They weren't deserving of playing tonight."
Heading into the Northwestern game, Indiana had won six of its last nine games in the Big Ten and looked poised for an NCAA tournament berth if things continued that way. Instead, the suspensions and subsequent loss derailed IU for the rest of the regular season.
Indiana lost six out of its last eight regular season games. The Hoosiers needed to scratch and claw for two Big Ten tournament wins to sneak their way into the First Four in Dayton.
The 2022-23 season is setting up to be one of the most anticipated seasons Indiana has had in quite some time. Many preseason polls have Indiana as favorites in the Big Ten and top 15 in the country.
Indiana will return four of five starters from last year and its top three scorers. If Indiana is to improve from last year, leadership must be a key point of emphasis.
That starts with all of the upperclassmen being on the same page on and off the court.
"I think 'X' is going to have his head straight, he's going to be with me most of the time, me and Race…And we're going to make the right decisions, he's going to make the right decisions for us," Trayce Jackson-Davis said in May. "So no funny business going on. Coach Woodson and him have already had those discussions.
Distractions and negative incidents can pull a team apart. If IU is to meet the expectations of next season, the players need to off-court issues. An almost season-derailing incident like Northwestern can't happen again.
"You gotta do all the necessary things to help your team win, on and off the floor, it just doesn't start on the floor," Woodson said after the Northwestern loss. "Their teammates let them down."
Doing the necessary things on and off the floor is what IU didn't do last year from a leadership perspective. Earlier this summer, Jackson-Davis said he's been a part of teams where getting in trouble and even substances have affected the team, but he's ready to put that in the rear-view mirror.
"I don't want anything of that nature ruining our season. If you're that selfish to do that during the season then you don't need to play for this university. I think it's plain and simple. They've kind of been sticklers about it, but it's always giving chances and chances…I feel like we've had enough chances," Jackson-Davis explained. "We're mature enough to know what's right and what's wrong. That's a big thing for us."
It's fair to look to IU's best player in Jackson-Davis for leadership, but other players need to follow as well. Jackson-Davis doesn't want disciplinary issues ruining his last season in the cream and crimson.
Hoosiers forward Race Thompson emphasized the need for leadership to pave the way for incoming freshmen and set a good example.
"With me, Xavier and Trayce coming back, we gotta be leaders…we're trying to be better so we can get those guys and everybody else on board with us and really just bought into the program," Thompson said this summer.
The emphasis is there, but only time will tell how it plays out in the winter. Indiana's season and Big Ten title hopes might depend on it. But, the foundation starts with IU's upperclassmen.
Filed to: