International performances from Indiana women's basketball bode well for the 2022-23 season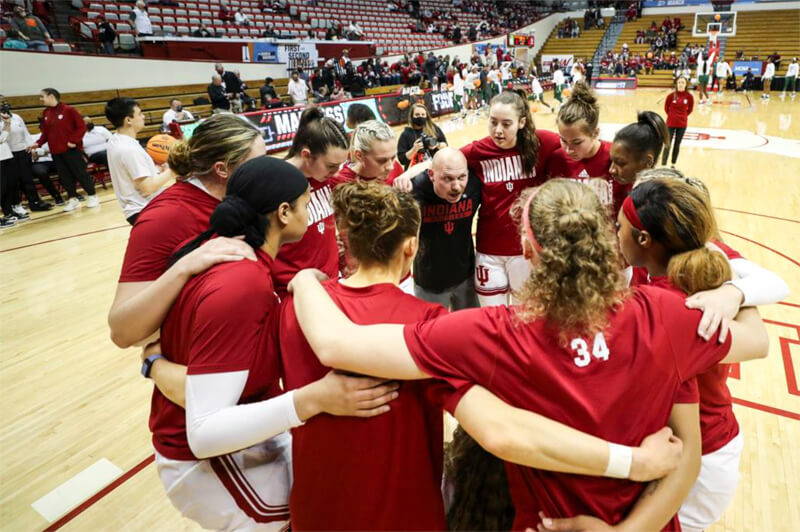 After two historic seasons, Indiana women's basketball hasn't been quiet this summer. Renovations to team spaces in Assembly Hall, summer training and NIL partnerships have abounded across the program's social media.
One of the most important parts of the summer came mid-July, when three Hoosiers competed in the FIBA U20 Women's European championships for their respective countries. Incoming freshman Henna Sandvik (Finland) and sophomore Mona Zaric (Serbia) competed in the top-16 bracket of the championships, and incoming freshman Yarden Garzon (Israel) competed in Division B.
Zaric saw minimal action in only 10 games her freshman season of 2021-22, and scored her first basket in the first round of the NCAA tournament against Charlotte. Sandvik and Garzon obviously have not played for the Hoosiers yet, but showed they could be capable of being big contributors this season.
Mona Zaric
Zaric helped the Serbian team to an 8th place finish while averaging 8.3 points and 2.9 rebounds per game. She typically played between 18 and 30 minutes in the seven games Serbia played. Zaric's 8.3 points per game placed her at third-best on the team, and she scored a team-high 20 points against Ireland.
This season, the forward could be expected to play more given the loss of Aleksa Gulbe, who was a consistent starter and major contributor in 2021-22. Teri Moren could alternate between Zaric and Kiandra Browne as the one joining Mackenzie Holmes on the floor as she did last season.
While playing for a week with — and against — teammates who aren't quite used to each other like a Division 1 school is a very different environment than one against a team like Iowa or Maryland, Zaric saw more time on the court in the European championships than the 2021-22 season. She also showed she could handle herself on the court.
Yarden Garzon
Garzon is arguably the most highly anticipated freshman for Indiana this season. The Israeli guard was ranked a 4-star recruit by Premier Basketball Report, and Moren described her as one of the "top players in Europe". This past year, Garzon averaged 14.9 points, 5.1 rebounds, 3.5 assists and two steals per game while playing with Maccabi Ironi Ramat Gan, a club team in central Israel.
In the 2022 FIBA U20 European championships, Garzon played in the Division B competition and was second among all players in the division with 20 points per game. She also averaged 7.3 rebounds, 3.8 assists and 2.7 steals per game. Israel finished third in the competition.
Last season, Moren seemed hesitant to give significant playing time to her freshmen, whether it was in the starting lineup or off the bench. However, with a player like Garzon, she may change her mind — and strategy. Garzon can play as a point guard while also rebounding and scoring prolifically, and will without question be an asset to the Hoosiers this season.
Henna Sandvik
Sandvik and the Finland national team finished in 9th place in the championships, just one spot behind Zaric and Serbia — and no, they didn't face each other. Sandvik played at least 22 minutes in each of the seven games she played in and played 38 minutes against Belgium. She averaged 13.1 points and 8.7 rebounds per game to lead her team in both categories.
Sandvik's averages also placed her at sixth-best in average points per game and first in rebounds per game in the entire competition.
The 6-foot guard averaged 13.2 points and 5.5 rebounds per game in the 2021-22 season with her team, HBA-Marsky, in Finland. With the abundance of guards on the Hoosier roster, including players like Grace Berger and Minnesota transfer Sara Scalia, Sandvik may not crack the starting five. However, she's poised to be a solid contributor off the bench, and adds even more talent to an already very skilled Indiana team.
Main takeaways
The bulk of Indiana's roster has a good deal of experience, whether it comes from returning Hoosiers or transfers. Unless Moren changes her go-to strategy from last season, the chances of freshmen, and even sophomores, regularly starting are slim. But if these three players are any indication, Indiana's bench has the potential to, when called upon, perform even better than it did last season.
(Photo credit: IU Athletics)
Filed to: