6-Banner Sunday: CJ Gunn shines in Indiana-Kentucky All-Star games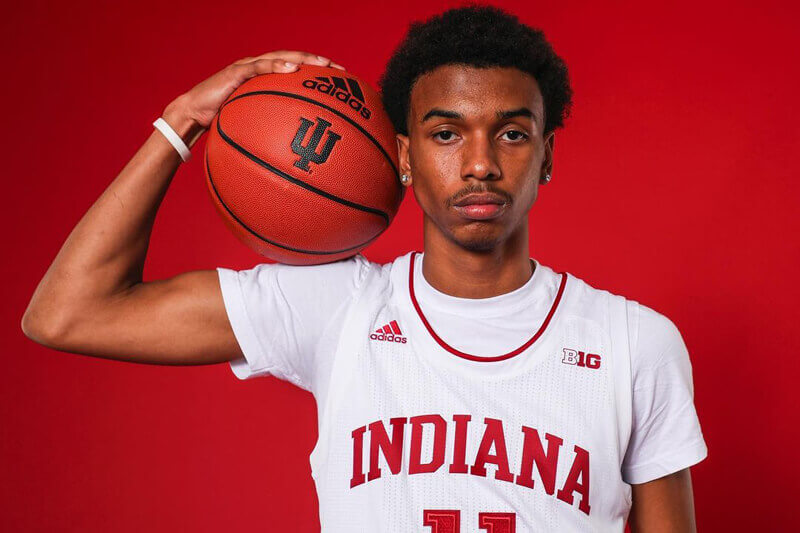 6-Banner Sunday is Inside the Hall's weekly newsletter in partnership with The Assembly Call. More than 9,000 Indiana fans receive the newsletter each week. In addition to appearing each week on the site, you can also opt to receive 6-Banner Sunday by email. A form to subscribe via email is available at the bottom of this week's 6-Banner Sunday.
Welcome to another edition of 6-Banner Sunday, a joint production between The Assembly Call and Inside the Hall where we highlight the five most essential IU basketball stories of the past week, plus take a look at how the other IU sports programs are doing.
As the offseason continues, more light was shed on various topics for next season that fans have been waiting for. First off, a few more non-conference games were revealed last week as the pieces of next year's schedule come together. Also, Indiana's athletic department put out a roster that reveals the numbers each player will have on the back of their uniform.
In player news, while incoming freshman CJ Gunn may not be the most heralded recruit in IU's class this upcoming season, his performance this weekend should make Hoosier fans more excited about what he might be able to contribute. Speaking of the newcomers for next season, Inside the Hall had a series focusing on them and what they might bring to the table.
Finally, AC Radio returned after a week off and we will as usual conclude with a look at how other IU sports are doing.
• More non-conference games revealed
• Jersey numbers released for next season's roster
• CJ Gunn shines in Indiana vs. Kentucky All-Star Games
• Inside the Hall's Freshman Focus series
• AC Radio and Doing the Work podcasts
• Hoosier Roundup
Banner #1 – More non-conference games revealed
While it was not the top-flight matchups Hoosier fans learned about previously when games against Arizona and Kansas were announced, a few more non-conference opponents were reported as next year's schedule continues to fill in.
IU will once again host a multi-team event and it features Miami (OH), Little Rock, and Jackson State. None of these opponents have huge expectations as the RedHawks were 266, the Trojans 277, and the Tigers 328 at the end of last season according to the KenPom rankings, and not much improvement is forecasted for any of them.
Still, with the Wildcats and Jayhawks already on the docket for 2022, and an elite matchup quite possible in both the Big Ten-ACC Challenge and Gavitt Games, a few tune-up contests like the three reported this week are to be expected.
Banner #2 – Jersey numbers released for next season's roster
Each year fans may wonder what number each Hoosier and particularly the new freshmen will wear.
That question was answered this week as IU made its roster for next year official. In terms of the newcomers, Jalen Hood-Schifino will don number one while Malik Reneau, Kaleb Banks, and CJ Gunn will have jerseys numbered 5, 10, and 11 respectively. Also, walk-on Michael Shipp switched from five to four in the offseason on his uniform while fellow non-scholarship player Shann Burke went from 11 to 13 to make room for the new freshmen's preferred numbers.
Other changes at the back of the roster include Sebastien Scott leaving and being replaced by former Louisville transfer Hogan Orbaugh who is an Indiana native and served as a student assistant under Clif Marshall last season but appears to be on the team officially now. As a whole, the squad has 17 players with 13 on scholarship and four walk-ons.
Banner #3 – CJ Gunn shines in Indiana vs. Kentucky All-Star Games
Incoming recruit CJ Gunn may be the lowest-ranked IU player in his class according to the rankings. However, no one would have known it this weekend as he shined in the annual Indiana vs. Kentucky High School All-Star games and was named the MVP.
As has been the case for a long time, the team from the state north of the Ohio River easily dominated the one from south of it. Gunn was a big reason why as he scored 20 points in the game Friday in Owensboro and did even better Saturday in Southport when he chipped in 21. He was the leading scorer for Indiana both nights.
Banner #4 – Inside the Hall's Freshman Focus series
Speaking of newcomers, Inside The Hall looked at some of the freshmen for next season with a new Focus Series.
The most decorated of the bunch were profiled as incoming five-star recruits Jalen Hood Schifino and Malik Reneau were featured.
Banner #5 – AC Radio and Doing the work podcasts
While Podcast On The Brink took the week off, Assembly Call returned with two different shows.
AC Radio looked at the Big Ten as a whole for next season. Meanwhile, Doing The Work discussed the women's team and where they rank in early season polls for 2022-2023 as well as possible opponents for the upcoming schedule.
Banner #6 – Hoosier Roundup
• Former Hoosier greats Antwaan Randel El and Vaughn Dunbar were added to the college football hall of fame ballot.
• Recent women's basketball great Nicole Cardano-Hillary signed back home to play professionally with a team in Spain.
Baseball had their three star freshmen earn All-American Honors.
Softball announced an early-season tournament they will compete in for 2023.
• An IU wrestler earned All-American status at the U23 World Team Trials while a different former one qualified for the National Team.
• Track and Field became the final IU athletic team to complete their 2021-2022 season at the NCAA championships. The only college sport still finishing up competition now is baseball with the Super Regionals and College World Series but the Hoosiers are not a part of that.
Thanks for your continued support for The Assembly Call and Inside the Hall. We'll be back next weekend with a new roundup.
Now go enjoy yourself a 6-banner Sunday.
Aaron (Ari) Shifron
Assembly Call Contributor
Filed to: