Freshman Focus: Malik Reneau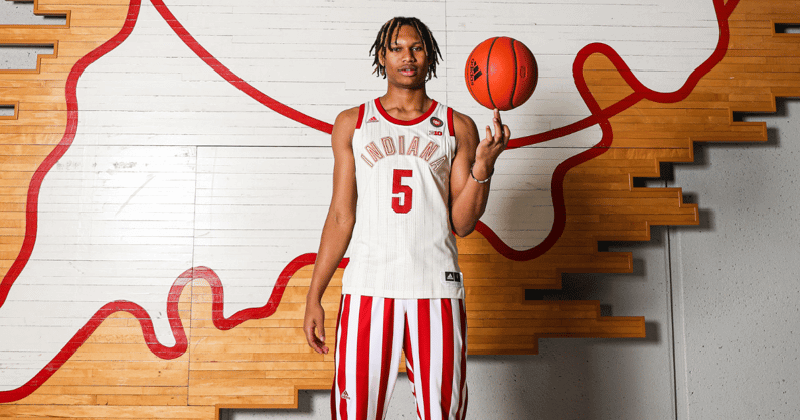 Montverde Academy was stacked with talent. The Eagles' 2019-20 roster featured multiple future NBA players: Scottie Barnes, Cade Cunningham, Day'Ron Sharpe and Moses Moody. At the time, Malik Reneau was a sophomore, playing for Mater Academy Charter (Hialeah Gardens, Florida). Montverde Academy played a preseason game against Mater Academy Charter. Despite the loaded Montverde Academy roster and the fact that Reneau was a sophomore, he had a stellar performance.
"When he first played against us (Montverde Academy), it was… his instinct of, you know, taking a shot, missing a shot, going back, getting the rebound," said Rae Miller, Montverde Academy associate head coach, remembering Reneau's performance during that game. "His second jump was extremely quick and he was able to utilize it going to his left hand. We knew he was going to his left hand and he just found a way to score the ball no matter how well you knew his game. He was just that good of an executioner that he could score the ball with you being in his way or getting out of his way. He's going to find a way to put the ball in the rim."
Fast forward to now and Reneau is preparing for his first season at IU. Reneau — rated a five-star prospect and ranked 27th overall in the 2022 class, according to the 247Sports Composite — was named a 2021-22 honorable mention All-American by MaxPreps and played in the 2022 Jordan Brand Classic. The 6-foot-9, 235-pound forward has the skillset and potential to be an impact player for IU in a season where the Hoosiers are among the favorites to win the Big Ten.
"He's a very, very gifted post scorer," Miller said of Reneau. "He has unbelievable touch. He has unbelievable feel and he's an excellent rebounder." 
After playing for Mater Academy Charter, Reneau transferred to Montverde Academy (Montverde, Florida), which has a prestigious basketball program, for his final two high school seasons. Miller said Reneau and Jalen Hood-Schifino — as juniors — were mainly on the second unit. That Montverde team won the 2021 GEICO High School Basketball Nationals title. Miller said there were games at GEICO High School Basketball Nationals when the team was struggling, but Reneau would come off the bench and carry the team for a period of time just as a result of him being tenacious, tough and prepared.
"Every day in practice, he was the same guy," Miller said. "He worked extremely hard his junior year just to be able to be relied upon for whatever role he may have in the game. He would study his film. He would be at practice on time. He would put in extra time and, you know, do whatever is necessary to improve his stock going into the game or into the season."
In September of his senior year (2021), Reneau committed to Florida. He then signed with the Gators in November. In his senior season, Reneau helped Montverde win a second consecutive GEICO High School Basketball Nationals title. During that season, he averaged 11.9 points and 6.6 rebounds per game.
A few weeks before Montverde won the 2022 GEICO High School Basketball Nationals, though, Florida head coach Mike White left the Gators and took the head coaching job at Georgia. A little more than a week after White left Florida, Reneau told On3 that he received his release from Florida and would be reopening his recruitment. In April (after the 2022 GEICO High School Basketball Nationals and after the 2022 Jordan Brand Classic), Reneau visited IU and then committed to the Hoosiers.
"It was just bad timing (the first time)," Reneau told Inside the Hall following his commitment. "They came in pretty late, but we always kept that relationship together. And they wanted to get me on a visit last time around, but I was already pretty locked in with the Florida coaching staff. But now that I reopened and took this visit, it was a clear no-brainer. I should have taken the visit the first time."
During that April visit to IU, Reneau was accompanied by Hoosier signee Jalen Hood-Schifino. The two had played the last two seasons together at Montverde Academy.
"Me and Fino, we've been growing this relationship for a while now," Reneau told Inside the Hall after his commitment. "It was just a great feeling that I know Fino's going to be there. He's also a winner. When you have winners on the same team, you tend to get a lot of success."
In his freshman season at IU, Reneau will likely compete with Trayce Jackson-Davis, Race Thompson, Logan Duncomb, Jordan Geronimo and Kaleb Banks for playing time. (Perhaps Miller Kopp, too, depending on the situation.) Reneau should likely have the benefit of learning from Jackson-Davis and Thompson, among others. Jackson-Davis and Thompson are both among the best — and among the most experienced — frontcourt players in the Big Ten.
Reneau, though, has the potential to fill a need that Indiana has largely lacked the last two seasons: a reserve frontcourt player that can put up solid production on a consistent basis. Joey Brunk missed the entire 2020-21 season due to a back injury. Last season, Michael Durr largely didn't provide the level of production off the bench that many had hoped for. If Reneau is able to produce more in that reserve role, it would be a significant development.
"He's a great player," Jackson-Davis said to reporters about Reneau. "I've watched a little bit of his film. The big thing with him, too, he's a winner. So that's great."
Filed to: Freshman Focus, Malik Reneau