Q & A: Class of 2023 forward Brady Dunlap talks IU interest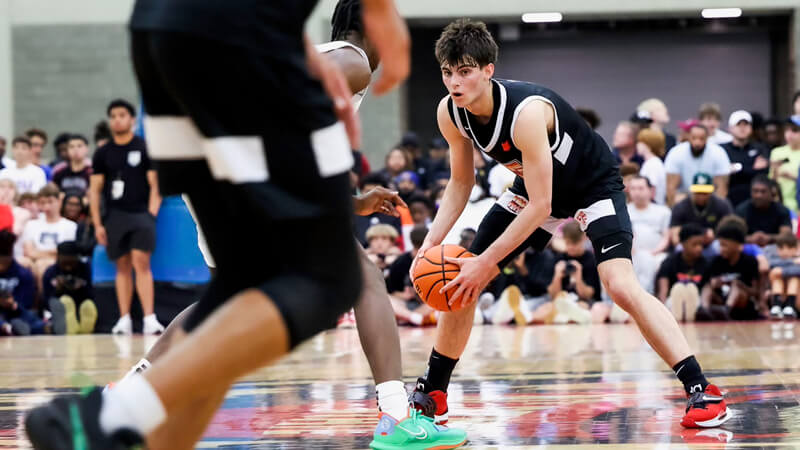 Class of 2023 Harvard Westlake (Ca.) and Strive for Greatness forward Brady Dunlap has interest from several high-major schools, including Indiana.
Dunlap, who recently made the switch from Vegas Elite to Strive for Greatness on the Nike Elite Youth Basketball League (EYBL) circuit, is the No. 83 player nationally in his class according to the 247Composite.
The 6-foot-7 wing recently provided an update on his recruitment, which is available below:
On how he played against the New Jersey Scholars in the Nike EYBL in Louisville:
"I just tried to go out there and do everything I could for my team. We knew it was going to be a tough game with all of the stars that they have so I was just going out there, having the green light and playing with it, playing with confidence. I get down on myself sometimes and just have to let it go and I feel like I did alright with that. We didn't come out with a win, but I felt like it was a good step forward for our team, especially with such a rough game this morning."
On which schools are involved in his recruitment:
"It's picking up now with the EYBL. I've got a few teams coming after me pretty hard. Right now San Diego State is recruiting me pretty hard. Indiana is in there. Kansas offered me and then reached back out. Wyoming recently offered me, USC is on me pretty hard."
On who speaks with from Indiana:
"Coach (Brian) Walsh has been in contact the most with me."
On how he could fit in at Indiana:
"I fit their system pretty well. They need size and shooting ability and I think I could bring that."
On how interested he is with Indiana:
"I'm very interested. Obviously, the basketball is just crazy. The history, the building erupts. I've looked up videos. They're so passionate, the fanbase. Every time I'm at an EYBL game, I see somebody in the stands with Indiana gear. It's super cool so I'm very interested if they want to end up to start heavily recruiting me."
On when he plans to take visits:
"I'm probably going to wait on my visits until after Peach Jam. I think after Peach Jam, the coaches will have a better idea of how I play and I'll get a good gauge on who is really interested and who isn't."
On whether Indiana is a school that could receive a visit:
"It depends on how well the coaching staff likes me. If they're all in and they're recruiting me hard and I'm talking to the head coach, for sure. Most definitely."
On whether he's hoping to expand his recruitment and get more high-major schools involved:
"Kansas was my big offer last year and then USC was a high major that came in recently (with an offer). I'm just trying to prove myself. I got sick last year during COVID (for Peach Jam), so I'm just trying to prove myself."
Filed to: Brady Dunlap