6-Banner Sunday: Hoosier ranked in several preseason polls for 2022-23 season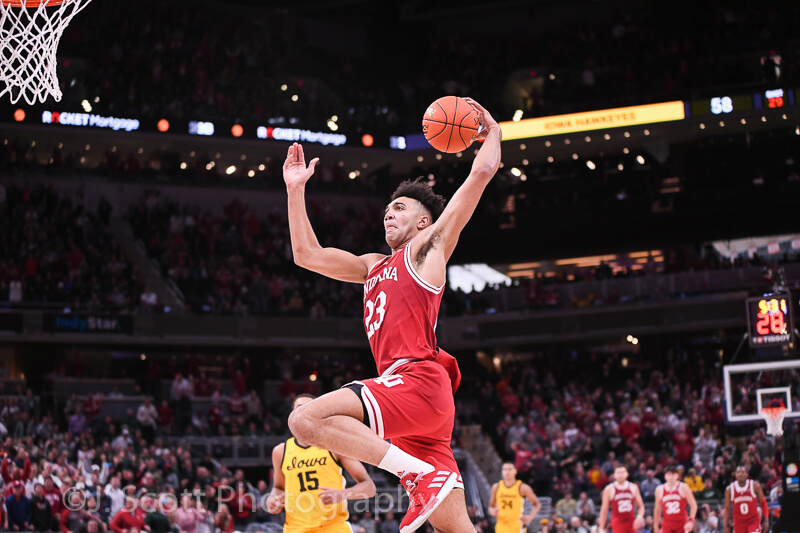 6-Banner Sunday is Inside the Hall's weekly newsletter in partnership with The Assembly Call. More than 9,000 Indiana fans receive the newsletter each week. In addition to appearing each week on the site, you can also opt to receive 6-Banner Sunday by email. A form to subscribe via email is available at the bottom of this week's 6-Banner Sunday.
Welcome to another edition of 6-Banner Sunday, a joint production between The Assembly Call and Inside the Hall where we highlight the five most essential IU basketball stories of the past week, plus take a look at how the other IU sports programs are doing.
With the return of Trayce Jackson-Davis hype and expectations have followed as several preseason polls have IU well inside the top 25 and the possible favorites in the Big Ten. Jackson-Davis and his team were not the only ones to have positives come their way as a former Hoosier is on the brink of an NBA championship.
Also, as new endorsement deals continue to happen for players, IU announced yet another way their athletes can potentially make money through NIL. With financial incentives now in play, a few small recruiting updates occurred this week.
Lastly, Podcast on the Brink and Doing the Work had shows and we will as always conclude with a look at news in other Hoosier sports led by a new assistant coach for women's basketball.
• Hoosiers ranked highly in several preseason polls
• Former Hoosier Juwan Morgan in NBA finals
• IU announces another NIL initiative
• Recruiting updates
• Podcast on the Brink and Doing the Work
• Hoosier Roundup
Banner #1 – Hoosiers ranked highly in several preseason polls
With Trayce Jackson-Davis withdrawing from the NBA draft and returning to IU, the hype for the upcoming season was inevitable and has not been at this level in at least a half-decade. Combined with many personnel losses for fellow Big Ten schools and the Hoosiers returning nearly their entire squad and adding two five-star recruits, it seemed likely they would be picked among the best teams in the land and the favorites in the conference.
This came to fruition earlier in the week when several publications covering college basketball gave IU at least a top 20 ranking if not higher. Among the well-known websites, CBSSports ranks them 16, 247Sports has them at 15, Bart Torvik and The Athletic's Seth Davis put the Hoosiers at 12, Jeff Goodman at Stadium ranks them 11, while Andy Katz at NCAA.com is the most bullish as he puts Indiana all the way up at seven.
All these sites have the Cream and Crimson at or near the top of the Big Ten.
Banner #2 – Former Hoosier Juwan Morgan in NBA finals
Juwan Morgan has defied the odds and many naysayers and managed to stick in the NBA. His hard work and patience have paid off as he is now with a Boston Celtics team on the brink of a championship. The Celtics are already up 1-0 in the best-of-seven series after stealing game one on the road from the Golden State Warriors.
Assembly Call had an exclusive interview with Morgan back in November of 2019 before playing the Pacers in Indianapolis. At the time he had just broken into the league with the Jazz.
Banner #3 – IU announces another NIL initiative
The Indiana athletic department continues to be out in front of name, image, and likeness as they announced a new endeavor this week.
The latest opportunity for players comes from a deal with Campus Ink for merchandising opportunities. Starting in the fall the Mark Cuban-backed website will sell officially licensed apparel and shirseys of IU athletes.
Banner #4 – Recruiting updates
Several small recruiting tidbits came to light this week.
Top 60 ranked 2023 target Coen Carr might give the Hoosiers a firm answer soon as to whether he will be coming to IU or not as he hopes to make his decision late this summer.
Also, Inside The Hall had an interview with 2023 four-star prospect TJ Power and the Hoosiers are in the mix for another four-star recruit Arrinten Page as competition for his services is heating up.
Banner #5 – Podcast on the Brink and Doing the Work
Assembly Call Radio took the week off but POTB was back after a hiatus.
Rick Bozich was the guest for Podcast On The Brink and discussed IU's status as being among the favorites in the Big Ten. Meanwhile, Doing the Work was back after a several-week break to talk about updates with women's basketball.
Banner #6 – Hoosier Roundup
While only Track and Field are still competing this season, several stories took place away from play. The biggest headline was from women's basketball where the team filled out their staff by naming Linda Sayavongchanh as their new assistant coach and recruiting coordinator.
In other news:
• Women's soccer added a transfer for this coming season and announced their recruiting class.
• Field Hockey recognized Asian American and Pacific Islander Heritage Month.
• Women's golf got a transfer for the upcoming year.
• Water Polo had four All-American Honorable Mentions.
• Wrestling had a player named to compete for a spot on the USA National Team. Also, 11 others were added to the U23 and U20 World Team Trials.
• 145 IU athletes were given Spring/At Large Academic All-Big Ten Honors.
Thanks for your continued support for The Assembly Call and Inside the Hall. We'll be back next weekend with a new roundup.
Now go enjoy yourself a 6-banner Sunday.
Aaron (Ari) Shifron
Assembly Call Contributor
Filed to: