High-flying class of 2023 wing Coen Carr eyeing late summer decision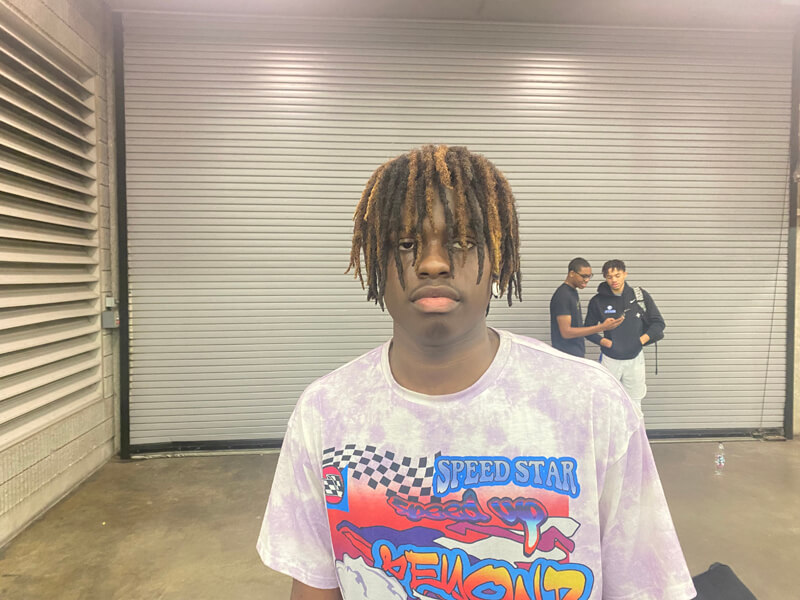 LOUISVILLE, Ky. – Class of 2023 Legacy Early College (S.C.) and Georgia Stars wing Coen Carr is known for his high-flying dunks that often go viral on social media.
But the 6-foot-7 wing wants to show his game is more than just dunks.
"I feel like I'm an underrated passer," Carr said Saturday. "I feel like I can see the floor a lot because I'm a bigger wing. That's one of the things that is underrated (about my game)."
Carr returned to the floor on Saturday at the Kentucky Fair and Exposition Center for the third Nike Elite Youth Basketball League (EYBL) session after missing significant time this spring with a left-hand injury.
He wasted no time making an impact, scoring 10 points, grabbing four rebounds, dishing out three assists to go along with two steals and a blocked shot in a loss to Expressions Elite.
"I'm about 85 to 90 percent right now," he said. "Just trying to get my feel back and get back into the game since the hand that I broke was my shooting hand. Just trying to get it back right.
"I feel like I played pretty good. I could have helped get some more stops and hit a couple of more jump shots. But overall, pretty good game."
A top 60 player nationally in the 247Composite rankings, Carr took an official visit to Indiana last season.
It was his only visit last season that included the game day experience. Carr was in attendance for IU's senior day matchup against Rutgers, its final home game of the season at Assembly Hall.
It was a trip that clearly made an impact on the talented wing.
"Really the fans, the people and the culture (stood out)," Carr explained. "They were chanting my name outside the gate before the game started. It made it feel like home like they'd known me for two years, three years."
In addition to the trip to Bloomington, Carr took visits to Vanderbilt, Clemson and Georgia last season.
Those experiences and the information he's gathered have him eyeing a college decision later this summer. According to Carr, he'd like to make a decision by "about August."
This summer, Carr says he is working on setting up trips to Tennessee, Clemson and Vanderbilt.
While the recruiting process can begin to wear on prospects by the summer prior to their senior season, Carr is embracing the once-in-a-lifetime opportunity.
"It's fun, actually," Carr said. "It's good to have coaches that actually want you and that want you to play for them and that say good things about how I could help their program and try to win a national championship."
His relationship with the Hoosier coaching staff is a strong one and it's being spearheaded by associate head coach Yasir Rosemond.
"He's great," Carr said of Rosemond. "I first met him when I was in 8th grade. He coached at one of my camps and coached my team. I've got a real good, real long (term) relationship with him."
While Carr is still open to new schools entering his recruitment – Baylor recently began to contact him – his focus is enjoying one last ride with his teammates this summer on the EYBL circuit.
"Really to just win and have fun with my teammates right now," he said. "I'm not really too pressed on offers. I feel like I'm good right now with my status. I'm really just trying to get better and help my team win."
Filed to: Coen Carr