Recruiting heating up for class of 2023 four-star forward Arrinten Page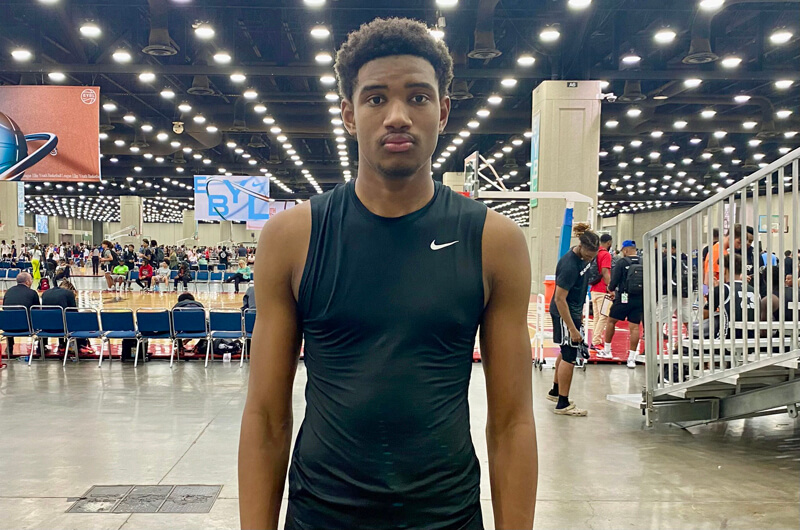 LOUISVILLE, Ky. — Away from the court, Arrinten Page has a calm and cool demeanor. That changes when he steps between the lines.
Page, who has a strong and mature body, was aggressive and physical during the third session of the Nike Elite Youth Basketball League (EYBL) over the weekend at the Kentucky Fair and Exposition Center. The Skills Factory 2023 and Wheeler High School (Ga.) four-star forward, who possesses a smooth and versatile offensive skillset, has seen his recruitment heat up as of late.
An offer from Indiana at the beginning of April was Page's first from a high major program. Since then, he has received offers from at least nine other high major programs, including UCLA, Florida, Cincinnati, Missouri, USC and Alabama. The 6-foot-10, 230-pound forward is ranked No. 58 nationally in the class of 2023, according to 247Sports. He is the No. 6 overall prospect in Georgia — one spot ahead of Indiana commit Jakai Newton.
Page's ability to step outside and knock down shots, mixed with his efficient, athletic play near the basket, makes him an intriguing prospect — and a potential stretch-four at the collegiate level. He said IU head coach Mike Woodson likes his ability to score in a variety of ways. Indiana has been "very active" in his recruitment, he said.
"They like everybody to be able to make a play," Page said on Saturday. "(Coach Woodson) thinks I can provide that. I like how genuine of a person he is. I can score on the perimeter and on the block and can rebound."
IU associate head coach Yasir Rosemond often communicates with Page, he said. Rosemond, an Atlanta native, has connections in the Southeast after previous stints at Georgia and Alabama.
"Coach Ya is texting me almost daily," Page said. "He is a cool dude. I like (Indiana's) organization and how they are like a family and connected. I was excited about it (the Indiana offer)."
Page will take a winning mentality to wherever he lands. Wheeler High School is one of the premier basketball schools in the country and has won eight state championships.
"We didn't achieve our ultimate goal (this past season), which is to win state," Page said. "We have a high standard, it is (winning) state or it is not good enough. It is not about us; it is about the standard."
Page has brought the same mentality to the hardwood this spring, which has allowed his recruitment to reach a new level.
"I think playing on the circuit (EYBL) helped (with recruiting)," he said. "I am working on my physicality and being more dominant."
The fourth session of the EYBL circuit, which will be a live period, is set for July 7-10 in Kansas City. The Peach Jam (also live period) will take place July 17-24 in Augusta, Ga.
Page said he plans to take a visit to Indiana later in the summer.
Notes: Page was selected to the Georgia Athletic Coaches Association (GACA) 6A All-State Team this past season as a junior and was invited to the USA Basketball Men's Junior National Team minicamp in April. He plays high school and AAU basketball with 2023 five-star point guard Isaiah Collier, who is the No. 1 overall prospect in Georgia, according to 247Sports.
Filed to: Arrinten Page