Q & A: Class of 2023 forward TJ Power discusses IU offer, visit plans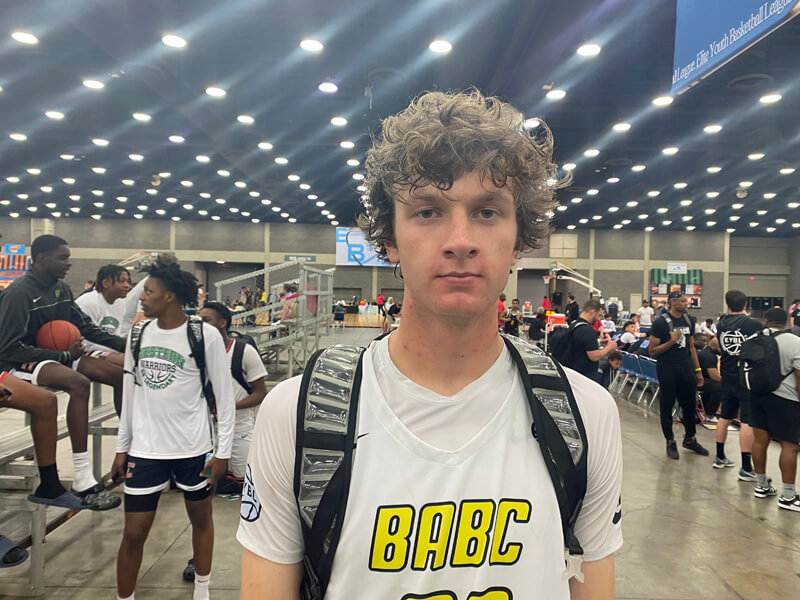 LOUISVILLE, Ky. – BABC and Worcester Academy (Mass.) four-star forward TJ Power earned a scholarship offer from Indiana in early May and is a class of 2023 prospect the Hoosiers hope to have on campus for a visit soon.
Inside the Hall caught up with Power at the third Nike Elite Youth Basketball League (EYBL) session over the weekend at the Kentucky Fair and Exposition Center for a Q & A, which is available below:
Indiana offered the scholarship in early May, what's been the communication level with them and what's their message been to you?
"I talk to coach (Yasir) Rosemond a lot. I've talked to coach (Mike) Woodson once or twice. They've just been really consistent ever since they reached out. They offered me on the first call, so that kind of shows the excitement they have on their end. I appreciated that. And then, there are schools that talk to you and there are schools that are really proactive as far as sending dates and you can kind of tell that they're really interested and Indiana is one of those schools which is good to see."
The recruiting process has exploded for you. Are you enjoying it? How are you managing it? What's it like on a day-to-day basis getting all of the calls
"It's a lot. It's a good problem to have, I think. Having the right people around me has been huge. My family, the coaches will call them and talk to me maybe the next day so it's pretty spread out. Everyone is just supportive. I think having priorities has been big. Obviously family and school, I want to get that done. And now that school is over I have a little bit more time. I was playing basketball, too, so it was a lot. It's a good problem to have."
What position do you play in baseball? Are you pretty serious about it and are you looking into that for the future as well?
"Yeah, I'm a left-handed pitcher. (Power has an 87 MPH fastball.) Basketball is definitely my priority. But a lot of schools have said once I get on campus, I can try baseball, too. So maybe that is something I would consider."
Indiana has been down in the recent past, but made the NCAA tournament last year and seems to be headed in the right direction. What do you know about the program historically?
"Coach (Bob) Knight and everything that they've done there and the fanbase, it's a huge basketball state, which is cool to see. And now with coach Woodson, they're kind of revitalized, I think. He has a lot of pulls at the next level and they're recruiting a lot of high-caliber kids. You can see there's a lot of pull to that school right now and I'm excited to see how it grows."
Have they talked to you about a visit? Is that something you want to do?
"Yeah, they said June 8-10. I'm just talking with my parents and when I get back to school I'm going to talk to my coach and try to figure it out."
Would that be an official visit?
"I think so, yeah."
Which other schools are you hearing from regularly?
"I talk to Virginia a lot. I'm actually flying straight from here to Virginia on Monday through Wednesday for a visit. I talk to Notre Dame, I might go out there. Wake Forest, Virginia Tech, Boston College, Iowa a lot and Penn State a good amount."
How would you describe your game and strengths and weaknesses as a player?
"I just think I'm a basketball player. I kind of do a lot on the floor. I pride myself on getting rebounds and valuing the possession and passing the ball and making the right plays. I know when to be aggressive and when I need to facilitate, I think. I just have a good feel out there. And I can make tough shots, so that helps."
What is your goal this summer with your team?
"Right now we're trying to make Peach Jam. That's a tough one (BABC had just fallen to Mokan Elite). That would have been a big win. We've got four more games this weekend. So we're just focused on one game at a time. We've got to get some wins. That's my goal, obviously, to make Peach Jam."
(BABC finished the weekend 2-3.)
How would you describe the competition level in the EYBL?
"There's nothing really like it. I played up last year on our 17s team and we went down to Peach Jam and it was kind of a wake-up call, honestly. I went down there and saw a bunch of dudes that I didn't even know were out there. So I think coming into this year, I was a lot more prepared and knew what to expect. But still, the athleticism and speed and size and even the shot-making. There are a lot of teams that play the right way. They kind of have it all out here."
Filed to: TJ Power