6-Banner Sunday: TJD speaks, Woodson hopeful for series with Louisville and Kentucky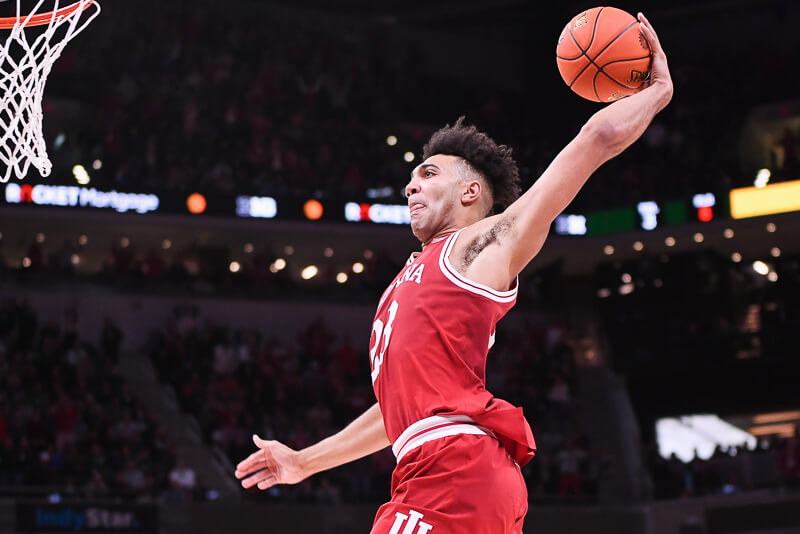 6-Banner Sunday is Inside the Hall's weekly newsletter in partnership with The Assembly Call. More than 9,000 Indiana fans receive the newsletter each week. In addition to appearing each week on the site, you can also opt to receive 6-Banner Sunday by email. A form to subscribe via email is available at the bottom of this week's 6-Banner Sunday.
Welcome to another edition of 6-Banner Sunday, a joint production between The Assembly Call and Inside the Hall where we highlight the five most essential IU basketball stories of the past week, plus take a look at how the other IU sports programs are doing.
While Trayce Jackson-Davis' confirmation that he was staying at IU was announced last week, he spoke with the media a few days ago to talk about why he decided to be a Hoosier for another season. Also, Mike Woodson made a public appearance at Huber's Winery this week in a yearly event that finally returned after a COVID hiatus.
Also, updated 2023 rankings came out for future prospects, more non-conference games were announced for down the road, and AC Radio had its normal Thursday show.
We will as always conclude with a look at how other IU sports are doing led by a terrific and surprising run for baseball in the Big Ten Tournament.
• Trayce Jackson-Davis speaks about decision to return to IU
• Mike Woodson speaks at Huber's Winery
• New rankings for class of 2023 released
• IU to play in 2023 Empire Classic
• AC Radio
• Hoosier Roundup – IU baseball makes run in Big Ten tournament
Banner #1 – Trayce Jackson-Davis speaks about decision to return to IU
While Hoosier fans have known since last week that star big man Trayce Jackson-Davis was returning, he did a virtual media session to expand on his decision to remain at IU for one more season.
Jackson-Davis said he hopes to become more of a leader as well as win a championship in his final season as a Hoosier. His full press conference can be viewed here. Inside The Hall's Tyler Tachman also had a column discussing the decision.
Banner #2 – Mike Woodson speaks at Huber's Winery
Jackson-Davis was not the only Hoosier to have availability to fans and media this week as head coach Mike Woodson was at Huber's Winery for the annual event that had been on hiatus from COVID until now. Woodson's biggest revelation was that he is trying to get Kentucky and Louisville back on the schedule.
A full video and transcript of what was said are available.
Banner #3 – New rankings for class of 2023 released
247Sports updated its 2023 rankings. IU commits Jakai Newton and Gabe Cupps come in at No. 80 and 107 respectively.
The biggest jump came from Indiana native and IU target Xavier Booker who moved from No. 91 up to 4 in these new rankings.
Banner #4 – IU to play in 2023 Empire Classic
Woodson continues to take action on his promise to beef up the non-conference schedules going forward. In 2023 the Hoosiers will head the Empire Classic in New York City. The other teams in the event will be Connecticut, Louisville, and Texas and IU will play two of those teams.
It's a four-team tournament that will crown a champion but each team is guaranteed two games as the winners and losers will play each other on the final day. Before the games in the Big Apple, the Hoosiers will host a couple of mid-major teams at home as this is a multi-team event with a total of four games for Indiana.
Banner #5 – AC Radio
While Podcast On the Brink took another week off, Assembly Call Radio did have a show this week.
The episode on Thursday night discussed the Trayce Jackson Davis and Mike Woodson comments.
Banner #6 – Hoosier Roundup – IU Baseball makes run In Big Ten tournament
• Although their season ended, baseball made a longer run in the Big Ten Tournament than most could have imagined. After falling to Maryland in their opener, they eliminated a solid Illinois team and an elite Terps squad before finally being knocked out by Rutgers. It was the first time since 2015 that the Hoosiers have won multiple games in the event and reached the semi-finals. This should give IU fans optimism heading into next season as this young team played much stronger late in the year after a terrible start.
• Legendary radio announcer Joe Smith announced he is retiring after next season.
• Recent women's basketball graduate Aleksa Gulbe signed to play professional basketball in Europe.
• Men's Soccer released its schedule for next season.
• Football announced kickoff times for the first half of their season.
• Women's Golf named a new coach.
• Track and Field competed and hosted the NCAA East Prelims.
Thanks for your continued support for The Assembly Call and Inside the Hall. We'll be back next weekend with a new roundup.
Now go enjoy yourself a 6-banner Sunday.
Aaron (Ari) Shifron
Assembly Call Contributor
Filed to: