With unselfishness and perspective, Trayce Jackson-Davis preparing for fourth season at IU: 'I'm focused on a championship'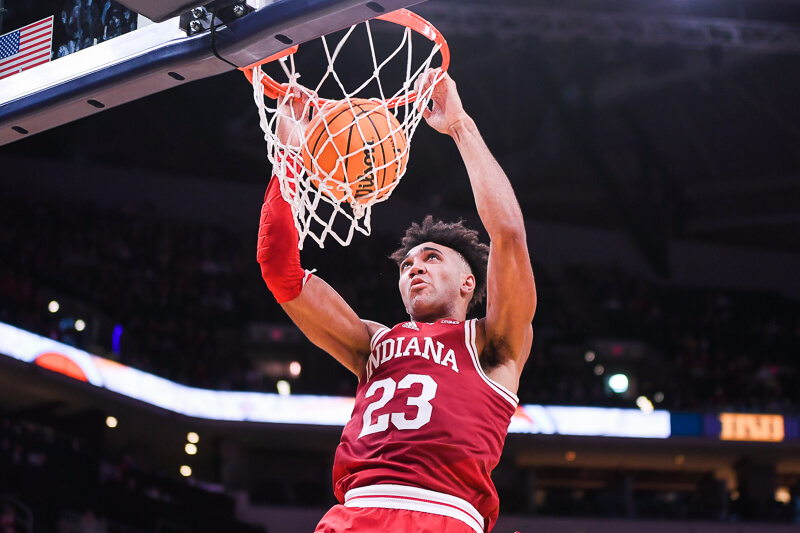 Trayce Jackson-Davis had to be asked about it more than once.
The first time — in summary — he was asked about the importance of being among or at the top of various all-time IU individual statistical categories. Jackson-Davis was also asked how disappointing it would be if he didn't have a Big Ten title along with those individual achievements.
It might sound cliché, but Jackson-Davis mostly deflected about what his personal achievements could be.
"I'm a person who would rather… not score 2,000 points. I'd rather get the championship," Jackson-Davis said on a Monday Zoom call with reporters. "If I don't need to score that much and we're playing really well, that's what we're going to do. I'm an unselfish player. I'm a team player. But I'm going to do what my coach wants me to do."
He went on.
"I think I have enough talent where I don't have to score 25 points a game. I could easily score 17, 18 points and be fine, and I think we'd still win. It's just going to be what our team is like and what's working for us. I'm more set on winning the Big Ten than trying to chase records. If we're playing the right way, I think the records will come, and I'll still be able to get them."
And so Jackson-Davis had to be asked again, by the same reporter, what it would mean to achieve those records.
This time, Jackson-Davis went more depth about those potential personal records. Jackson-Davis' answer, though, ended with a fitting sentiment.
"But right now I'm focused on a championship."
Jackson-Davis somehow managed to make these clichés sound genuine. That's not meant to be a knock on him. The way he speaks gives the impression he really does believe them. Last Friday, Jackson-Davis announced his return to IU after earlier declaring for the 2022 NBA draft. This is Jackson-Davis entering his fourth season at IU. For someone who has presented himself with perspective and unselfishness, on Monday Jackson-Davis sounded like someone with more perspective and more unselfishness.
With his return to IU, there are high expectations for the Hoosiers. Jackson-Davis is accompanied, among others, by key returners Race Thompson and Xavier Johnson. Not a team without flaws, Indiana still has talent and experience and depth. The Hoosiers are likely among the favorites to win the Big Ten heading into the season.
This puts Jackson-Davis in a position he hasn't experienced at IU. His first three seasons have been filled with personal accolades, but limited team success. Among many other accolades, he was named to the All-Big Ten freshman team (Coaches), he was named first-team All-Big Ten during the 2020-21 season (media and AP), he was named to the Big Ten All-defensive team last season. But as a team, there have been inconsistencies. IU would've likely made an NCAA tournament berth in his first season, but instead, it ended early due to the COVID-19 pandemic. After his second season, then-head coach Archie Miller was fired. Last season, under head coach Mike Woodson, the Hoosiers made the NCAA tournament for the first time since 2016.
"It's been hard for us because we haven't had a lot of success in the winning column, but I feel like now with this team it's going to be huge for us," Jackson-Davis said. "We finally have talent, and there's actual expectations for what we can do. Just trying to get one championship under my belt, whether it be Big Ten or national. Obviously, I would want national more, but starting with the Big Ten."
With that, there is an importance of leadership — both on and off the court. On a recent episode of The Hoosier Hysterics Podcast, Jackson-Davis said he told Mike Woodson doesn't want there to be a three-strike system for testing positive for drugs. Instead, Jackson-Davis wants to have one-strike and you're done, he said on The Hoosier Hysterics Podcast.
"If you're that selfish to do that during the season, then you don't need to play for this university," Jackson-Davis told reporters when asked about the comments he made about the policy. "I think it's plain and simple. They've kind of been sticklers about it, but it's always giving chances and chances and chances. Being the team captain, I feel like we've had enough chances. We're mature enough to know what's right and what's wrong. That's a big thing for us. I think it's a big thing with a lot of the teams I've been on with the drugs affecting our team. So we're not having that this year."
In returning to IU, Jackson-Davis also has the opportunity to become a better player while at the collegiate level. A criticism of his game up to this point has been his lack of perimeter shooting ability. After declaring for the 2022 NBA draft, Jackson-Davis worked out in California. There, he said, he trained like a guard, doing ball-handling, shooting, catch and shoot, among others things, to help develop his outside game.
Jackson-Davis was set to attend the 2022 NBA Draft Combine. General managers told Jackson-Davis that he would get drafted anywhere between the beginning to the late second round. But Jackson-Davis tested positive for COVID-19 (he was asymptomatic). He finally got a negative test back, only to test positive again multiple times. As a result, he wasn't able to try to increase his stock by showcasing his skills at the 2022 NBA draft combine.
"Basically, not being able to attend the combine, I probably could have still done draft workouts and try to raise my stock, but I felt like this decision coming back was the right one and an easy choice," Jackson-Davis said.
Last Thursday, Jackson-Davis said he had a meeting with Woodson, where, among other things, he told his coach about his decision to return to IU.
"He was ready to go," Jackson-Davis said of Woodson's reaction. "He was really pumped up. He's probably still smiling right now."
There is much more work to go into before the first game of the 2022-23 season. Woodson told Jackson-Davis he has to shoot four or five jump shots a game. For IU, there are other question marks that will likely need to be answered in order for success to follow., but the expectations and potential are there.
"When Indiana basketball is good, college basketball is good, I'll say that," Jackson-Davis said. "I think we have a chance to be really, really good next year."
Filed to: Trayce Jackson-Davis