Mike Woodson's new practice tradition, expectations for the program and other things we learned at IU's media day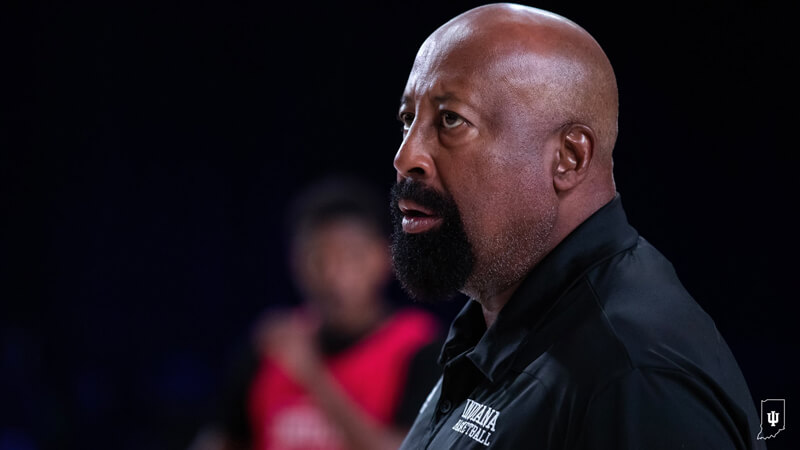 Mike Woodson, Indiana's newly appointed head basketball coach, has made his standards blatantly clear.
He's done so by starting a new tradition for the team every day before practice. The players huddle together and crane their necks to look at the rafters. First at the 22 Big Ten titles. Then at the five national championships.
"That's our goal," Woodson will say.
This serves as a metaphorical statement as much as daily motivation. Part of the reason IU athletic director Scott Dolson hired Woodson was to connect Indiana's past to its present. And Woodson, who played for four years at Indiana under legendary coach Bob Knight, is trying to bridge that gap. Part of that starts with looking up at the banners and, as Woodson says, understanding what's at "stake."
Since Woodson was hired in late March, expectations for this season have quickly ballooned beyond what many believed was possible. It started with Woodson convincing Trayce Jackson-Davis to return this season, followed by five-star freshman Tamar Bates committing to Indiana and then several transfers joining the program. The optimism continued into the summer when Indiana dominated Serbian professional team BC Mega in The Bahamas.
"He brought a positive vibe from the get-go," Jackson-Davis said during IU's media day Monday afternoon.
The reality is that Woodson is taking over a program that hasn't gone to the NCAA tournament in five seasons. Each year the Hoosiers have slipped further away from national contention and closer to mediocrity. In his first season as head coach, it seems reasonable to set the bar at making the NCAA tournament.
But Woodson is wired to think big.
It has become clear this offseason that Woodson has led a renewed sense of belief in Indiana basketball. Belief from its players. Belief from its fanbase. Belief that, eventually, they can get back to the top.
That's why he's setting the vision for the future of the Indiana program.
That's why they look at the banners every day before practice.
"We're playing to win a Big Ten and a national title," Woodson said. "Nothing else."
Team chemistry becoming evident
It was a catch that, in all honesty, Woodson needed to make, because sophomore guard Khristian Lander put it on the money. It was during a team bonding outing last weekend, where players were tossing around the football. That's when Lander threw a dart and Woodson did, in fact, reach up with two hands to make the grab. He did a little cha-cha with his feet and then spiked the ball down in celebration.
They also played ping pong and cornhole, the latter of which guard Anthony Leal claims he could beat anybody at. Others played with a giant Jenga set. Players filled their plates with a spread of mac and cheese, burgers and sausages.
This speaks to the extent to which Indiana's team chemistry has developed and how quickly it has been done. Despite having six new players, the cohesion has quickly become evident this offseason. There are no cliques, according to Jackson-Davis, and it has become a reflection of Woodson's personality. Players like Northwestern transfer Miller Kopp, who point guard Xavier Johnson described as "a funny dude" who "says the most random stuff," adds to the culture.
As many know, this togetherness is often key for success on the court, especially when hit with adversity, something Indiana wasn't able to respond to last season.
"This is probably my favorite team I've been on," Jackson-Davis said. " Not there's any bad blood with the other guys. It's just different."
Trayce Jackson-Davis' offseason development
During a recent scrimmage, Woodson was upset with Jackson-Davis. The returning All-American simply wasn't setting screens to Woodson's liking. So Woodson, with Jackson-Davis' team down by three points, decided to challenge his big man.
"I said, hell, I'm going to draw the play up for him to shoot the three," Woodson said.
Jackson-Davis' ran the play. He made the three. Woodson blew the whistle to end the scrimmage.
"I just wanted to see how he would respond," Woodson said.
For Jackson-Davis, so much of the storyline this offseason has revolved around his ability to make outside shots and finish with his right hand. Recently, Jackson-Davis has been logging late nights in the gym with Bates to work on his jump shot. Schematically, Woodson has put an emphasis on getting Jackson-Davis in pick and rolls, giving him an option to attack the basket or hit a 10-to-15 foot jump shot.
It's not as though Jackson-Davis needs to be a legitimate threat from deep, and he's in no way becoming that, but rather he just needs to do enough to keep the defense honest, especially in Woodson's free-flowing offense where spacing is imperative.
"I'm just going to take what the defense gives me," Jackson-Davis said. "If I know I can score inside I will, there's no reason to go away from that. But if they're going to give me the jumper, I'm going to let it fly."
Point guard group could be a strength
Indiana hasn't had a legitimate floor general since the days of Yogi Ferrell and it's a fact that has undoubtedly held the Hoosiers back.
The point guard group this season brings intrigue but also gives reason to believe the point guard woes could be somewhat relinquished.
Johnson, a transfer from Pittsburgh, has seemed to become the lead guard after starting both games in the Bahamas. He boasts an elusiveness and ability to create for others that Indiana has lacked the last few seasons.
Then there's Rob Phinisee, whose injury-riddled career at Indiana has been perplexing as much as it has been disappointing. This offseason, though, he's started reading Intentional Mindset: Developing Toughness and a Killer Instinct. He also said that he tries to use the Calm app every day.
Finally, there's Lander, a five-star guard who reclassified up a year last season only to mostly sit the bench and, when he did play, was mostly inconsistent. After barely seeing the floor in The Bahamas, Woodson said Monday that "Khristian is starting to step up now."
There figure to be lineups where two of them can play at the same time, although it's not crucial to do so. Depending on their production, it's possible that one could be cut out of the rotation entirely, or all three used as featured players.
"The more guards there are the better the competition," Phinisee said. "I just feel like it's going to help everyone out. The vibes are high with everybody."
Woodson putting emphasis on defense
For all the talk of Indiana's four-out offense, most of Indiana's summer workouts were focused on defense, and it has become clear that Woodson wants it to be the backbone of the team. The team's progress showed in the Bahamas, where the Hoosiers held BC Mega to 40 percent from the field and 26 percent from three between the two games.
Part of that is a result of Woodson's defensive drills. Early on in practices, he didn't allow his team to switch, forcing them to be disciplined in staying in front of their man. If they didn't do it right, Woodson made them repeat it.
Among other things, Indiana's inability to stay in front of their man played a large role in their struggles last season. They were torched by Rutgers and Michigan State simply because they were beaten off the bounce and didn't have sound rotations.
"I put the defense ahead of the offense," Woodson said. "Because I know defense, if you get a solid foundation, everybody buys in, you give yourself a chance to win ball games."
Filed to: Khristian Lander, Mike Woodson, Miller Kopp, Tamar Bates, Trayce Jackson-Davis, Xavier Johnson