'It's not always going to be peaches and cream': Indiana was challenged and made an impressive response, closing out a dominant Bahamas trip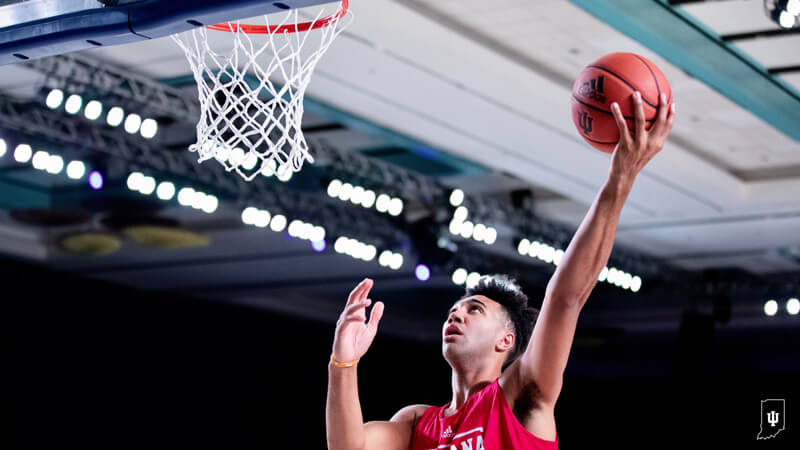 NASSAU PARADISE ISLAND, The Bahamas – With just under three minutes remaining in the first half, Indiana could've let things unravel very quickly. The Hoosiers' lead, which was once 12 points after a 14-2 start, had been whittled down to just one. Their offense quiet, their momentum gone.
It was a familiar spot, exactly the type of situation that Indiana had faced on multiple occasions last season, whether it be against Rutgers or Michigan State, where a dominant start turned sour in a matter of a few minutes.
On Sunday, in its second Bahamas exhibition game against BC Mega, Indiana was faced with its first major adversity under new head coach Mike Woodson. The response, however, was emphatic. Indiana went on a 7-1 run to close out the half, taking full control of the momentum on its way to an eventual 64-53 victory.
"It's not always going to be – as Coach Ya(sir Rosemond) says – 'peaches and cream,'" Trayce Jackson-Davis said after the game.
Amid that challenge, Woodson's prevailing message, according to Jackson-Davis, was fairly simple: "relax." Plus, a few schematic adjustments were made, including how Indiana came off screens.
It paid off for the Hoosiers.
UT-Martin transfer Parker Stewart got the crucial run started for Indiana, leading his man into a brick wall screen from Jordan Geronimo and then, once he was free, knocked down a 3-pointer from the top key.
A possession later, Xavier Johnson lofted a lob to Jackson-Davis, who hammered it down. On the final play of the first half, after corralling two missed shots, Jordan Geronimo stuck back a layup to beat the buzzer, warranting a chest bump from Tamar Bates near center court.
That stretch swung the energy. The Hoosiers held a seven-point advantage at halftime and never led by less than that margin the rest of the game, on its way to completing a two-game sweep of BC Mega in its Bahamas Tour.
"We never folded," Jackson-Davis said. "We had our leaders pick us up and I think we did a really good job of responding in the second half."
In many ways, this was a game that Indiana would've lost last season. Jackson-Davis, who shot just 5-of-13 from the field but still scored 11 points, didn't have an overwhelmingly dominant offensive game. Indiana's offense largely sputtered, only shooting 34 percent from the field and 30 percent on 3-pointers.
For a variety of reasons, though, Indiana was still able to pull out the victory.
After the game, Jackson-Davis agreed with a reporter that the physicality of Sunday's game could be equated with one in the Big Ten. In contrast to last season, Indiana seemed to respond well in that environment, outhustling and generally having more pep than BC Mega. On one play, Bates went diving into the base of the scorer's table in pursuit of a loose ball, to which Woodson clapped his hands. Race Thompson and Jackson-Davis were both a force on the glass with 11 rebounds each.
"Coach Woodson said 'if they shove you, you got to shove them right back,'" Jackson-Davis said. "If the refs aren't going to call it, the refs not going to call it. And that's what we did for the most part, and that's when our lead started to grow."
Indiana's defense, which had its moments but was inconsistent last season, was impressive for the second consecutive game. BC Mega shot just 32 percent from the field, 27 percent on 3s and committed 12 turnovers, totaling 39 between the two contests.
Although there were some breakdowns, Indiana's defensive rotations, more often than not, were sound. During one play in the first half, Indiana's versatility was evident. Thompson was marking a guard on the perimeter, Johnson was fronting a big man in the post and Jackson-Davis made a timely closeout to force a missed jump shot.
In the second half, Indiana executed a post double team perfectly. After collapsing on the BC Mega forward, the ball was swung around the perimeter, to which Indiana kept forcing the extra pass. Then, as the BC Mega ball handler bowled into the paint, Trey Galloway slid into the lane and took a charge.
"Our guys never wavered in terms of our defense," Woodson said. "That's what kept us where we needed to be in order to secure the win."
The win was also a result of the pieces other than Jackson-Davis being more productive when he had a less than stellar offensive day, a promising sign that wins don't need to be solely reliant on his dominance. Bates scored nine points off of the bench. Thompson added 10 points. Phinisee, despite shooting just 1-of-6 from the field, dished out six assists. As a team, Indiana gave away only five turnovers.
But most important was the play of Johnson and Geronimo.
Johnson, a transfer from Pittsburgh, scored a team-high 13 points and handed out a team-high seven assists, while only committing one turnover. He has all of the makings of a top-tier Big Ten point guard with apparent elusiveness, court vision and physicality, everything that Indiana has lacked recently from that position. His only pitfall on Sunday was his inefficient shooting, where he was just 4-of-15 from the field.
And then there's Geronimo, who, for the second consecutive game, provided a spark off the bench. On Sunday, he scored seven points and grabbed seven rebounds. His growth from last season to now has been apparent and he has the potential to be a consistent impact player off the bench.
"I think he's really understanding the game, it's slowing down for him," Thompson said of Geronimo. "He's just playing with more confidence, he's real confident with his shot, his moves and everything in practice."
Indiana has now finished its summer tour and will regroup for the start of the regular season this November. Despite only being together and only playing under the command of Woodson for a few months, and despite not having Michael Durr, Anthony Leal or Logan Duncomb available, Indiana swept BC Mega by double-digits twice. For nearly all 80 minutes of gameplay, there was little question who the better team was.
It's a small sample size, but success was replicated. Most prevalently, the optimism surrounding Woodson, along with the overall trajectory of the program, was justified in a few short days.
(Photo credit: IU Athletics)
Filed to: 2021 Bahamas Trip