Rob Phinisee and the big question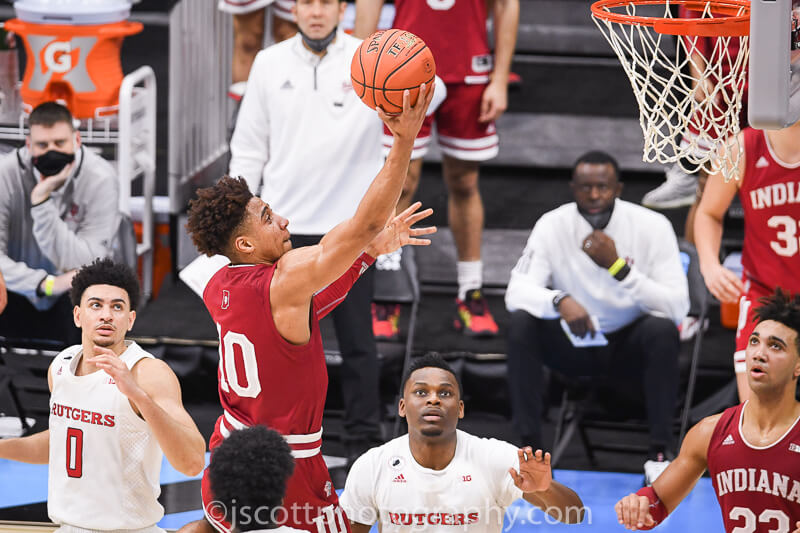 There's a certain symmetry between Rob Phinisee's junior season and Indiana's 2020-21 campaign as a whole.
Entering last season, the Hoosiers were largely viewed as an NCAA tournament team and there was a hope the program would build off what Archie Miller had built in his first three years. Similarly, there was a certain optimism surrounding Phinisee as he entered his junior season. He was finally healthy and all signs pointed to a dominant season.
But both Indiana and Phinisee fell far short of those expectations. The Hoosiers were frustratingly inconsistent and lost their final six games to close out a disappointing season. Miller was fired as a result.
Along the same lines, Phinisee often looked out of sorts. He shot just 35 percent from the field and 26 percent from beyond the 3-point line. Indiana's backcourt of Phinisee and Al Durham, a duo that the team's success largely hinged upon, were erratic in production.
But on Friday, after only working with him for a short time, Mike Woodson named Phinisee as a player that has shown apparent growth this offseason. It was a promising sign for a player that has more questions than answers surrounding him as he enters his senior season.
"I think that Rob Phinisee has changed his game a little bit," Woodson said. "I like what he's done from the time he's started to where he is today."
The overall trajectory of Phinisee's career has been perplexing. He arrived at IU as part of the highly-touted 2018 class headlined by Romeo Langford, a group that was supposed to be the foundation of the program.
And now? Phinisee is the only one left from that class. The man that coached and recruited him is gone.
As a freshman, Phinisee looked like a potential All-Big Ten guard. He hit an unforgettable game-winner against Butler and his assist-to-turnover ratio was the third-highest mark at Indiana since the turn of the century. But as a sophomore, he was never really able to get on track. He missed preseason practices with an abdominal injury and was later knocked out of the lineup with strep throat.
Last season, Phinisee's numbers were disappointing, and he seemed to be among the players most negatively impacted by Miller's measured style. He lost his starting spot at the beginning of Big Ten play and, despite hitting a clutch shot late against Penn State and carrying IU on the road against Michigan State, he was largely unreliable. His confidence, which became a frequent talking point, plummeted. Although Phinisee eventually regained his starting spot, poor performances spiraled.
All told, Phinisee has shot under 30 percent from deep and 36 percent overall during his career at IU. His 2-point field goal percentage is barely over 40 percent. For a point guard, his career assists numbers, at 3.1 per game, aren't exactly eye-opening.
The underlying question once was: When will Phinisee reach his full potential?
It has now evolved into: Will he ever reach his full potential?
After Miller was fired, Phinisee never entered the transfer portal like many of his teammates, despite the fact that there was no glaring reason for him not to explore options.
This offseason, in an effort to reinvigorate the mental side of the game, Phinisee has been reading "Intentional Mindset – Developing Mental Toughness and a Killer Instinct" by Dave Anderson. In the morning, Phinisee said that he sets "his goals out for each day."
From Woodson's perspective, it has shown on the court. He described Phinisee as being "relaxed," "comfortable," and more confident. Phinisee said he's made strides with his jump shot and finishing through contact at the rim. He also said he feels more comfortable creating for others in Woodson's open offensive scheme.
"The coaching staff really just instilled the confidence in me," Phinisee said Friday. "They just told me to continue being a leader and continue to get better each day."
Entering this season, Phinisee is part of an intriguing dynamic in the point guard rotation. Pittsburgh transfer Xavier Johnson, a playmaker, was added in the offseason. Khristian Lander is coming off of an underwhelming freshman season, but still has a high ceiling.
It's unclear how these pieces fit together. In all likelihood, two could play together at the same time. In that case, Phinisee could take an off-ball role, given that Lander and Johnson are the more elusive. Although he hasn't shown it at a consistent clip, Phinisee has the ability to make shots, and playing off of the ball would give a chance to catch and shoot in rhythm.
Regardless of his exact position, Phinisee just wants to remind people who he can be.
"I feel like a lot of people counted me out and forgot how good I was," Phinisee said. "Just being able to be confident, having the open floor and play my game. Really just show my talents like I did earlier in my career."
Filed to: Robert Phinisee