In its first Bahamas test, Indiana makes a resounding statement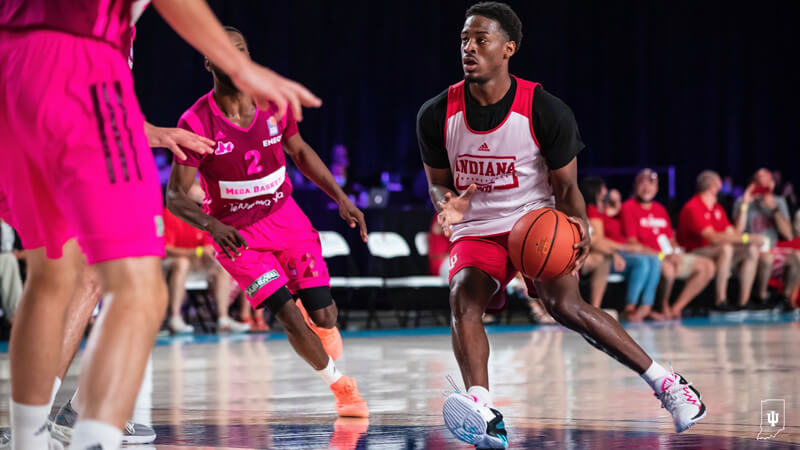 NASSAU PARADISE ISLAND, The Bahamas – It's not fair to draw full-blown conclusions after one exhibition game, but the fact also remains that Indiana dominated BC Mega, a top-tier Serbian professional team, from start to finish on Friday night in a decisive 79-66 victory, making for an emphatic start to Mike Woodson's tenure at IU.
For 40 minutes, Indiana was everything that they weren't last season. The offense was loose, especially in transition, where, at one point, forward Trayce Jackson-Davis led a break and kicked it out to Jordan Geronimo, who knocked down a 3-pointer. Indiana played with significantly more energy than BC Mega. In a postgame Tweet, Miller Kopp made an accurate summation of the evening: "fun."
Indiana dominated most statistical categories. Despite playing without their two true centers Michael Durr and Logan Duncomb, the Hoosiers outrebounded BC Mega 39-36. They had 13 steals to BC Mega's three. They had 18 second-chance points to Mega's six. Despite shooting nine percent worse from the field than Mega, the Hoosiers made up with it on the offensive glass, grabbing 17 to Mega's eight.
"I was so anxious, I know the staff was too, just to see how much they retained over the two months that we've been working together," Indiana head coach Mike Woodson said after the game. "That's where my drive was today, trying to push them to see if they are doing the things that were asked of them these last two months on the defensive end and on the offensive end. I thought they responded really well."
There were many questions about how all of these pieces would fit together. Five new players arrived, along with a seismic shift in playing style, one that was predicated on shooting and playmaking, areas where Indiana struggled last season.
At first glance, the varying additions and moving pieces seem to be meshing well. Northwestern transfer Miller Kopp, who scored 14 points, including three makes from deep, was a steady veteran presence. Freshman Tamar Bates added another 14 off of the bench. Trayce Jackson-Davis was the anchor, leading the way with 21. UT-Martin transfer Parker Stewart and Rob Phinisee had stout defensive moments.
The four out, one in offense looked dynamic, a stark contrast to last season. The offense essentially looked like this: nearly constant movement, off and on-ball screens, players crisscrossing on the baseline and dribble handoffs with an intent to get downhill quickly.
On multiple occasions, there were well-executed pick and rolls by Phinisee or Xavier Johnson, lobbing a dime to Jackson-Davis. Much of the movement started with pounding the ball inside to Jackson-Davis or Race Thompson, where shooters would be spread around them. In the first half, Jackson-Davis drew the defense in and then kicked it out to Phinisee who swung to Trey Galloway, who knocked down a three.
"If I saw the double come, I did a really good job of having doubles come at me and dribbling and resetting," Jackson-Davis said. "If they stay, then (I'm) kicking it out to my teammates for an open shot."
Bates was a spark off of the bench. In the first half, shortly after checking in, he hit a floater in the lane. Then Race Thompson drew in the defense and kicked out to Bates, who knocked down a three from the top of the key. There was an especially notable play later in the first half, where Bates plucked a BC Mega pass out of the air, took it the length of the court and made an athletic play to scoop it in.
"He's not scared of the moment," Woodson said. "That's why I liked him when I was watching a game film on him. And he's got a lot of room for growth."
After a relatively quiet first half, Johnson showed his creativity, dropping in two baskets and dishing out two assists in a matter of a few minutes to start the second half. Later, he tried to dunk on 6-foot-10 Borisa Simanic and nearly pulled it off, but was blocked and went crashing onto the floor.
Somewhat under that radar was the play of Geronimo, who led Indiana with 10 rebounds and was a huge reason for Indiana's advantage on the glass. During a possession in the second half, he grabbed two consecutive offensive rebounds, keeping Indiana's possession alive. His development and confidence from last season was evident.
"We're hungry," Geronimo said. "When you're hungry, you have an extra edge to go after the ball."
On the defensive side, Indiana's rotations were sound and its communication seemed to be fluid. Stewart, who's regarded more as a shooter, quickly created havoc on the defensive end. In the first few minutes of the game, he drew a charge and forced a turnover. In a first impression, he seems to fit the effective three-and-D mold.
"I've learned this a long time ago from Coach Knight: defense wins games," Woodson said. "If we can put ourselves in a position to defend every night, I know that we'll be in every game."
To be clear: by no means did Indiana play perfectly. At one point, Bates dribbled the ball out of bounds off of his leg. One of Geronimo's threes hit the backboard before anything else. There were some errant passes. The Hoosiers only shot 12-of-20 from the free-throw line and 30-of-70 from the field.
And as good as Indiana looked, BC Mega didn't look anywhere near like a top-tier Serbian professional team. Projected 2022 lottery pick Nikola Jovic attempted just one shot in 23 minutes, a combination of Indiana's defense, but also him just not playing to his potential. Mega gave away an unnatural 27 turnovers. They largely looked sluggish.
Plus, after all, this was an exhibition game, and just one game at that. The next test comes Sunday, where BC Mega will surely come determined to prove themselves. But Friday certainly gave a glimpse of Indiana's potential and, along with it, a promising start to a new era.
(Photo credit: IU Athletics)
Filed to: 2021 Bahamas Trip