News and notes from Archie Miller's radio show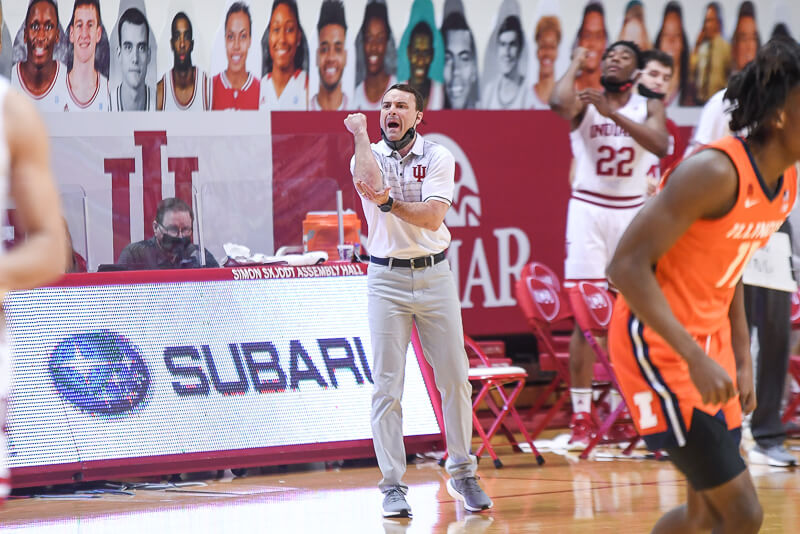 "Inside IU Basketball with Archie Miller" returned Monday night with play-by-play announcer Don Fischer. Miller recapped IU's win over Iowa and loss to Illinois. He also looked ahead to Indiana's road game on Wednesday against Northwestern.
– Miller opened by saying that Indiana "had an opportunity to win the game" against Illinois but failed to make free throws and box out down the stretch. Illinois guard Trent Frazier was the difference-maker.
– Miller said he was pleased with Indiana's offensive performance in the first half against Illinois. He compared Indiana's second-half sloppiness and offensive stagnancy to the second half of the Rutgers game. Turnovers, Miller said, "changed both games… Turnovers are the name of the game for this team."
– Late in the Illinois game, Indiana "ran out of the mental focus," Miller said. In overtime, Illinois drew two charges and Miller said he could see Indiana's energy level decline when watching film later. Illinois, on the other hand, was energized.
– Against Iowa, Miller said Indiana was more mindful of showing energy. "You saw our guys picking guys off of the floor," Miller said. "That's what it's about… That collective togetherness."
– Miller called the game against Iowa, Indiana's "best rebounding game of the conference season." The Hoosiers outrebounded the Hawkeyes by eight. Miller said he was pleased with his team's overall defensive effort last week.
– Against Iowa, Miller noted that it was a collective effort to win, naming Race Thompson's play in the second half, Rob Phinisee's important 3-pointer to tie the game, Trayce Jackson-Davis' two free throws late and Armaan Franklin's game-winner.
– On Race Thompson, who has emerged as a consistent force, Miller said: "You can see Race's confidence growing… That's how Race practices every day."
– Miller also praised Indiana's reserves. "The bench gave us a huge boost in this Iowa game," Miller said. "To me that a big part of our team." Miller emphasized the importance of being a deeper team, allowing the starters to be less fatigued. He said the younger guys instill confidence in the rest of the team.
– Miller spoke with excitement about Jordan Geronimo. "I love the way he plays the way on offense," Miller said. "He's a physical screener and very athletic." He noted how important Geronimo's work on the defensive end has been, too. Miller said as Geronimo continues to gain confidence on the perimeter, "he can blossom into a terrific player for us."
– "Confidence is a scary thing," Miller said speaking about Khristian Lander. Miller said earlier in the season, Lander was "nervous" and "not in-tuned." But he did a great job in the first matchup against Iowa and has been building ever since. In terms of playing time, Miller told Lander that his "15 (minutes) can continue to grow." Miller noted Lander has made big strides defensively over the last two weeks.
– On Monday afternoon, it was announced that Wednesday's game against Northwestern was moved from 9 p.m. to 5:30 p.m. Miller said the time is more beneficial for Indiana, as they will get home earlier, allowing for more rest with a quick turnaround against Ohio State on Saturday.
– After a physical game on Sunday, Miller said the team got up shots on Monday, lifted weights and watched film. In the film session, Miller said if they can clean up the "slippage" in 5-6 possessions during the game, they can take their game to another level.
– Miller gave a shoutout to Indiana's walk-ons: Michael Shipp, Sebastien Scott, Cooper Bybee and Nathan Childress. Miller emphasized their importance as the scout team. "They do more than anyone would realize." He also named the graduate staff of Johnny Jager, Jack Westerfield and Matt Rafferty. "We have a heck of a crew there that operates on a daily basis," Miller said.
– Looking back on Indiana's last matchup against Northwestern, Miller bluntly stated: "They whipped us." He said Northwestern executes on offense and throws varying looks on defense, including a 3-2 zone. Miller noted that Indiana did a bad job taking care of the ball the first time around and couldn't stop Chase Audige, who was "one-man band" down the stretch.
– To finish, when asked who he picked in the Super Bowl, Miller said: "Brady." Miller said Brady might be the greatest of all time now. With the Super Bowl concluding, Miller moved his focus on the NCAA tournament with optimism that the event will happen. "I think we're going to get there, too," Miller said.
Filed to: Archie Miller