6-Banner Sunday: Indiana gets on the board in Big Ten play with Penn State win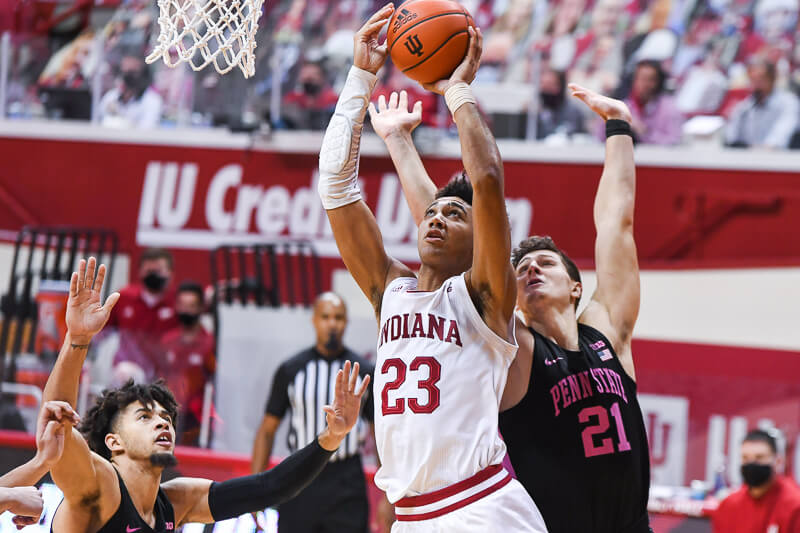 6-Banner Sunday is Inside the Hall's weekly newsletter in partnership with The Assembly Call. More than 7,500 Indiana fans receive the newsletter each week. In addition to appearing each week on the site, you can also opt to receive 6-Banner Sunday by email. A form to subscribe via email is available at the bottom of this week's 6-Banner Sunday.
Welcome to another edition of 6-Banner Sunday, a joint production between The Assembly Call and Inside the Hall where we highlight the five most essential IU basketball stories of the past week, plus take a look at how the other IU sports programs are doing.
Indiana picked up its first conference win of the season against Penn State on Wednesday. After dropping the first two Big Ten games to Northwestern and Illinois, the Hoosiers beat Penn State 87-85 in overtime.
Indiana was led in the scoring column by Trayce Jackson-Davis, who had 21 points. Four other Hoosiers were in double-figures, including Al Durham, Trey Galloway, Armaan Franklin and Rob Phinisee.
Earlier that day, though, it was announced that redshirt senior forward Joey Brunk underwent back surgery. Indiana will be without Brunk indefinitely.
Indiana is now 1-2 in the standings and is scheduled for two games this week. IU will take on Maryland in Assembly Hall on Monday followed by a road trip to Madison to battle it out with Wisconsin on Thursday.
Here's what happened this week:
• Indiana tops Penn State in overtime
• Al Durham, Indiana backcourt lead Hoosiers to victory
• Joey Brunk undergoes back surgery
• Indiana scheduled to take on Maryland, Wisconsin this week
• This week's podcasts
• Hoosier Roundup
Banner #1
Indiana tops Penn State in overtime
It took an overtime period against Penn State for Indiana to finally capture its first conference win of the season. After getting off to a rough start in Big Ten play, the Hoosiers rallied to beat the Nittany Lions 87-85 in Bloomington.
Indiana was in control for pretty much the whole game and even stretched its lead to 12 points with under 10 minutes remaining in the game. But the Hoosiers have had difficulty closing out games and suffered the same fate against Penn State. The Nittany Lions climbed back into the game with their 3-point shooting and even had a shot to win at the end of the regulation.
After a back-and-forth overtime period, Rob Phinisee hit a turnaround fadeaway jump shot to put the Hoosiers up by two points with 13 seconds left. Then, Phinisee came up big on the other end of the court, altering Penn State's last second layup that would have tied it.
"We found a way. To be able to get this one tonight is a big one," IU head coach Archie Miller said after the game. "I think more than anything is the confidence in some guys. As we move forward hopefully this picks up our juice a little bit and our energy up."
Banner #2
Al Durham, Indiana backcourt lead Hoosiers to victory
Indiana's experienced backcourt of Al Durham and Rob Phinisee was met with their share of scrutiny over the past couple of weeks. Durham has had solid moments, but also struggled in big games against Florida State and Texas. Phinisee has been a shell of himself and was removed from the starting lineup before the game against Illinois.
But on Wednesday night against Penn State, Phinisee and Durham both stepped up. Durham knocked down a career-high four 3-pointers and scored 18 points. Phinisee contributed 11 points of his own, plus the crucial plays at the end of the game.
"Our team will only go as far as our veteran returning players can take us because that's what this league is about," Miller said. "The guys that have been through the battles. The guys that have been through the wars and been there before."
For Indiana to have success the rest of the season, Durham and Phinisee need to continue what they showcased on Wednesday night.
Banner #3
Joey Brunk undergoes back surgery
Redshirt senior forward Joey Brunk underwent back surgery on Wednesday and will be out indefinitely, IU announced earlier this week. It's unclear whether he will be available the rest of the season or if he will return next season.
Brunk didn't appear in a game at all this year due to back soreness. Last season, after transferring from Butler to IU, Brunk made 31 starts and averaged 6.8 points and 5.2 rebounds per game.
Indiana has lacked frontcourt depth without the veteran presence of Brunk. The only two consistent rotation players have been Trayce Jackson-Davis and Race Thompson. Without Brunk, IU loses a physical rebounder that can create offense through screens and hustle.
Archie Miller has called for Jerome Hunter and Jordan Geronimo to step up in his absence, although Hunter has struggled with consistency and Geronimo hasn't seen much playing time.
Banner #4
Indiana scheduled to take on Maryland, Wisconsin this week
The first of Indiana's two expected games this week will be on Monday when the Hoosiers host Maryland at 8 pm on BTN. It's another crucial game for the Hoosiers, who will try to reach the .500 mark before embarking on a tough stretch of games.
Maryland enters the game with a 6-4 overall record and 1-3 mark in the conference. The Terrapins upset No. 6 Wisconsin last Monday before falling to Michigan on New Year's Eve. Maryland will very likely be without its best defender, Darryl Morsell, who was injured in the game against Michigan.
The Terrapins do, however, have an experienced backcourt of Eric Ayala and Aaron Wiggins. The duo is averaging a combined 24 points, seven rebounds and five assists per game. Forward Donta Scott can stretch the defense on the perimeter and is averaging more than 13 points per game, too.
After the game against Maryland, the Hoosiers are scheduled to travel to Madison to take on a top-10 Wisconsin squad on Thursday at 7 pm on FS1. It is important to note that the Badgers had their game postponed against Penn State today. This was the first postponement of a Big Ten game so far this year in conference play. At this point it is not clear if this is due to COVID for one of the teams, or something else as only 'health and safety concerns' have been cited. However, it is worth keeping an eye on this in regards to the status of IU's game later in the week.
Banner #5
This week's podcasts
On this week's episode of Podcast on the Brink, Inside the Hall's Alex Bozich was joined by ITH co-founder Ryan Corazza.
Corazza and Bozich discussed Indiana's lack of depth and shortcomings on the boards. Archie Miller has echoed similar concerns over the last couple of weeks. Despite saying that he will expand the rotation, Miller has been hesitant to give extended minutes to Khristian Lander, Anthony Leal and Jordan Geronimo.
Rebounding, which was a strength for IU last season, has been a point of emphasis for Miller who is deploying a smaller, guard-oriented lineup. Miller has made it clear that he wants his guards to be aggressive on the boards. Now that Brunk won't be on the floor anytime soon, it will be even more important.
Following the win over Penn State, Assembly Call broadcasted its postgame reactions about IU's breakout offensive performance and defensive issues.
Banner #6
Hoosier Roundup
IU laid an egg in the Outback Bowl game against Ole Miss to close out a very successful season in the most disappointing fashion possible. This comes after controversy whether IU was snubbed for a New Year's Six or Citrus Bowl bid. The teams that made those games instead of IU were Iowa State and Northwestern who took care of business, somewhat blunting the Hoosiers argument that they got less than they deserved.
• IU's long bowl losing streak dating back to 1991 continues, as the Hoosiers fell to the Rebels despite a late rally. On a more positive note, WR Ty Fryfogle and LB Micah McFadden were named AP All-Americans, while CB Tiawan Mullen was also given a similar honor.
• Big Ten favorite Women's Basketball improved to 3-0 in conference play by dominating Illinois.
• Volleyball released its schedule which begins January 22 and will be unique and conference only. Due to COVID, it features playing the same team twice each weekend rather than two different teams like usual. Also, like other IU events no fans will be allowed to attend outside of family and a few others.
• Feature on Olympian and recent former IU swimming star Lilly King.
• Wrestling announced their upcoming schedule which begins in a week. The team also announced several highly ranked individuals to start the season.
Thanks for your continued support for The Assembly Call. We'll be back next weekend with a new roundup.
Now go enjoy yourself a 6-banner Sunday.
Tyler Tachman – Student Intern The Assembly Call
Filed to: