Always poised, Al Durham delivers his response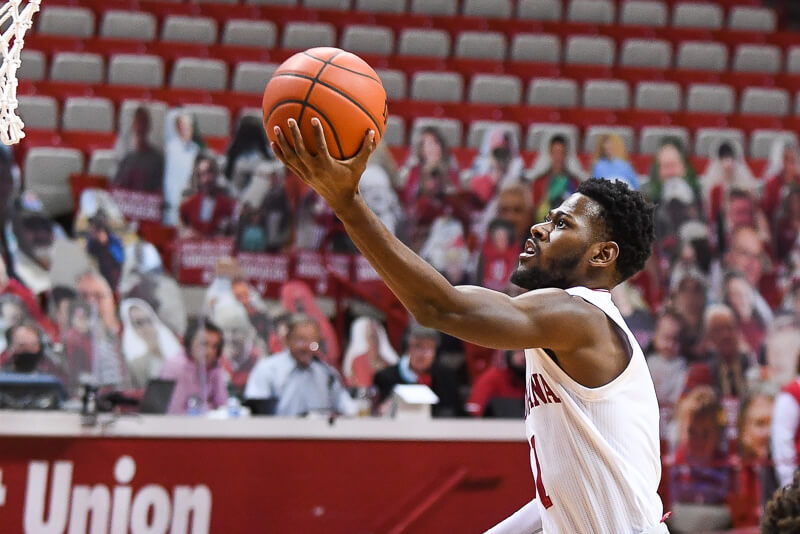 During a workout this quarantine offseason, Al Durham was struggling.
It was a rare sight at Pure Performance Basketball in Lilburn, Georgia. Durham was home from Bloomington after the COVID-19 pandemic shortened the school year and canceled the 2020 NCAA tournament.
Over the summer, Durham consistently came into Pure Performance every Monday through Friday with his dad. Durham worked on his ball screen reads, catch and shoot opportunities from around the arc and floaters with both hands.
Normally, his shots were money. At the end of workouts, Durham would make 100 3-pointers. It usually didn't take him more than 125 attempts. One time, Durham and another player combined to make an estimated 412 out of 600 shots.
"That was one of the most impressive workouts I've seen," Pure Performance founder and trainer Chris Palmer said.
But on one specific day, Durham couldn't get a shot to go down. He was in the middle of a multi-step drill: make a dribble move, finish at the rim, then hit a shot from the corner, wing and finally at the top of the key.
As Durham kept struggling, he kept the same calm, even-keel expression on his face. Each repetition was the same speed. He repeated encouragement to himself.
"C'mon Al," Durham would mutter under his breath. "Next shot."
Eventually, after nine or ten times through, and countless sprints across the court, Durham completed it.
"Nothing rattles him too much," trainer Daniel Suarez said. "He's pretty calm, cool and collected when he's playing or when he feels pressure."
That's exactly what Durham did on Wednesday night against Penn State. Indiana had already fallen to an 0-2 start in the Big Ten, after losing to Northwestern and Illinois. On top of that, Durham has been a part of Indiana's highly scrutinized veteran backcourt along with Rob Phinisee.
Durham's response on Wednesday was much like what Palmer saw over the summer. In a game that could determine the trajectory of Indiana's season, all Durham did was score 18 points, including a career-high four 3-pointers, notably in catch and shoot opportunities, boosting the Hoosiers to an 87-85 victory in overtime.
"You can't get down because we lost two in a row," Durham said postgame. "We had to get the third one, we got to get the next one. We can't hang our hat on if we lose or win, we have to make sure that we're ready for the next game that's coming."
That mindset of being poised during adversity is something Palmer helped contribute to in the offseason. He tried to put Durham in uncomfortable situations, forcing him to change direction quickly and changing the heights of defenders to try to throw Durham out of sync. But Durham was never rattled.
There was another drill where Durham practiced snatchbacks to create separation during full-court defensive pressure and then had to make a shot on each wing. One time, it took Durham about 20 minutes to finish. Through gasps of air, he pushed through.
"He was always looking forward to the next shot," Palmer said. "Trusting his shooting ability. He always stayed confident with himself."
And Durham remained confident against Penn State, despite some struggles. During warmups, he was calm, his face stoic and his body was loose.
Early in the game, Durham attacked the basket with ferocity. The first media timeout hadn't even hit before Durham made a shifty move to get to his left and drop layup. A few minutes later, with the shot-clock running down, Durham snaked down the lane and finished with his non-dominant right hand.
With four and a half minutes remaining in the first half, Durham knocked in his first 3-pointer of the night. Then after a technical foul was called on the Penn State bench, Durham converted on two free throws. One minute later, Durham drilled another 3-pointer. His 12 points in the first half were key to IU to build a five-point halftime lead.
"Al shot the ball in tonight," IU head coach Archie Miller said. "It's a big reason why we won tonight, Al's performance."
Durham didn't get going until later in the second half, but it was crucial when he did. With just over 11 minutes left, Durham spotted up from the corner and drained another 3-pointer, extending IU's lead to six. He dropped his head and grinned from ear to ear as he pranced down the floor.
After connecting on yet another 3-pointer, Durham steadied IU down the stretch. He used the skills from over the summer to help break Penn State's full-court pressure. He got it done on the defensive end, too. Durham drew a charge with five minutes remaining, leading to a Trayce Jackson-Davis layup on the other end.
It was Durham's teammate Phinisee, though, who made two big plays in crunchtime. Phinisee blocked Penn State's Sam Sessoms to send the game to overtime. Then, "Big Shot Rob" made his return, hitting a go-ahead fall away jumper with 14 seconds left in the extra period. On the other end, Phinisee walled up and denied Penn State at the rim with just seconds left to secure the victory.
"Our team will only go as far as our veteran returning players can take us because that's what this league is about," Miller said. "The guys that have been through the battles. The guys that have been through the wars and been there before."
In total, Durham hasn't performed up to expectations in his senior season. He's had his moments, but only scored two points in the loss to Northwestern. He was a combined 5-of-17 against Texas and Florida State.
Despite some of the shortcomings, Durham's resilience against Penn State was evident. In a year of uncertainty, Durham is the experienced anchor that IU needs. With the Big Ten stacked from top to bottom, there will be plenty more thrown at the Hoosiers.
And, if history is any indication, Durham will be ready. Calm as ever.
Filed to: Aljami Durham