The Minute After: Penn State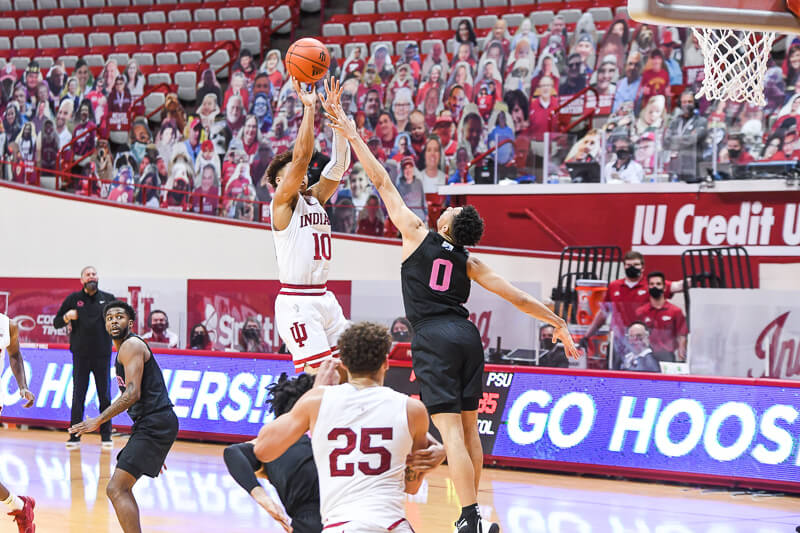 Thoughts on an 87-85 overtime win against the Nittany Lions:
Rob Phinisee and Al Durham have disappointed of late. Both were called out by their coach on his radio program Monday evening and Phinisee lost his starting spot to freshman Trey Galloway a few games back.
But during the end of an overtime period with both teams gassed, the shot clock winding down after Penn State snuffed out Indiana's final play call, Phinisee had no option but to take matters into his own hands. He drove to the left elbow and got up a tough, contested stepback jumper. It swished through to put the Hoosiers up 87-85 with 13 seconds to go. It proved to be the game-winner after Indiana stopped Penn State from scoring on its final possession.
Phinisee played with greater intention this evening, looking more for his shot (so much so he even took a couple of ill-advised ones), scoring 11 points on 5-of-9 shooting. The junior, usually not one to show emotion, barked after his makes, showing some fire and confidence in the process. Those 11 points were his second-most of the season, eclipsed only by a 12-point performance during Indiana's opener against Tennessee Tech. Those nine shot attempts were also his second-most of the season, eclipsed only by the 10 shots he took against Florida State.
Durham's 18 points (6-of-12, 4-of-8 from deep) were one off his season-high of 19 against Providence.
Indiana needed every single one of their points tonight — along with the typical strong performance from Trayce Jackson-Davis (21 points) and Armaan Franklin (16 points) — because its defense was not good. The 1.14 points per possession the Hoosiers allowed were a season-worst. Their second-worst defensive performance of the season came against Northwestern (1.10 PPP). Both teams run a lot of 5-out offense that is 3-point heavy. It's a style that spreads out the tightness of Indiana's pack line defense, forcing Indiana to play more man-to-man defense and the Hoosiers just aren't as comfortable or as good at it. Help defense feels non-existent at times, leading to easy scores at the rim. And Penn State was able to connect on 12-of-28 (43 percent) from deep.
Indiana's second half defense was particularly egregious, as it allowed 1.47 points per possession to the Nittany Lions. That was aided along by a 7-of-12 mark from distance and some shaky high pick-and-roll defense that the Nittany Lions carved up on a number of possessions for scores at the rim.
But Indiana's offense was also scoring a high clip in the second half. The Hoosiers shot 64 percent (16-of-25) from the floor and knocked in 7-of-8 from the line. They scored 1.35 points per possession. For the game, Indiana hit an impressive 17-of-21 (81 percent) from the line and had five players in double figures — the aforementioned Phinisee, Durham, Jackson-Davis and Franklin, along with Galloway (10 points).
It was all enough to keep pace with the Nittany Lions and get the game into overtime. (Some calls going IU's way helped as well.) From there, both teams seemed spent, and after Chase Audige and Ayo Dosunmu finished off the Hoosiers in their first two conference games, Phinisee stepped up to play the hero role this time around.
This was not the most convincing win for the Hoosiers. But it is a conference victory all the same, one IU desperately needed. Big Ten wins don't come easy. You take what you can get and keep grinding.
Filed to: Penn State Nittany Lions