Five takeaways from Indiana's win over Penn State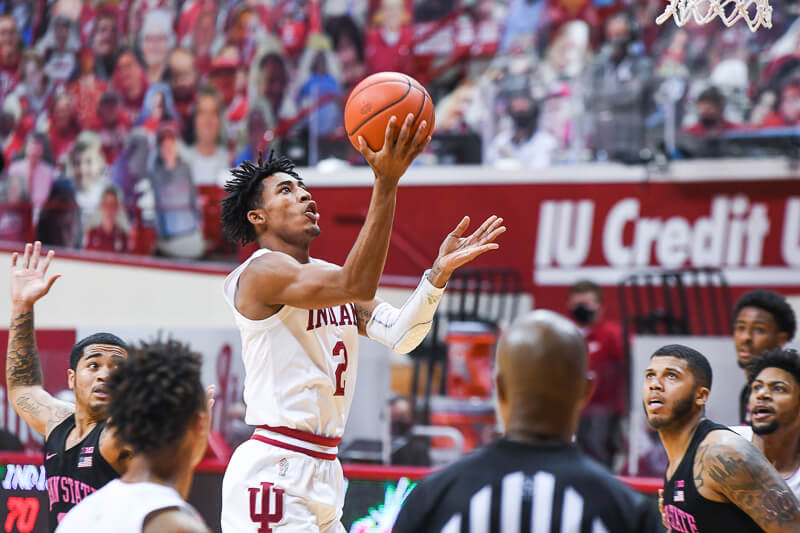 Indiana recorded its first Big Ten win on Wednesday night with an 87-85 overtime win over Penn State at Assembly Hall. The victory improved the Hoosiers to 6-4 overall and 1-2 in Big Ten play.
Here are five takeaways from the win over the Nittany Lions:
• With upperclassmen leading, Indiana found a way to close out a close game: There were plenty of holes in Indiana's performance on Wednesday night, but after missed opportunities against Florida State, Northwestern and Illinois in recent weeks, the Hoosiers finally closed out a close game.
In each of those three close losses, Indiana had a late lead only to see it slip away in a loss. On Wednesday, it looked like the Hoosiers might again suffer a similar fate. Indiana led by 12 with 9:58 to play in the second half, but Penn State took its first lead on a Sam Sessoms jump shot with 28 seconds to play.
Indiana answered with a split of two free throws by Trayce Jackson-Davis and then Rob Phinisee made arguably the two most important plays of the game. Phinisee blocked a Sessoms shot at the buzzer in regulation that sent the game to overtime and then hit a tough jumper with 14.3 seconds to play to lift IU to its first conference win.
Archie Miller hasn't shied away from continuing to place expectations on Phinisee and Al Durham Jr. despite their poor play in recent weeks. On Wednesday, both players delivered offensive performances that should be expected out of upperclassmen.
"We found a way. To be able to get this one tonight is a big one," Miller said. "I think more than anything is the confidence in some guys. As we move forward hopefully this picks up our juice a little bit and our energy up."
• Defense regressing in Big Ten play: Through seven non-conference games, Indiana didn't allow an opponent to score more than a point per possession.
Following Penn State's 1.14 points per trip on Wednesday, Indiana has surrendered more than a point per possession in each of its three conference games.
The Nittany Lions were able to effectively spread the floor and produce several lightly contested 3-point attempts. Penn State made 12 of its 28 attempts from distance, which was a season-high for an opponent through 10 games. It was a defensive performance that Miller knows Indiana can't repeat as league play continues.
"We are going to have to buckle down," Miller explained. "We are going to be happy with some things offensively (on film) because I think we had some guys make some great plays, but I think defensively we are going to be a little disappointed. We are just not going to be able to score 87 points every game, I think we know that. We give up 85 (points) tonight, that is probably the one downer."
• Hoosiers show balance offensively: One or two players carrying the load offensively had been a theme recently for Indiana, but Wednesday's effort had contributions from nearly everyone in the rotation.
Phinisee's 11 points marked his first double-figure scoring output since the Providence game on Nov. 30. Durham's 18 points were one below his season-high of 19, which also came against Providence. Trey Galloway, who made his second straight start, had 10 points and dished out five assists.
Those contributions took some of the pressure off of Trayce Jackson-Davis, who scored in double figures for the 10th straight game and Armaan Franklin, who scored in double figures for the fifth straight contest.
Indiana probably would have liked to get Jackson-Davis more than 13 shot attempts, but the sophomore forward made the most of the opportunities he did receive. Jackson-Davis scored a game-high 21 points, was 8-of-13 from the field and 5-of-6 from the free throw line.
• At full strength, Thompson proving he can be disruptive defensively in the paint: Through 10 games, it's clear Race Thompson made major gains athletically this offseason.
Thompson is more explosive with his first and second jumps, he's finishing with dunks at the rim rather than layups and he's showing himself to be a capable shot blocker.
As a redshirt sophomore, Thompson blocked 19 shots in 398 minutes. This season to date in 289 minutes, Thompson has 17 blocks with four of those coming in Wednesday's win over Penn State. In Big Ten games, Thompson's block percentage (6.7) ranks ninth-best in the conference.
Following Wednesday's news that Joey Brunk underwent back surgery and is out indefinitely, Indiana will continue to lean on Thompson for major minutes. So far, he looks more than up for the challenge.
• Rebounding remains a major concern: Indiana was one of the Big Ten's best rebounding teams last season, ranking 4th in conference play in offensive rebounding percentage and 3rd in defensive rebounding percentage.
This season, the Hoosiers have a lot of work to do to even be considered a middle of the pack rebounding team. Through three league games, IU is 11th in the conference in offensive rebounding percentage and 13th in defensive rebounding percentage.
Miller has harped on the importance of rebounding for more than a month now, but not much progress is being made.
"Rebounding is a big struggle for us," Miller said. "Penn State, I think coming into the game, had a rebound margin in their first two conference games of minus six or eight a game. It was not like they were a powerful rebounding team."
Filed to: Aljami Durham, Archie Miller, Armaan Franklin, Penn State Nittany Lions, Race Thompson, Robert Phinisee, Trayce Jackson-Davis