News and notes from Archie Miller's radio show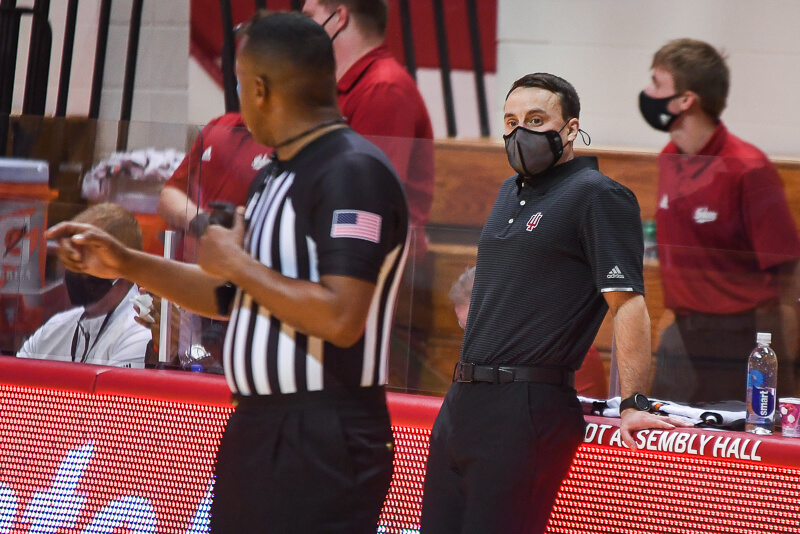 Archie Miller spoke with play-by-play announcer Don Fischer Monday night in the season's second edition of "Inside IU Basketball with Archie Miller."
Miller discussed Indiana's third-place finish in the Maui Invitational last week and the upcoming ACC/Big Ten Challenge against Florida State on Wednesday.
– Miller opened by praising the talent in the Maui Invitational field. In Indiana's 79-58 win over Providence, Miller said that Indiana came out with energy, moved the ball well and had a response for everything that was thrown at them.
– "It was the polar opposite," Miller said, about the 66-44 blowout loss to Texas the following day. Miller said that the Longhorn's backcourt played extremely well and frustrated Indiana. "We learned a hard lesson."
– The night following the loss, the team watched film on what they did wrong. "You have to have short-term memory in those tournaments," Miller said.
– Against Stanford, Miller knew that both teams were going to be tired. "It came down to who wanted the most," Miller said. Led by Trayce Jackson-Davis' 31-point performance, the Hoosiers responded with a 79-63 win over Stanford. Miller praised his team's ability to bounce back after the loss to Texas. "I thought guys stepped up and made good plays," Miller said.
– Miller said that Indiana needed to get Jackson-Davis back on track after struggling in the first few games. Miller said that Jackson-Davis set the tone on both offense and defense against Stanford and emerged as a leader. Jackson-Davis was named as the Big Ten Player of the Week for the first time in his career after earning conference Freshman of the Week five times last season. In the game against Stanford, Jackson-Davis drew 11 fouls. "That kind of shows you what his mentality was," Miller said.
– Overall, Miller said the Hoosiers did a better job of initiating the offense and moving the ball against Stanford. "That's how it has to be night in and night out," Miller said.
– Fischer mentioned that Camping World, the sponsor of the Maui Invitational, donated $30,000 to the Hoosier Hills Food Drive as a result of the number of 3-pointers that IU made in the tournament. "I wish that we just would've made more threes," Miller said with a laugh.
– Miller praised Jordan Geronimo's ability to step up in the game against Providence. He also said that Geronimo is going to continue to improve offensively. "He's going to have to play a role on this team," Miller said.
– Miller said that he had to rely on the younger guys in the game against Stanford with Phinisee picking up four fouls and Al Durham injured. Miller said that Khristian Lander is still learning how to play, but saw him make smarter decisions against Stanford. Miller was pleased with how the freshman played on the final day.
– On Armaan Franklin's 13-point, eight-rebound, five-assist-outing: "I think that Armaan relished the moment," Miller said. Miller was impressed with Franklin's ability to guard multiple positions and be involved in almost every play. "Much stronger, much more durable player… He's got a great mind and a great IQ," Miller said.
– Heading into Wednesday's game against Florida State, Miller said that he worries about the team's health after playing three games in three days. "A wounded group… There's bangs and bruises," Miller said. The team has had to balance returning to practice while still ensuring they're rested.
– Miller said that Indiana needs to stop Florida State in the open floor and slow them in transition. Miller mentioned that, as Brunk deals with a sore back, Geronimo and Jerome Hunter will need to provide solid minutes off the bench.
– "They'll take you out of everything that you do," Miller said. He also compared Florida State's length and athleticism to what they saw against Texas, but "this one is times two." Miller highlighted 6-foot 9-inch freshman Scottie Barnes, who can man the point guard position.
– Miller said that IU will need to execute the offense and strike in transition. Thompson and Jackson-Davis will also need to stay out of foul trouble in order for the Hoosiers to win. Florida State has only lost three of their last 68 home games.
– Miller closed by thanking North Alabama for scheduling a game on short notice. The Hoosiers host the Lions in Assembly Hall on Sunday.
Filed to: Archie Miller