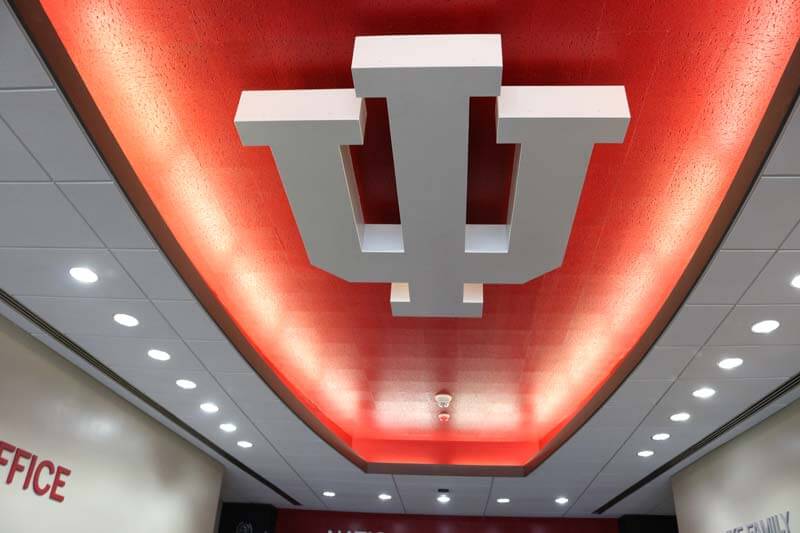 6-Banner Sunday is Inside the Hall's weekly newsletter in partnership with The Assembly Call. More than 7,000 Indiana fans receive the newsletter each week. In addition to appearing each week on the site, you can also opt to receive 6-Banner Sunday by email. A form to subscribe via email is available at the bottom of this week's 6-Banner Sunday.
Welcome to another edition of 6-Banner Sunday, a joint production between The Assembly Call and Inside the Hall where we highlight the five most essential IU basketball stories of the past week, plus take a look at how the other IU sports programs are doing.
Indiana's campaign to start the 2020-21 college basketball season was faced with troubling news Friday afternoon. The IU athletic department announced that men's basketball program, along with field hockey, men's soccer and wrestling were all forced to halt workouts indefinitely after positive COVID-19 tests surfaced.
There had just been talk about increasing basketball's allotted time on the court to eight hours per week. At this point, however, the Hoosiers will just be challenged with staying healthy.
In non COVID-19 related news, Indiana's new co-associate head coach Kenya Hunter has already been hard at work recruiting. Indiana offered three prospects from the DMV on Monday in hopes of building a foundation for the 2022 class. The Hoosiers are also trying to make a late push in the recruitment of 2021 5-star combo guard Hunter Sallis.
All of that, plus an in-depth read on the ever-improving game of Jordan Geronimo.
• Men's basketball workouts paused due to positive COVID-19 tests
• Indiana offers a trio of 2022 prospects from the DMVelite
• College basketball scheduling news begins to surface
• Jordan Geronimo's winding journey to Indiana
• Indiana jumps into the recruitment of Hunter Sallis
• Hoosier Sports Roundup
Banner #1
Men's basketball workouts paused due to positive COVID-19 tests
The Indiana men's basketball program, along with field hockey, men's soccer and wrestling all paused their workouts after 14 participants tested positive for COVID-19, the athletic department announced Friday.
"Our athletic program is following strict protocols during these unprecedented times and we strongly support out medical staff as we try and mitigate the issue," head coach Archie Miller said in a release. "It's clear that the health and safety of everyone in our program, athletic program and University community will remain as our top priority."
Tests will continue to be monitored in the coming weeks to determine whether workouts can resume and participants that tested positive will stay in isolation until further notice.
The announcement comes after the university recommended that all 40 greek houses on IU's campus were to be shut down after turning up high positivity rates. Monday's mitigation testing revealed that greek residents tested positive at a mark of more than 20 percent.
Banner #2
Indiana offers a trio of 2022 prospects from the DMV elite
Kenya Hunter hadn't even been officially announced as Indiana's new co-associate head coach before he was already working on the recruiting trail for the Hoosiers.
Hunter, who grew up in Arlington Virginia, tapped into his roots and played an integral part in offering three 2022 prospects from the DMV.
The first player to pick up an offer from Indiana on Monday was 4-star shooting guard Rodney Rice. The Hyattsville, Maryland native, attends DeMatha Catholic High School, the alma mater of former Hoosier Victor Oladipo.
Masai Troutman, a 6-foot 5-inch combo guard from Frederick, Maryland also earned an offer from Indiana.
Lastly, 4-star small-forward Justin Taylor picked up an offer from Indiana. Taylor, a Charlottesville, Virginia product, is ranked as the No. 75 overall player, according to the 247Sports Composite rankings.
Banner #3
College basketball scheduling news begins to surface
The Division I council is set to meet Wednesday, Sept. 16 to decide on a proposed start date to the college basketball season. In a normal year, competition would open on Nov. 10, but as a result of the COVID-19 pandemic, a Nov. 25 start date will most likely be proposed, according to a report by Jon Rothstein.
If a late November start date is approved, Indiana would be forced to eliminate or postpone game against NJIT (Nov. 10) and Western Michigan (Nov. 13).
Another hot topic in the college basketball world has been the use of bubbles to create a safe playing environment. The NBA has so far, successfully pulled off the feat in Orlando, Florida, leaving many to suggest that college basketball should attempt a similar setup.
Rothstein reported that Harrah's Cherokee Center in Asheville, North Carolina has emerged as a potential location for the 2020 Maui Invitational, offering a slightly different experience than what originally was expected in Hawaii. Indiana is set to play in the event along with Alabama, Providence, Davidson, North Carolina, Stanford, Texas and UNLV.
Many of these non-conference tournaments would most likely be held in the period that has been dubbed "the golden window," indicating the time between Thanksgiving and at least early January when most universities don't have in-person classes.
Expectations for what the upcoming season could look like where discussed this week on the newest editions of Podcast on the Brink and Assembly Call Radio.
Banner #4
Jordan Geronimo's winding journey to Indiana
If or when the college basketball season finally begins, bubble or no bubble, Jordan Geronimo will be one of the most intriguing players to watch.
An unknown recruit for a majority of his first two years of high school, Geronimo has blossomed into a dynamic force.
Inside The Hall's Cam Drummond wrote about the evolution of Geronimo's game, how he grew into a 4-star recruit and what he can bring to the Hoosiers in the future.
With a multitude of talented guards in Al Durham, Jerome Hunter, Trey Galloway, Anthony Leal and Armaan Franklin all on the roster, Geronimo won't be guaranteed any playing time this upcoming season. But, after the improvement Geronimo displayed throughout his prep career, he could become a key piece for the Hoosiers over the next couple of years.
Banner #5
Indiana jumps into the recruitment of Hunter Sallis
Kenya Hunter made more recruiting moves as Indiana extended an offer to 5-star combo guard Hunter Sallis on Aug. 28.
Sallis had released a top-12 list on social media earlier that week, and IU had no prior involvement in his recruitment. However, Hunter had a preexisting relationship with Sallis that tracks back to his time coaching at Nebraska.
While Hunter was on the coaching staff at UConn, he continued his recruitment of Sallis. Now, as Hunter transitions to Bloomington, the Hoosiers are attempting to make a late push for the explosive guard from Omaha, Nebraska.
As of right now, the Hoosiers' only 2021 commit is center Logan Duncomb.
Banner #6
Hoosier Sports Roundup
• Football had a couple headlines this week as new strength coach Aaron Wellman had media availability. Also, an offensive lineman was named to the Earl Campbell Tyler Rose Award Watch List.  
• Former IU baseball great Alex Dickerson had a terrific night for the San Francisco Giants earlier this week.  
• Field Hockey announced their signing class.
• Wrestling announced a scholarship athlete of the month.
Thanks for your continued support for The Assembly Call. We'll be back next weekend with a new roundup.
Now go enjoy yourself a 6-banner Sunday.
Filed to: