6-Banner Sunday: Scott Dolson begins as IU Athletic Director while sports continue to navigate COVID-19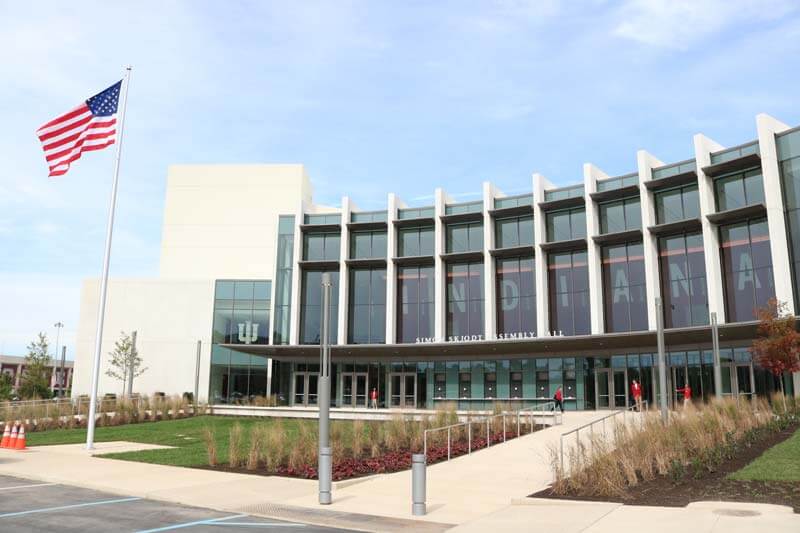 6-Banner Sunday is Inside the Hall's weekly newsletter in partnership with The Assembly Call. More than 7,000 Indiana fans receive the newsletter each week. In addition to appearing each week on the site, you can also opt to receive 6-Banner Sunday by email. A form to subscribe via email is available at the bottom of this week's 6-Banner Sunday.
Welcome to another edition of 6-Banner Sunday, a joint production between The Assembly Call and Inside the Hall where we highlight the five most essential IU basketball stories of the past week, plus take a look at how the other IU sports programs are doing.
This week marked the end of an era for Indiana University athletics. After more than 11 years as IU's Athletic Director, Fred Glass officially stepped away from that position as the calendar turned to July.
Glass' legacy was debated and discussed plenty this week, with investment in IU's athletic facilities and the inconsistent nature of the school's men's basketball program always among the main talking points. Regardless, it marks a significant moment for the athletic department as Scott Dolson, who worked as IU's Deputy Director of Athletics and chief operating officer under Glass.
Additionally, the week was marked by continued developments as IU attempts to safely bring athletics back during the COVID-19 pandemic and an in-depth look at several recruits IU is targeting in the Class of 2021 and Class of 2022.
• Scott Dolson takes over from Fred Glass as IU Athletic Director
• IU Athletics enters next stage of restart plan
• Jeff Goodman joins Podcast on the Brink, Assembly Call Radio talks Jerome Hunter
• IU basketball recruiting roundup
• In-state guard Braden Smith continues to transform Westfield High School basketball
• Hoosier Sports Roundup
Banner #1
Scott Dolson takes over from Fred Glass as IU Athletic Director
Tuesday was Fred Glass' final full day as IU's athletic director, marking the end of an era for the department.
Glass served in that role for more than 11 years, overseeing the restructuring of an athletic department that was in shambles on and off the field when he took over.
Among Glass' most notable accomplishments has been the creation and enhancement of many IU facilities such as Cook Hall (men's and women's basketball), Wilkinson Hall (volleyball and wrestling) and the Pfau Course at Indiana University (men's and women's golf).
Zach Osterman of The Indianapolis Star explored the legacy Glass leaves behind in Bloomington with his time as athletic director now behind him.
Regardless of actual athletic outcomes, Glass told Osterman that he has no regrets about his time serving his alma mater, which marked the end of his tenure by awarding Glass IU's President's Medal for Excellence last week.
"In terms of regrets, I don't really have any," Glass said. "I'd take some do-overs, for sure. I didn't make the right call every time. But I don't have any regrets, because I think we did things we needed to do. Not always with the outcomes we wanted to get but pretty much, most of the stuff, I'd do it again that way."
Banner #2
IU Athletics enters next stage of restart plan
One of Glass' final acts as IU Athletic Director offered reassurance to the student-athletes he helped oversee.
A Tuesday afternoon email to IU student-athletes, made public by IU, stated that student-athletes who chose not to participate in athletics due to COVID-19 concerns will not loss their scholarship.
The email also confirmed the timeline for the resumption of activities for IU's fall semester sports. The football, men's basketball and women's basketball programs have already begun voluntary activities in Bloomington, with women's soccer (July 6), volleyball (July 8), men's soccer (July 13) and field hockey (July 15) among the sports set to resume in the coming weeks.
Glass' full email to IU student athletes can be viewed here.
Additionally, it was announced Friday that IU Athletics would move into phase two of its restart plan. This includes "an increase in the number of participants who can participate in a space at one time."
Of note for the IU basketball programs, 16 students and six staff members can participate in activities on the court inside Simon Skjodt Assembly Hall at a time.
Banner #3
Jeff Goodman joins Podcast on the Brink, Assembly Call Radio talks Jerome Hunter
Off season story lines focused on what Indiana will look like on the court next season continued this week as well.
Assembly Call Radio, featuring Andy, Coach and @IUArtifacts, broke down the expectations for Jerome Hunter entering his redshirt sophomore season while also touching on the change in leadership at the top of IU Athletics.
Meanwhile on this week's edition of Podcast on the Brink, Alex Bozich of Inside the Hall was joined by national college basketball analyst Jeff Goodman to discuss a variety of topics, ranging from Archie Miller's tenure so far at Indiana to the long-term impact of college coaches not being able to have evaluation periods to watch recruits this summer.
Banner #4
IU basketball recruiting roundup
But even without those evaluation periods, recruiting has remained a mainstay of the college basketball offseason, even if it involves more phone calls and Zoom meetings that ever before.
For Inside the Hall, both myself and Dylan Wallace took some time this week to provide a better look at some of IU's most important recruits in the Class of 2021 and 2022.
I took a look at Class of 2022 point guard Bruce Thornton and the defensive, physical presence he could offer Indiana in the back court, while Dylan spoke with Class of 2021 power forward Mason Miller, the son of former NBA champion and former University of Memphis assistant coach Mike Miller, to discuss Mason's interest in Indiana and his relationship with IU assistant coach Tom Ostrom.
Additionally, Kyle Neddenriep of The Indianapolis Star took a look at the in-state recruiting battle that has emerged between IU and Purdue for Class of 2021 power forward Trey Kaufman.
Banner #5
In-state guard Braden Smith continues to transform Westfield High School basketball
Another recruiting story that I published this week focused on Class of 2022 guard Braden Smith from Westfield High School in Westfield, Indiana, and that the actual recruitment of this dynamic passer and scorer is just a small part of the story.
Speaking with Braden's father and AAU coach Dustin, his high school coach Shane Sumpter, and Braden himself, I was able to piece together how Smith has transformed the basketball culture at Westfield, helping spark wins on the court and bringing together Shamrock fan base.
It's also the story of how an undersized and often overlooked player can have a substantial impact on a community through serving others, a relatable theme for so many high school programs in the state.
Banner #6
Hoosier Sports Roundup
As professional sports resume this month, several former Hoosiers involved in both NBA and MLB made headlines.
• Former Hoosier basketball great Victor Oladipo announced he would skip the NBA re-start in Orlando to ensure his health for next season as he recovers from his knee injury.
• On the other hand, five former baseball Hoosiers made the 60 man big league rosters in anticipation of the MLB's restart.
• Men Soccer's Ryan Wittenbrink was honored as the July Scholar-Athlete of the month.
• Women's Golf had Alexis Miestowski named a WGCA All-American Scholar.
• Water Polo racked up a lot of awards with three Distinguished Scholars and Seven Academic All Big-Ten Athletes.
• Overall 96 Hoosiers were named Big Ten Distinguished Scholars setting an IU record.
Thanks for your continued support for The Assembly Call. We'll be back next weekend with a new roundup.
Now go enjoy yourself a 6-banner Sunday.
Filed to: