'He's grown up quickly': How Braden Smith is changing the culture of Westfield High School basketball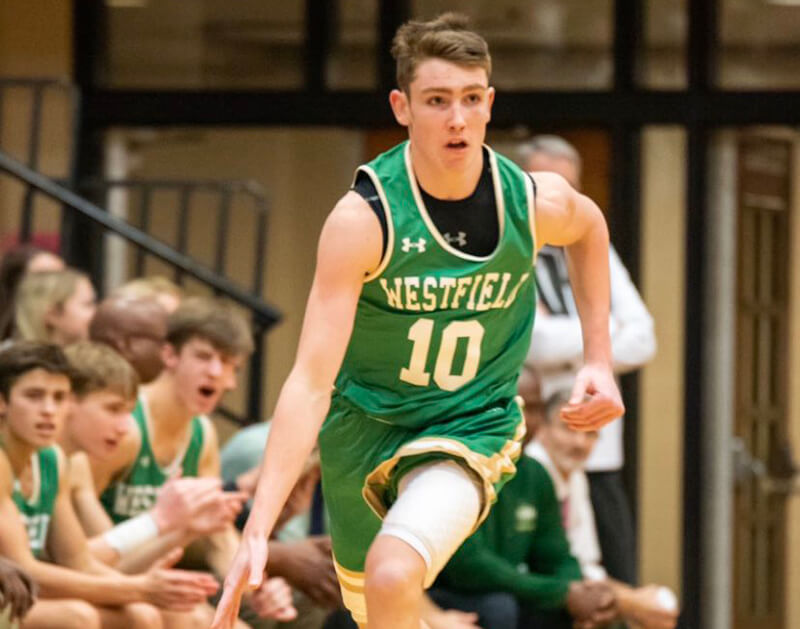 Each morning at 7:45 the bus came to take Braden Smith to school.
It was part of his schedule from the third grade through the sixth grade. Braden would get up at 6 a.m., head downstairs and watch basketball highlights on YouTube until it was time to depart.
The players Braden studied were true point guards, ones known for dynamic shooting and stylish passing: Steph Curry, Pete Maravich, Steve Nash and Jason Williams just to name a few.
Naturally, Braden tried his best to imitate them, racing down the court and trying behind-the-back passes as early as the third grade.
Jump ahead nearly a decade and Braden has blossomed into his own variant of these players: A quiet, undersized point guard who lets flamboyant passes and accurate distance shooting define his game.
"Honestly, I have no idea with some of the passes that I do," Braden said. "Like, I don't even know…"
These skills were honed through trial and error, most of it coming as Braden played AAU games under the guidance of his coach and father, Dustin, with Grand Park Premier.
"There's times still, even in AAU, where I'm like 'How did he see that, coach?' to my assistant," Dustin said. "And he's like 'Dude, I don't even know, I didn't even see it.'"
More often than not, these passes have also worked at Westfield High School (located about 20 miles north of Indianapolis), where Braden and his teammates are leading a revival of Shamrock basketball on the court and in the stands.
It's translated into plenty of buzz for Braden as a class of 2022 recruit, forcing the normally reserved teenager to initiate conversations and be more vocal when talking to college coaches, including those from Indiana.
"He's not a talkative kid either at home, but you get him out on the basketball court and he's totally different," Dustin said. "He's in his comfort zone."
*****
Braden hated basketball as a child.
He was born into the sport, with a father and mother who both played collegiately at Arkansas Tech and who now make a living coaching basketball (Braden's mother, Ginny, is Westfield's girls basketball coach and assistant athletic director).
But through the early years of Braden's life in Arkansas and even when the family moved to Indiana when he was 4, Braden still wanted nothing to do with the sport.
"Finally, something clicked one day and he was kinda excited about basketball and ever since that's his love and that's really all he does," Dustin said.
Braden can't remember exactly why he sharply gravitated to basketball, but his coach at Westfield, Shane Sumpter, was a witness to the sudden transformation.
Sumpter now coaches the boys team at Westfield, but he used to coach Westfield's girls team with Ginny as one of the assistant coaches. He can remember a 6-year-old Braden scrambling around the gym with a ball in hand.
"He was always one of those kids that wanted to be dribbling a ball or shooting," Sumpter said.
When it came time for Braden to try out for Westfield's varsity team, Sumpter was still unsure of what to expect from the 5-foot-9 freshman.
"I think anybody watching him starting in middle school, sixth or seventh grade, you could watch him and you knew he was going to be good," Sumpter said. "When the game starts he just kind of shines."
Braden has starred for the Shamrocks over the past two seasons. As a freshman he set a school single-season record with 69 made 3-pointers on 45.1 percent shooting, while also leading the team in rebounds (4.2 per game) and assists (3.1 per game).
His sophomore campaign showed growth, as he averaged 18.5 points, 5.4 rebounds, 4.7 assists and 1.5 steals per game.
"He's got some NBA range. He handles the basketball really well," Dustin said. "His IQ is really high. I just think his ability to be a floor leader is really good for the college level."
"He's really a pass-first type of a kid that wants to get everybody involved in the offense," Sumpter explained. "He's a special one, definitely the best player that I've coached. I certainly think he's one of the best point guards right now in Indiana, if not the best, regardless of class."
While Braden is quick to deflect the praise directed his way, the correlation between the 16-year-old's play and the rise of Westfield basketball is undeniable.
The Shamrocks won 17 games last season before losing a sectional title game to Carmel. It was the most wins for Westfield in a season since at least 1993.
Smith's two seasons at Westfield have seen the Shamrocks win a combined 29 games, the most over a two-year period since 2006.
"Westfield has not been a good basketball team, at all, over the past years. So I wanted to change that and be one of those people known for changing that," Braden said. "I want to win a sectional championship, that hasn't been done here. I want to do stuff that hasn't been done. I want to be known for all that stuff."
Dustin remembers the conversations with other high school coaches before Braden's freshman year, asking him if his son really wanted to play for Westfield, and the family meeting that followed.
"Dad, I want to change Westfield basketball," Braden told him that night. "I've played here my whole life. I want to end here."
*****
Even more than the on-court product, the community support for the Shamrocks has skyrocketed during Braden's two seasons.
"We went from maybe 400, 500 people at a game, to now we're having 2,400 people at a game," Dustin said.
"The excitement in our community and in our school right now for basketball is really through the roof," Sumpter added.
"I guess people just keep on coming in since we've been doing good," Braden said. "When you're successful, people like to watch that."
With his parents so closely connected to sports in Westfield, Braden is known around town, and he makes an effort to involve others whenever possible.
The anecdotes from Dustin are plentiful.
"The kids look up to Braden because Braden gives them time," Dustin said. "He goes to the youth games and watches kids. Before games he'll find a couple kids and bring them down to the floor and throw them the T-shirts instead of throwing them to the student section.
"We've actually had a lot of parents reach out recently and be like 'Hey, can Braden hang out with my kid today? Hey, could he go to the park with him? Hey, could he come over and babysit my 13 year-old by the pool?'
"Stuff like that, the community has taken him under their wing, which is awesome."
Dustin works at the Pacers Athletic Center in Westfield, where youth basketball camps are run. He was approached earlier this month about Braden speaking to a group of 60 to 70 kids about his basketball journey.
Braden getting to speak to 50+ campers today at the elite camp. Great experience talking about his journey so far and the recruiting process. pic.twitter.com/rYAXCiILaA

— Dustin Smith (@dsmitty72503) June 18, 2020
"I was like 'Well, you can ask him. I don't know that he will,'" Dustin remembers saying. "But Braden jumped right on it and everybody was like 'Man, this is great. He did a great job explaining the recruiting process and what it took to get where he's at now.'"
Things like that get remembered in Westfield.
"He's grown up quickly right now and this community…it's awesome for us as a family," Dustin said.
*****
The accolades so commonly ascribed to Braden's basketball ability — his competitive nature, his floor vision in transition, his basketball IQ and work ethic — are the same things that have led Indiana to recruit him.
Braden unofficially visited Indiana for the February home win over Penn State and spent time speaking directly with Archie Miller.
"Archie told me that if I can play, then I can play. It doesn't matter how tall I am," Braden, who is taller than Miller, said. "If I can play, I can play. Hearing that just boosts your confidence because I'm not going to be 6-foot-6… it's just good to hear something like that because it boosts confidence."
For the record, Braden is now above six feet tall, and has put on about 19 pounds during quarantine thanks to a rigorous daily workout regime that includes starting at 6 a.m., going through three exercises and eating five meals.
Weight room bests like increasing his maximum bench and squat by over 100 pounds have also been achieved, but perhaps no offseason stride has been more important than the simple act of communicating with coaches who reach out, of which there are plenty from IU.
"Coach (Tom) Ostrom calls. Coach (Bruiser) Flint has been calling," Dustin said. "Any kid who is in the state of Indiana that says they don't want to play at Indiana University is lying. I don't see how anyone could say they don't want to. It changed for Braden I think when we went on that visit."
Among the standout off-court features to Braden were IU's locker room, the game operations setup and even the way Director of Athletic Performance Clif Marshall hypes the team up prior to tip-off.
"It's crazy when you see that stuff," Braden said.
But the on-court talent was familiar.
In training sessions Braden has scrimmaged with the likes of NBA forward and Indianapolis high school product Trey Lyles, former IU guards James Blackmon Jr. and Jordan Hulls, as well as current IU players Trayce Jackson-Davis and Armaan Franklin.
All leave with the same impression.
"They can't believe he's now going to be a junior… just his basketball IQ and the way he reads the game," Dustin said. "Coach Flint called the other day and said how Trayce was talking about him and was just flabbergasted that Braden knew so much of the game at this age."
A college decision is still far in the future for Braden. NAIA basketball power Indiana Wesleyan is currently his only scholarship offer.
But while Braden says he's focused on the process of daily improvement, both as a person and player, his reputation in Westfield already precedes him.
It's what means the most to Dustin.
"As a father, just hearing people coming up to me at a restaurant, they'll walk over and say 'Hey, Braden's a great kid. He talks to my kid. He knows my kid's name. He's high-fiving my kid wherever he's at,'" Dustin said. "That right there means more to me than anything on the basketball side."
Filed to: Braden Smith