6-Banner Sunday: Archie Miller 'excited' about roster for next season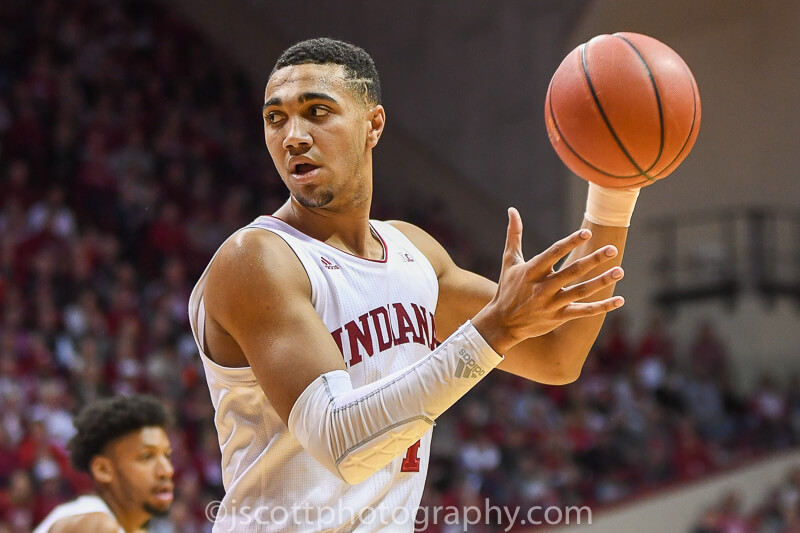 6-Banner Sunday is Inside the Hall's weekly newsletter in partnership with The Assembly Call. More than 7,000 Indiana fans receive the newsletter each week. In addition to appearing each week on the site, you can also opt to receive 6-Banner Sunday by email. A form to subscribe via email is available at the bottom of this week's 6-Banner Sunday.
Welcome to another edition of 6-Banner Sunday, a joint production between The Assembly Call and Inside the Hall where we highlight the five most essential IU basketball stories of the past week, plus take a look at how the other IU sports programs are doing.
After a whirlwind last week with all the roster movements, including Khristian Lander reclassifying and Justin Smith transferring, this week was all about looking at Indiana's roster for next season and coming up with ways the Hoosiers can be effective.
We got to hear from head coach Archie Miller on the changes made to the roster. Heading into his fourth year, Miller seems optimistic about the group he has and hopes basketball can return in November.
That, coupled with stories on past and potentially future players, make up this week's IU basketball content.
• Archie Miller speaks on the makeup of the 2020-21 roster
• The impact of Justin Smith's transfer
• Freddie McSwain Jr. on his basketball journey
• First look at the 2021 recruiting board
• Best of Inside the Hall continues
• Hoosier Sports Roundup
Banner #1
Archie Miller speaks on the makeup of the 2020-21 roster
On Thursday, Archie Miller joined Don Fischer on Indiana Insider powered by Learfield/IMG College to talk about the end of last season and preparing for the upcoming one.
Since the season ended, a lot of moves have been made within the program, such as Damezi Anderson and Justin Smith entering the transfer portal and Khristian Lander reclassifying to join the Hoosiers in 2020. Miller talked about all of those events, as well as the roster as a whole.
He said Anderson really grew up in the program and that Smith played a pivotal role in most of IU's wins this past season.
"Wish them well and nothing but the best," Miller said.
As for Lander, he's been a player that has caught Miller's eye for a long time. Miller was at an AAU event in Colorado last summer, and he said he was so amazed with Lander that he just watched him all day.
"I didn't see many guys in Colorado that I would trade for him," Miller said.
Lander will be joining Anthony Leal, Trey Galloway and Jordan Geronimo as the incoming freshmen this season. Aside from losing Anderson, Smith and Devonte Green and De'Ron Davis, Indiana is returning much of its roster from last season, which has Miller excited.
"We're a much better team in a lot of different ways," Miller said. "I think our fans will like this group… I'm excited about the roster, I really am."
Banner #2
The impact of Justin Smith's transfer
Say what you want about Justin Smith, but there's no denying how much he was on the floor for Indiana this season, which was a team that won 20 games for the first time in four years and was almost certainly going to make the NCAA Tournament.
Smith led the team in minutes at 30.3 per game, and he was the third-leading scorer (10.4 points per game), second-leading rebounder (5.2 rebounds per game) and the team's leader in steals (31 steals in 32 games).
The way Indiana will adjust without Smith on the floor for next season was the main topic on this week's edition of Assembly Call Radio.
Inside the Hall's Cameron Drummond also wrote an analysis piece on what the Hoosiers can do to try and make up for Smith's absence.
Of the topics discussed and wrote about, it includes more minutes for Race Thompson and Jerome Hunter, who both bring different things to the court. Jordan Geronimo also might see more minutes now as well. The final option, which didn't happen too much this season since IU was so front-court heavy, is to go with a three-guard lineup now that Lander will be joining Rob Phinisee, Al Durham and Armaan Franklin in the backcourt.
Miller has a lot of options to fill the void that wasn't expected to be there next season.
Banner #3
Freddie McSwain Jr. on his basketball journey
Inside the Hall's Dylan Wallace caught up with former IU basketball player Freddie McSwain Jr. for a lengthy Q & A on how McSwain has turned himself into an important professional player overseas.
McSwain played at Indiana for two years. His first year was Tom Crean's last year as head coach and his final season was Archie Miller's first year. Miller always talks about how the seniors during his first season were very important to making the transition easier.
"It was new," McSwain said. "He ran a whole different system than coach Tom Crean. It was a whole different system. He (Miller) had a pack line defense, and coach Crean is a lot of offensive type of coach and Archie is a defensive type of coach.
After De'Ron Davis tore his Achilles that year, McSwain had to play the five and guard players like Caleb Swanigan and Nick Ward. Once McSwain graduated from IU, he said he had to prove everyone that he wasn't an undersized five and that he can play on the wing. McSwain got his body right, improved his shot and has since had a lot of success in the G-League, in Canada and in Brazil.
His mindset is driven by one phrase, which is "in due time."
"I say in due time because it means sometimes you gotta be patient and some things don't come to you the way you want it, so you just gotta be patient and all your hard work is gonna pay off."
Banner #4
First look at the 2021 recruiting board
Inside the Hall put out the first look at the 2021 recruiting board for Indiana. After a strong class in 2020, Miller is looking to continue his impressive recruiting for 2021.
The Hoosiers are already off to a strong start with that class after gaining a commitment from 4-star center Logan Duncomb.
Other names Indiana is looking at so far include 5-star Aminu Mohammed, 4-star John Camden, 4-star Trey Kaufman, 4-star Louis Lesmond, 4-star Jordan Longino, 4-star Mason Miller, 4-star Trey Patterson, 4-star Blake Wesley and 3-star Nate Johnson.
Wesley and Kaufman are both from Indiana.
In-person recruiting is in doubt for the foreseeable future with the Coronavirus. It's likely the AAU circuits this summer won't happen. The NCAA recently extended its recruiting dead period through July 31.
On this week's edition of Podcast on the Brink, Alex Bozich and Galen Clavio talked about the state of IU basketball and the steps IU is taking to reopen its campus.
Banner #5
Best of Inside the Hall series continues
A few weeks ago, Inside the Hall began releasing some of its classic articles and feature stories that have come out since the site began in 2007.
The first was an in-depth story on Troy Williams and his journey to Indiana.
This week's one was about Will Sheehey, written by Jordan Littman on March 5, 2014.
The story takes an exclusive look at Sheehey and his eccentric personality and work ethic, which made him into an important piece on Indiana's team that brought the program back to national prominence in the early 2010's.
Make sure to be on the lookout for more classic Inside the Hall stories in the future.
Banner #6
Hoosier Sports Roundup
While the NBA and NHL mapped out plans for a return during the current pandemic this week, college sports is not at that point yet and this week's IU news consists of recent accolades various athletes have received.
• Football's Miles Marshall received a Scholar Athlete Award for June
• Baseball's Grant Richardson was named an All-American.
• Track and Field received 12 All-American honors for the indoor season.
• Women's Basketball's Brenna Wise and Football's Nick Westbrook won Sportsmanship Awards.
• Softball's Desiree Dufek also received a Scholar Athlete Award for June.
• Women's Tennis' Michelle McKamey and Soccer's Sean Caulfield earned postgraduate scholarships.
Thanks for your continued support for The Assembly Call. We'll be back next weekend with a new roundup.
Now go enjoy yourself a 6-banner Sunday.
Filed to: