Q & A: Former Indiana forward Freddie McSwain Jr. on patience paying off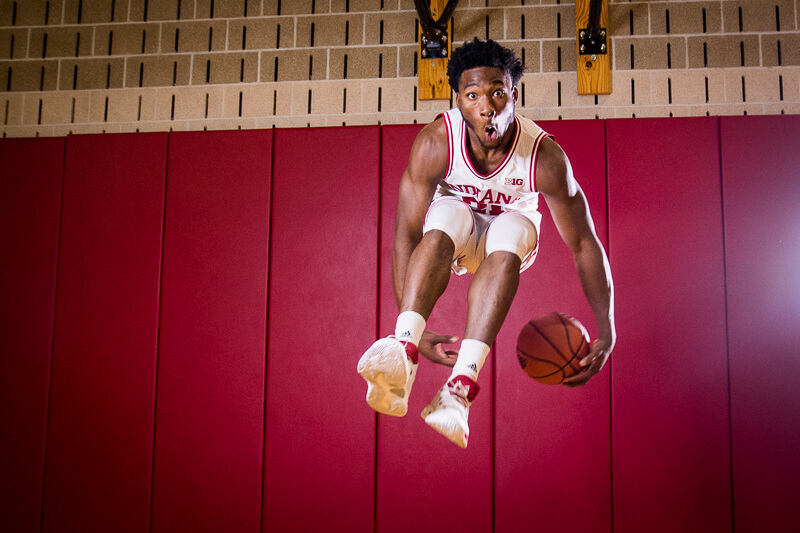 Former Indiana forward Freddie McSwain Jr. played for Indiana two years and was a part of the senior class that helped transition from Tom Crean to Archie Miller.
Miller has always referred to the seniors on the 2017-18 roster as a big foundation that allowed him to build what he has over the past three years. McSwain, who just got back to the United States four days ago, spoke at length with Inside the Hall about his favorite moments at Indiana, the relationships with former teammates and his success playing overseas.
Here is our full Q & A with McSwain:
Inside the Hall: Are you back home now?
Freddie McSwain Jr.: Yeah, I'm back in Georgia.
ITH: When did you get back?
McSwain: Like three days ago.
ITH: How was it traveling back home with everything that's going on?
McSwain: It was mostly good. I had a delay in Houston where I had to wait 12 hours because May 21 I had to book my flight, and then when I got to the airport, they didn't have my airline Delta, so they had to rush me to a flight going to Houston. So, I had a delay of 12 hours in Houston. Everything was smooth, though, except for that 12-hour wait.
ITH: Were you coming back from Brazil?
McSwain: Yeah, I just got done playing in Brazil. In the NBB (Novo Basquete Brasil), which is the top league there.
ITH: What has it been like playing in that league?
McSwain: Man, I had a lot of ups and downs over there. I didn't know the language, so it was hard to communicate because my coach could barely speak English. My assistant coach spoke English, and then I had another American teammate, and he had been there for six years, so he picked up the language. So, that was mostly the down part was I just didn't know the language. I picked up a little bit of Portuguese just to know the basics and get around town and stuff.
ITH: I've seen a few highlights of you playing over there, dunking on people, so how has your game thrived in Brazil?
McSwain: I feel like since college, I got back to my natural position of playing the three. When I was in JuCo, I played the three, so I was just playing the way I used to play and getting better with my shooting. I didn't take a lot of shots when I was in college with Indiana, but with JuCo, I took a lot of three's, so I just had to get back to that. I had to get leaner, I had to lose muscle and just get my body back to a lean body. But, my game translated to the pros pretty naturally because everything is spacing, and I can just pick and choose to drive it, cut back door and get an alley-oop or shoot the three. And I'm just out there playing defense, so I just feel the transition was pretty easy for me.
ITH: What was it like over in Brazil when the virus started to break out?
McSwain: It was pretty difficult because at the same time, we haven't got paid in months, and I still haven't got paid in five months, so right now, I'm still waiting on my money from there. Then on top of that, I was in my apartment just sitting there waiting for like two months to see if our league is going to continue because remember, every league was getting canceled, but I was still down there to see if we were going to have playoffs or not. They canceled our regular season, but they were seeing if we were going to have playoffs, but it never did because they had a meeting to say the season was over. So, I waited, and then I had to wait to book my flight, so I was out there for two months not doing anything. I was just laying in bed, and when I got home, I tried to play open gym and my body wasn't with it, so I gotta start running and stuff now.
ITH: What was it like for you to play JuCo and then make that transition to Indiana?
McSwain: My junior year coming in, I had a meniscus injury and had to have surgery, so that kind of set me back with my weight. On top of that, I wasn't in tip-top shape, and I put on a lot of muscle that I didn't have at JuCo. So I came in and got the body I needed to play, and I had OG (Anunoby) and Juwan (Morgan) and all of them that was there before me. I had a lot of guys in front of me, and Collin (Hartman) was there, too, so I had to show coach what I could do and then I had the injury, so that set me back. But the transition was cool because I had to change my position. I had to play the four, and coach had a three-guard set I guess with a four and a five, but I was just trying to be versatile and try to stay on the court, basically.
ITH: You were a senior when Archie Miller took over, so what was that first season like under Miller?
McSwain: It was new. He ran a whole different system than coach Tom Crean. It was a whole different system. He (Miller) had a packline defense, and coach Crean is a lot of offensive type of coach and Archie is a defensive type of coach. When De'Ron (Davis) tore his Achilles, I had to change positions again. I basically had to play the five. I was guarding five's my senior year. Like I was guarding (Caleb) Swanigan, I was guarding Nick Ward and all them big dudes because I was so strong and I could jump, so I had to sacrifice for what was best for the team.
ITH: I have to ask about the alley-oop against Duke where you received the lob from Devonte (Green), what do you remember from that moment when you sent Assembly Hall into a frenzy?
McSwain: That was one of my favorite moments of playing at Indiana. Playing in front of Assembly Hall, getting a big alley-oop. We could've won that game, just silly turnovers at the end. But it was just a big moment for me and my team. It was just a big momentum for anyone that was an Indiana fan. That's a moment I'll remember for the rest of my life, and if I have kids, I'm gonna be like, yo, this your pops.
ITH: What were some of your other favorite games or moments while playing at Indiana?
McSwain: My best game I feel like, and everyone think so too, is when I had 16 boards against Michigan State. We didn't get the win, but I feel like that was a moment that I feel like was one of my best games.
ITH: It seems like you and your former teammates still interact on social media, so how much have you kept up with them since graduating?
McSwain: Most definitely. Once I play with you, I feel like you're my brother. You understand all the stuff we sacrifice during the season and during the offseason, and so I feel like that bond can never be broken. I talk to Juwan, De'Ron, Rob (Johnson), Q (Quentin Taylor), Justin (Smith), Josh (Newkirk), Al (Durham), Curt (Jones), Devonte. I just talk to all, Race (Thompson), I talk to all them guys still and to this day. I'm not playing with them, but I was still their teammate and stuff outside basketball we shared a bond, so that can never be broken.
ITH: Were you able to keep up with the team much over the past few seasons?
McSwain: This season not too much because Brazil has their own ESPN and Fox, so that's what we played on up there in Brazil because basically the NBB is like the NBA in the U.S., so we play on ESPN and Fox and all that. So they have their own channels, and they mostly play soccer on their channels and stuff, so not too much. But last season, when I was in Canada, I kept up a lot.
ITH: You just got your championship ring from playing in Canada, right?
McSwain: Yes, when I got home from Brazil, I had my ring, and it's great.
ITH: How fulfilling was it to finally get that?
McSwain: It was great. I actually won a medal, a championship, when I was in Brazil, too.
ITH: On Twitter recently, someone asked you who had the better hops between you and Justin Smith, and you said it was confidential, but I'm curious if you'll say it now?
McSwain: All I could say is Tim. Tim Priller.
ITH: On social media, you use the hashtag and the phrase "in due time" a lot, so what does that mean to you?
McSwain: A lot of people ask me. I say in due time because it means sometimes you gotta be patient and some things don't come to you the way you want it, so you just gotta be patient and all your hard work is gonna pay off. That's just how it is. I think of myself because I went from high school, started playing basketball my junior year and had no offers. Then I go to JuCo, and my sophomore year I have 30 offers and get a scholarship to Indiana. It was hard for me coming out of college because everyone thought I was an undersized five. I went to camps and stuff that summer and I had to prove to people that I'm not a five and I can play outside. I worked on my skills to understand that I had to sacrifice when I was playing in college. Then, it turned out I got drafted in the G-League draft. I got drafted by the Cleveland Cavs and that was just a journey. Then I go to Canada and win a championship and it's like I said, in due time. Your hard work is going to pay off and not everything is going to come at you at once. You gotta be patient. You want everything to come at once, but you gotta be patient, and that's why I say in due time.
ITH: Once things start to clear up around the world and basketball can resume, what's next for you?
McSwain: Right now, me and my agent are talking to a Brazil agent, so he's going to mention my name to a few teams up there. I don't know how things are going to be because of how the coronavirus and teams are being affected there. I don't know if they'll have one American, or one or two Americans for next season because there'll be less teams, I don't know. But hopefully, my agent wants to try the G-League again or try to play somewhere that is going to be beneficial to me and my talent.
ITH: How are you keeping yourself busy right now?
McSwain: When I was Brazil, I didn't really know the neighborhood, so I didn't really work out or do anything. But now I'm back home, and me and a couple of my friends try to hit the track. I ran this morning. I ran about two to three miles this morning just to try and get my body back. And just enjoying my family, my mother and my friends when they come by and see me. That's pretty much it, just try and exercise a little bit. I'm trying to get in the gym here, but no luck right now."
Filed to: Freddie McSwain