How two buzzer beaters and one letter turned into a meaningful friendship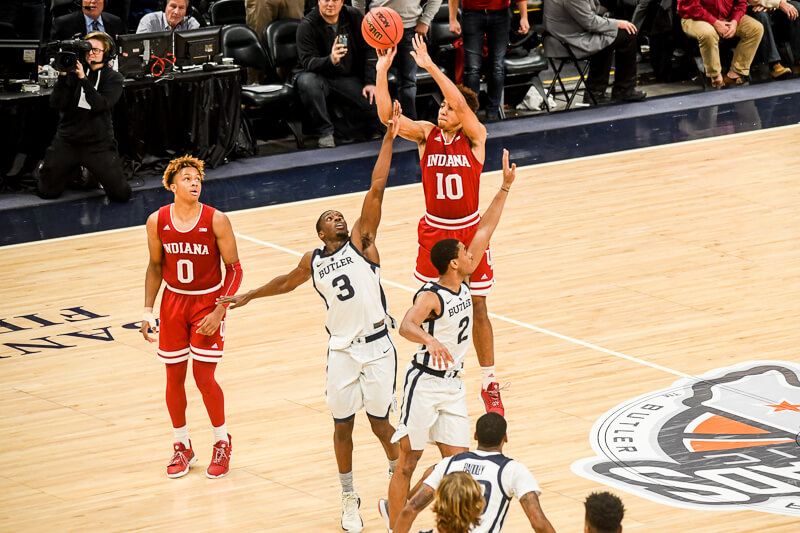 When Romeo Langford slipped with four seconds left and Devonte Green had nowhere to go with the ball, Rob Phinisee came curling around to get the ball at the top of the key.
Phinisee caught the ball with 1.7 seconds left, he took one dribble to his left, rose up from about 30 feet and drained a 3-pointer at the buzzer to give Indiana a 71-68 win over Butler in the 2018 Crossroads Classic.
Nicolas Aguilera, who was 10-years-old at the time, was watching the game on TV in Jasper, Indiana, with his Butler-loving Grandpa.
"He was kind of upset, but I was pretty happy," Nicolas said.
The next day, Nicolas and his fourth grade team had a game of their own. It was close down the stretch, went into overtime, and the other team was at the free-throw line with a chance to take the lead. They made the first to tie but missed the second. As instructed by his coaches, Nicolas got the ball and dribbled it past halfcourt and over to the sideline to call timeout.
In the huddle, Nicolas' coach told him, "we'll give you the ball and just do something. Just score."
So, Nicolas caught the pass from the inbounds, dribbled it just inside the 3-point line and drained the game-winning shot.
When he got home later that day, he couldn't stop thinking about buzzer-beaters — both the one he hit and the one Phinisee hit.
"I basically just did the same he thing he did and just wanted to write a letter," Nicolas said.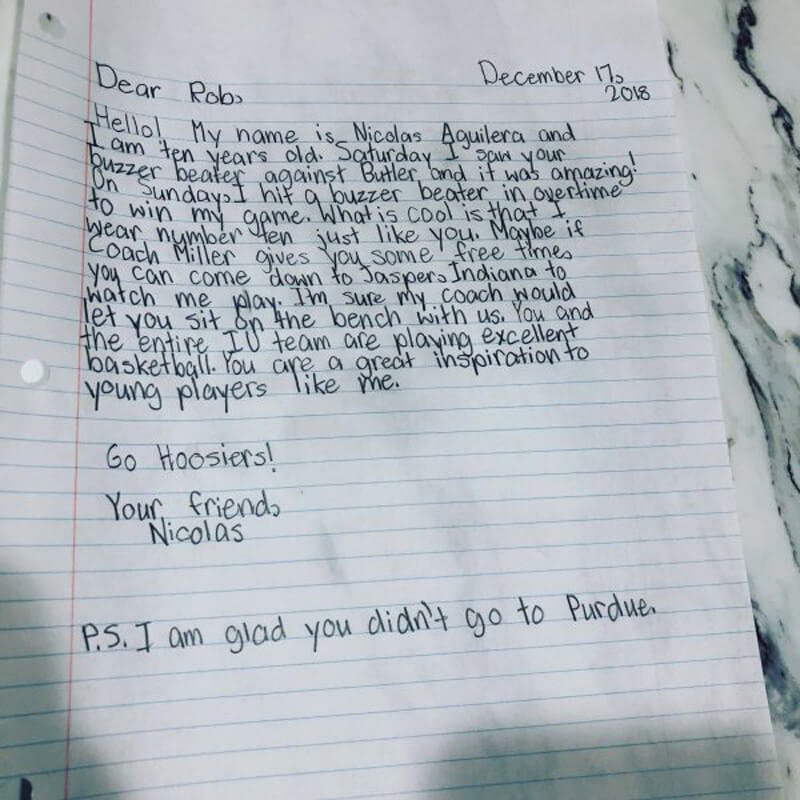 Nicolas' mother, Brehan Leinenbach, a teacher who got her master's degree at Indiana, shared the letter to her Facebook. One of her friends pleaded her to make the post public so all the Hoosier fans out there could see it. Once she did, it was shared in numerous fanpages and on Twitter.
It eventually led to Jeremy Gray, Indiana's Associate Athletic Director for Strategic Communications and Fan Experience, reaching out to the family and asking if Nicolas would like to come to a game and meet Phinisee.
But that opportunity was put on hold for a few weeks as Phinisee went out with a concussion in Indiana's very next game on Dec. 19.
A happy, exciting opportunity drastically turned into a nightmare. Some fans would tweet at Brehan and say it was the "curse of Nicolas" that gave Phinisee the concussion. People claimed the letter was written by Brehan herself just to gain attention. A letter she never intended to make public outside of her friends and family in the first place.
"It was crazy to hear all that," Brehan said. "I used it as a message for Nicolas that these players receive all this criticism sometimes, but they still go out there every game and give it their all."
Eventually the negativity blew over, and when Phinisee was cleared to play again on Jan. 11, Gray and Brehan finalized the date for Nicolas to come get a tour in Assembly Hall and meet his role model on Jan. 25 when Indiana hosted Michigan.
It was one of the more frustrating games of the season as Indiana went down 17-0 to start and eventually lost the game 69-46. Phinisee didn't want to go out on the court after the game, but he had Nicolas walk through the tunnel to meet him near Indiana's locker room.
It was there where Nicolas handed Phinisee the copy of his letter and a Jasper basketball shirt, and Phinisee autographed mini IU basketballs for Nicolas and his younger sister Sofia.
Sofia wore an IU basketball with the number one on it, and Nicolas sported the number zero, so together they would make 10.
"He said he's never going to forget that moment for the rest of his life," Brehan said.
It was the beginning of what has now become a meaningful friendship.
Nicolas watches every Indiana game that he can, even the late ones, such as this season's 8:30 p.m. tip against Michigan State. He will direct message Phinisee on Instagram, wishing him luck before each game or sending encouraging messages like, "I know you can shut down Cassius Winston."
In the times where Nicolas messages that he can't watch or attend a game because he has his own tournament, Phinisee will reciprocate the pregame sentiments, telling Nicolas good luck and to play hard.
"I try and play great defense like he always does," Nicolas said.
In January of this year, Phinisee messaged Brehan and told her he would like to give Nicolas a pair of his game shoes after one of IU's games.
Brehan said Phinisee's mother, Tanika, was so thrilled Rob took the initiative to set this up since he's usually a shy and laid back individual.
They set it up for the final home game of this season against Wisconsin. Before the game, when Phinisee walked out of the tunnel to start warming up, Nicolas was sitting by the bleachers and held out his fist. Phinisee walked over with a smile on his face, gave him knuckles and said, "I'll see you after the game."
After the Hoosiers suffered a tough defeat to the Badgers, Phinisee walked over to Nicolas and handed him a pair of his red Adidas shoes, then grabbed a marker to sign them. They posed for a picture afterward, Nicolas gripping the shoes, smiling ear to ear.
"It's been a really cool experience," Nicolas said.
"Rob is always so great with him," Brehan said. "This role model slash friendship that they have — I have seen big changes in Nicolas."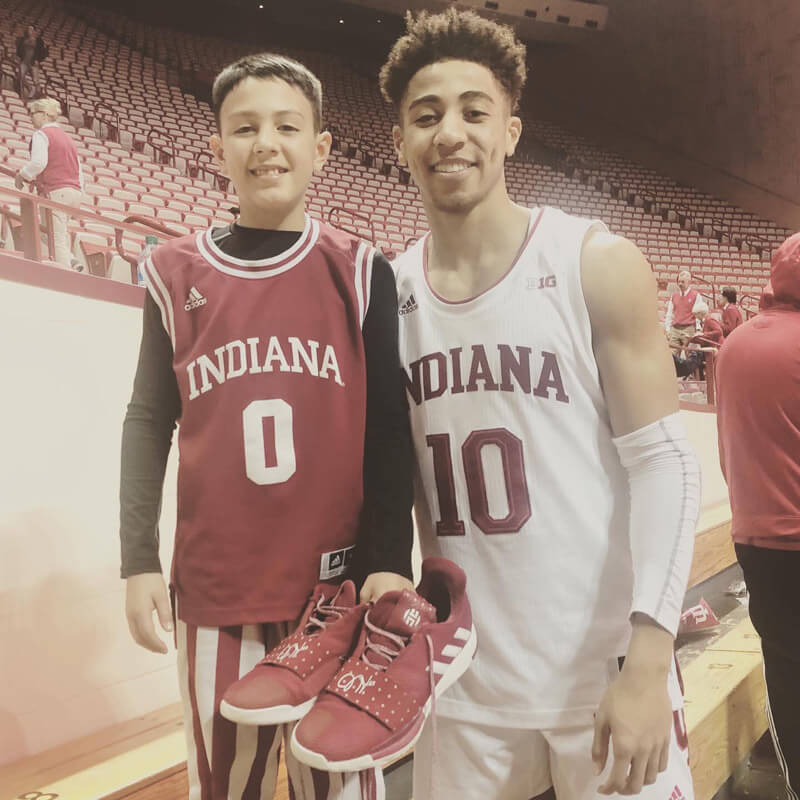 Filed to: Robert Phinisee