6-Banner Sunday: IU's season cut short due to COVID-19 pandemic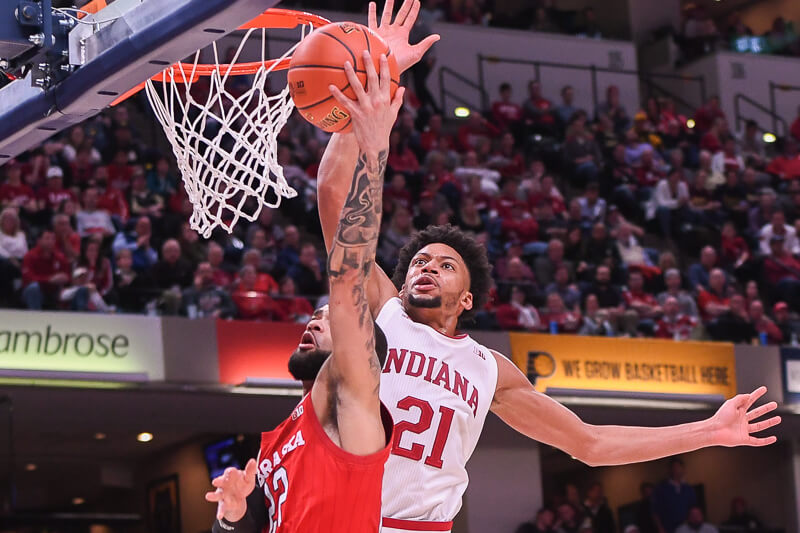 6-Banner Sunday is Inside the Hall's weekly newsletter in partnership with The Assembly Call. More than 7,000 Indiana fans receive the newsletter each week. In addition to appearing each week on the site, you can also opt to receive 6-Banner Sunday by email. A form to subscribe via email is available at the bottom of this week's 6-Banner Sunday.
Welcome to another edition of 6-Banner Sunday, a joint production between The Assembly Call and Inside the Hall where we highlight the five most essential IU basketball stories of the past week, plus take a look at how the other IU sports programs are doing.
Among the many changes in our personal and professional lives brought on by the global COVID-19 viral disease pandemic is a lack of sports outside of off-season player movement.
Whether it's soccer in Germany or college basketball in the United States, virtually every major amateur and professional sports operation has come to a sudden halt in recent days due to the outbreak of the virus, which initially prevented fans from attending all sorts of sporting events before postponements and outright cancellations soon followed. In this country, no announcement was met with more disappointment than the cancellation of this year's Men's and Women's NCAA Tournaments.
The lack of March Madness deprives a pair of Indiana teams from trying to achieve postseason success, and in particular for Archie Miller's men's squad, it denies them their first trip to the NCAA Tournament in four years. The Hoosiers only got to play one game in last week's Big Ten Tournament as well, a somewhat surreal night in Indianapolis that will now be remembered as the end of the 2019-20 season, as well as the final game in the college careers of De'Ron Davis and Devonte Green. Strangely with the cancellations and the victory over Nebraska, IU will finish its season with a win for the first time since the 1987 National Championship team.
College basketball is done for the season, and as strange as that may be to say in only the third week of March, it's the new reality brought on by repeated recommendations from leading world health experts.
• Conference tournaments canceled nationwide, NCAA Tournament follows suit
• The impact of COVID-19 related cancellations on other NCAA sports
• Hoosiers react to the end of the 2019-20 season
• Incoming IU players must put state title hopes on pause
• End of-season honors for Trayce Jackson-Davis
• Hoosier Sports Roundup
Banner #1
Conference tournaments canceled nationwide, NCAA Tournament follows suit
The first domino in the chain of COVID-19 related cancellations, as far as college basketball goes, came on March 10 when the Ivy League decided to cancel its men's and women's basketball tournaments, deciding to award its automatic qualification spots into the NCAA Tournament to the men's and women's regular season champions.
This remained an outlying decision until Wednesday night, when the sports world was rocked by news in the NBA that Utah Jazz player Rudy Gobert had tested positive for COVID-19. His teammate Donovan Mitchell would also test positive for COVID-19 in the coming days, and nearly immediately after Gobert tested positive, the NBA suspended the 2019-20 season "until further notice."
Once that occurred, college sports fell quickly in line.
The Big Ten Tournament played only two games in Indianapolis before it was canceled Thursday morning, meaning the final Big Ten game of the season was Indiana's 25-point win over Nebraska on Wednesday night. Every other conference tournament soon followed suit, and the final major conference basketball game of the season, a Big East Tournament game between St. John's and Creighton on Thursday afternoon, was canceled at halftime.
The NCAA Tournament was therefore in flux, and the decision to cancel it came in the late afternoon Thursday, as NCAA president Mark Emmert announced all remaining NCAA winter and spring sports championships would be canceled.
This marks the first time since the NCAA Tournament's inception in 1939 that it will not take place.
Banner #2
The impact of COVID-19 related cancellations on other NCAA sports
Emmert's announcement that all NCAA winter and spring sports championships would be canceled obviously affects more sports than just men's and women's college basketball.
The NCAA baseball and softball seasons had just begun, the NCAA wrestling championships were slated for this upcoming weekend and spring football practice had started for many schools around the country, Indiana included. These are only a few examples of the effect the COVID-19 pandemic is having on NCAA sports at large as all these events among many others were wiped out.
On Friday, the Big Ten announced all team activities for member institutions would be suspended through April 6, which prevents practices and off-season team workouts from taking place. Given this, it's not surprising why events like Indiana football's Pro Day and the Indiana football spring game were also canceled.
Furthermore, an email sent to IU students stated "All campus gyms, fitness centers, pools, and other similar venues, including those associated with athletics programs, will be closed through April 5," which means that even as individuals, it appears IU athletes won't have an on-campus facility to train in, which fits with IU's recommendation that all students go home if they can during the upcoming spring break and online class period.
The NCAA also established a recruiting dead period from March 13th to April 15th as a result of the COVID-19 pandemic, meaning all on and off-campus recruiting activity must stop. Recruiting practices via phone are allowed, though.
Banner #3
Hoosiers react to the end of the 2019-20 season
The news that the 2019-20 college basketball season was over hit hard for many within the Indiana program, but perhaps none more so than De'Ron Davis and Devonte Green, two of Indiana's three seniors this season.
Davis and Green were closing in on their goal of reaching the NCAA Tournament, and despite how strange everything surrounding Wednesday's win over Nebraska was, the victory was enough to likely secure IU's spot in The Big Dance.
That NCAA Tournament berth will now never happen, and Davis and Green, unfairly, will never get to participate in March Madness during their four-year IU careers, the first time that's happened for senior members of the program since the early 1970s.
Green took to Instagram following the news that his college career was over to thank everyone for their support, and plenty of Hoosiers did the same on Twitter.
Archie Miller also released a statement Thursday night thanking his seniors, other team members and fans in the wake of the NCAA Tournament cancellation. He also appeared on Jeff Goodman's "Good N' Plenty" college basketball podcast to discuss the NCAA's decision and the fallout of not being able to participate in the NCAA Tournament with this Indiana team.
"It's abrupt, but it's reality," Miller said of the lack of finality to end this season.
While Wednesday night's postgame edition of Assembly Call Radio focused on Armaan Franklin's strong showing in addition to the possible cancellation of the Big Ten Tournament, Thursday's show allowed Jerod, Andy and Coach to properly put all the week's college basketball news in context, as well as offer a summation of how we will remember the 2019-20 Indiana basketball season.
Banner #4
Incoming IU players must put state title hopes on pause
The COVID-19 pandemic has affected basically every sports league in the United States, from the aforementioned suspension of the NBA season to the delay of the start of the 2020 MLB season.
But it's also affected youth sports, and of particular interest to Indiana basketball fans, the playing of the 2020 IHSAA Boys Basketball State Tournament.
On Friday, the IHSAA announced the tournament is postponed indefinitely.
The rationale was that due to the number of schools that have closed for a period of time, the tournament won't be able to be completed as planned. Some regional sites had already changed because of prior sites that would no longer be able to host games due to COVID-19.
Three current Indiana commits or signees are still participating in the tournament with hopes to bring home a state title.
Class of 2020 guard Trey Galloway and his Culver Academies team were scheduled to play Saturday against Northridge in a Class 4A regional semifinal in Michigan City.
Class of 2020 guard Anthony Leal and his Bloomington South team were scheduled to play Saturday against Floyd Central in a Class 4A regional semifinal in Seymour.
Class of 2021 guard Khristian Lander and his Evansville Reitz team were scheduled to play Saturday against Greenwood in a Class 4A regional semifinal in Seymour.
IHSAA commissioner Bobby Cox said postponing, not cancelling, the tournament until April offers a chance to reevaluate the situation at a later date when students potentially return to school.
Banner #5
End-of-season honors for Trayce Jackson-Davis
With the Indiana basketball season over and all the final stats tallied, it's now fully clear just how good Trayce Jackson-Davis was in his freshman season.
Jackson-Davis started all 32 of Indiana's games this season, averaging 13.5 points per game, 8.4 rebounds per game and a 56.6 shooting percentage from the field. Prior to everything else that took place last week, the All-Big Ten teams were released and Jackson-Davis was the lone Indiana representative honored.
He earned All-Big Ten third team honors as selected by both the Big Ten's coaches and media members. Jackson-Davis was also an unanimous selection for the Big Ten's All-freshman team.
Jackson-Davis did miss out on the Big Ten Freshman of the Year award though, which instead went to Kofi Cockburn of Illinois.
The only other Big Ten Conference award bestowed to an Indiana player came when Joey Brunk was named Indiana's 2019-20 Big Ten Sportsmanship Award Honoree.
Archie Miller's final comments this season related to Jackson-Davis came during Miller's final radio show of the season Monday night, and the words were fitting.
"Our success is directly correlated to how Trayce plays, whether that's fair or unfair," Miller said.
Banner #6
Hoosier Sports Roundup
Coronavirus has ended the sports season for IU prematurely as well as pretty much all sports across the world. Before the cancellations took place, IU competed across several sports this week in what turned out to be the final competition of the season.
• Baseball lost the final game to San Diego in their series last weekend. They then fell to Evansville before closing their incomplete season with a victory over Cincinnati. After the season, The Herald Times' Jon Blau posted a statement on the season from IU coach Jeff Mercer. On a happier note IU did pick-up a transfer for next season.
• Men's Soccer beat Butler in a 2-1 thriller in their final spring exhibition game of season. Assembly Call was the only IU Media at this match and I caught up with IU Coach Todd Yeagley after the game. Also, the team picked up a transfer from University of Denver for next fall.
• With the NCAA tournament not happening for Women's Basketball, the Hoosiers will never get a chance at postseason play in what was their best season in program history. The Herald Times' Jeremy Price posted a statement from IU Coach Teri Moren after the season.
• Softball lost to highly ranked Arizona. They then beat Miami (OH),Creighton and Toledo. The games against the Blue Jays and Rockets turned out to be the final athletic competition of the season at IU for any team, as all NCAA sports were cancelled shortly after.
Women's Tennis split with DePaul and Miami (OH) in their final games.
• Water Polo finished a perfect weekend in their final competition of the season.
• Wrestling had more athletes punch their ticket to the NCAA Championships that turned out not to happen.
• Seven Hoosier divers qualified for the NCAA Championship that like everything else was cancelled. Same with swimmers who qualified 11.
• Track and Field headed to the NCAA Indoor Championships before having them called off.
• Men's Tennis saw an athlete win an academic award.
• Former Hoosier Jorge Campillo won a golf tournament on foreign soil.
• In uplifting news, several IU athletes participated in Read Across America.
Thanks for your continued support for The Assembly Call. We'll be back next weekend with a new roundup.
Now go enjoy yourself a 6-banner Sunday.
Filed to: