News and notes from Archie Miller's radio show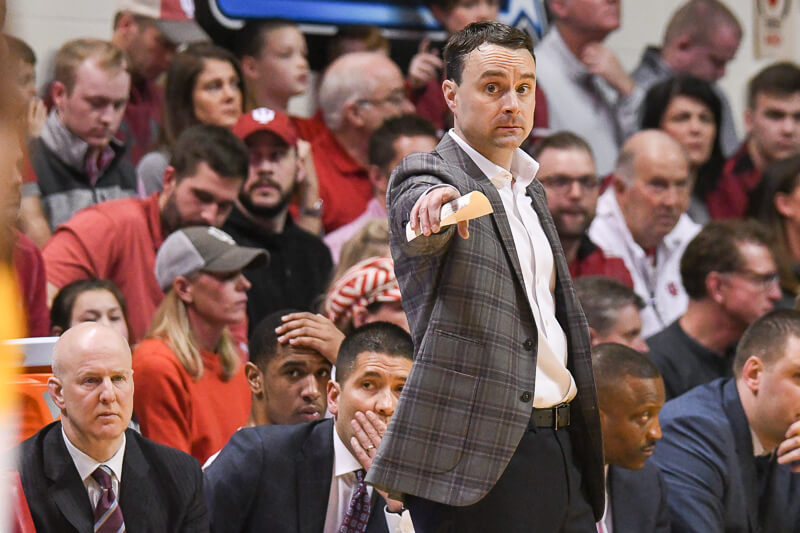 "Inside IU Basketball with Archie Miller" returned Monday night for the final time this season as Archie Miller and redshirt sophomore forward Race Thompson spent a combined hour with host Don Fischer to reflect on the past week in Indiana basketball, which included the end of the regular season and the release of the All-Big Ten teams and honorees.
Here are the highlights from Miller and Thompson's evening with Fischer:
– To start, Miller discussed the positive carryover he feels the Hoosiers took from week-to-week as the regular season concluded. In terms of taking care of the ball on offense, Miller also praised the Hoosiers, saying that this closing stretch of the season featured some of the best ball security that IU has displayed this season.
– This led nicely into Miller's recap of IU's two home games last week, a victory over Minnesota and a heart-breaking loss on Senior Day to Wisconsin.
– Miller said both games saw the Hoosiers play hard and at a high competitive level. While there were times earlier this season that Indiana's struggles could be correlated directly to a lack of effort, Miller said that was not the reason why the Wisconsin loss happened.
– Going into more specifics about that game against the Badgers, Miller confirmed that senior guard Devonte Green "tweaked" his left ankle at some point in the first half of the game, during which he scored 16 points. Miller said the injury made it difficult for Green to move in the second half, during which he scored no points. Green did not practice on Monday due to this injury.
– Also on the injury front, Miller said junior forward Justin Smith sprained his thumb during the Wisconsin game. Television cameras during Saturday's game captured Smith being treated for his injury during the first half, but he returned to the game.
– Miller took time to credit Rob Phinisee for his responsible ball handling during the Wisconsin game as well, as Phinisee finished with seven assists and no turnovers. In general, and in the same vein as his comments earlier Monday on the Big Ten coaches teleconference prior to this week's Big Ten tournament, Miller said IU's backcourt play has improved of late. Specifically, Miller said IU's guards are playing and operating "within the range" of the offense and have had good shot selection.
– When discussing the All-Big Ten awards dished out Monday, Miller once again stated his opinion that Trayce Jackson-Davis should have won the Big Ten Freshman of the Year honor, which instead went to Kofi Cockburn of Illinois. He provided a rationale for this assertion too, saying that Cockburn had the benefit of an All-Big Ten guard in Ayo Dosunmu to play with, while Jackson-Davis had more on his plate in terms of Indiana's ability to correctly function on the court. "Our success is directly correlated to how Trayce plays, whether that's fair or unfair," Miller said.
– Looking ahead to the Big Ten tournament and Wednesday night's first-round matchup against the No. 14 seed Nebraska Cornhuskers (Indiana is the No. 11 seed), Miller said the conference as a whole will probably get at least 10 teams into the NCAA tournament. His comment right after this mentioned the need for Purdue and Minnesota to make runs and win multiple games in the Big Ten tournament in order to get into the NCAA tournament, which implies Miller still feels good about IU's current NCAA tournament chances.
– Speaking about the Cornhuskers, Miller said opponents should be scared to death of Nebraska's transition play and their 3-point shooting. Fred Hoiberg's team shoots 32 percent from behind the 3-point line, which was 10th in the Big Ten this season, one spot below Indiana.
– Thompson's segment focused on his growth as a player during his third season in Bloomington, the first one to not be significantly impacted by injuries. He said going at Jackson-Davis, Joey Brunk and De'Ron Davis in practice each day helped him expand his offensive game and refine his defensive abilities.
– Thompson also gave insight into his background and current studies at Indiana. It's well-known that Thompson comes from a very athletic family with strong Big Ten athletic ties, and Thompson considered following in his father's footsteps as a football player, playing the sport through his sophomore year of high school. At Indiana, Thompson said his major is a mix between sociology and criminal justice, "the CSI stuff" as he put it.
Filed to: Archie Miller